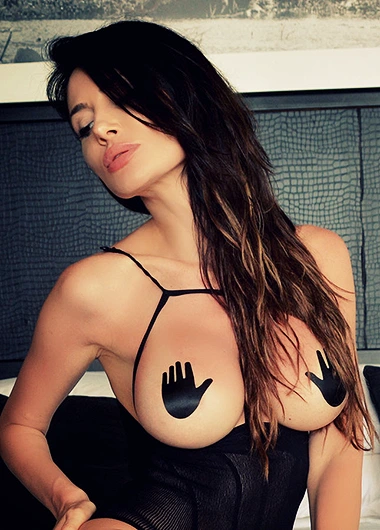 ValerieSins
My Sexy Sinner
Nicknames:
Cams.com:
BeautyBella
·
01SugarBella
I remember when I saw ValerieSins on cam for the first time around 2010. She was gorgeous in her profile photo on LiveJasmin. Since then, she has always been a safe bet whenever I wanted a nice chat followed by a hardcore performance. Valerie has not changed much since our first private. Both in terms of performance and appearance.
In bed with an intelligent, sexy woman
Isn't this lovely? Isn't it great to have an intelligent conversation with a naked woman on cam? Spreading the legs, touching her pussy between words? It's not something that you can do daily. In fact, think about it, when was the last time you had an intelligent discussion with a hot nude babe? Valerie is wonderful! And this is not all – she is a businesswoman. You will hear her saying that she doesn't want to work after 40-years-old (though she has reached that mark already), and for this reason, she decided to invest – until then, 10% or more of what she makes.
Not everything is natural with ValerieSins…
… but everything is in the right place and have the right size.
Her boobs, for example. We all have to admit that! They really look good! If it was her to choose the size, she chose the perfect size for her petite body. And the doctor did a pretty good job. If you visit ValerieSins' room at any time, you will notice that she mostly sitting in what I call a golden position. Every model has or should have a golden position. That position she has, God, the way she is sitting. You can only imagine what it would be to fuck her. That is the whole point of the golden position, to make your imagination fly until you can no longer resist her. Valerie does that very well without looking boring.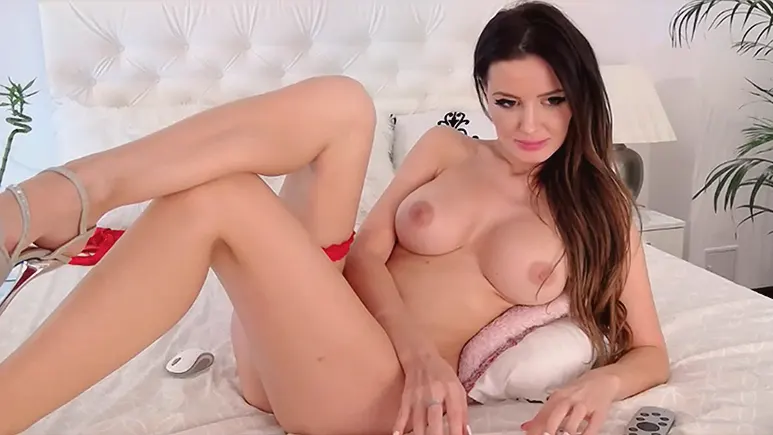 She has something else that is not 100% natural, but you will have to figure it out yourself. And no, it is not her pussy, which is so perfect that it seems to be out of this world.
The sweetie, the sexy, and the sinner
Valerie has a wide personality, and if you give her time, you can see it all in one private.
Pro-tip: Don't try to start from the sinner. You can jump right away to all hardcore stuff, and ValerieSins will act professional without complaining. But you won't get even close to a good performance.
Instead, I suggest starting with the sweetie. Ok, maybe skip one step and start from sexy. But talking to her first, flirting a bit, learning how she likes, etc., helps her getting in the mood.
The sexy step is where she starts to get more comfortable and showing more of her hot body. Again, those boobs are something special.
Then it comes the moment when ValerieSins reveals the sinner that is inside her. Ok, fine, this nickname is just to give her a title. But she really does things that would make people call her a sinner.
ValerieSins on intense hardcore mode
If you have met the sinner, then there is no coming back unless you abruptly interrupt the private. Valerie will pretty much fuck her pussy and ass with all toys she has.
Sometimes even too extreme. On more than one occasion, I have caught Valerie masturbating uncontrollably with a big long dildo.

Masturbating uncontrollably
Or when she showed me an interesting, perhaps funny, anal trick to push out the dildo out of her ass.

Anal playing
Bonding with members
It seems that Valerie is a true lover. And she likes to have relationships with her members. She said it herself – two relationships with two members. It is not the first time I heard that from a camgirl.
If this is true or not, I have no way to find out. Well, unless I invest in bonding with her. But considering that this is not allowed on LiveJasmin, and almost every camsite and Valerie was openly talking about this in private chat, either LiveJasmin does not care that much, or Valerie was just feeding my imagination for a possible meeting with her that will never happen.
She continued talking about her relationships with members. One of the relationships has lasted 2 years. "Some while" at the moment of this private show. Of course, you won't have a chance with a woman like Valerie if you don't prove yourself a real sugar daddy. Sorry, but yeah, it is logic. Even if you are "just" a handsome man, a fascinating gentleman, you can only have a change to show that if you go in private with her. And, of course, not for five minutes. So, in the end, money is mandatory no matter how good of a man you are. This, of course, if Valerie is real about this.
ValerieSins' performance is what matters
But in the end, nothing matters more than her performance in private. That is true and intense. Valerie is drop-dead gorgeous; that's the truth! Fucking hot! Probably one of the hottest women found on LiveJasmin! It is one of those girls that doesn't look good only in the presentation photos.
Because we have a problem there with the professional pics vs. reality thing! In Valerie's case, she is beautiful no matter what! And it would really be a fine experience to have the chance to catch her in a mood for talking. Get her clothes off, tell her to sit in your favorite position, and have an intelligent conversation with the girl. Who knows, she might teach you how to make money for more private shows … with her!
Related links
Suggested reviews to read
No reviews have been added yet.