Streamate – My Solid Golden Camsite: Expensive But Amazing?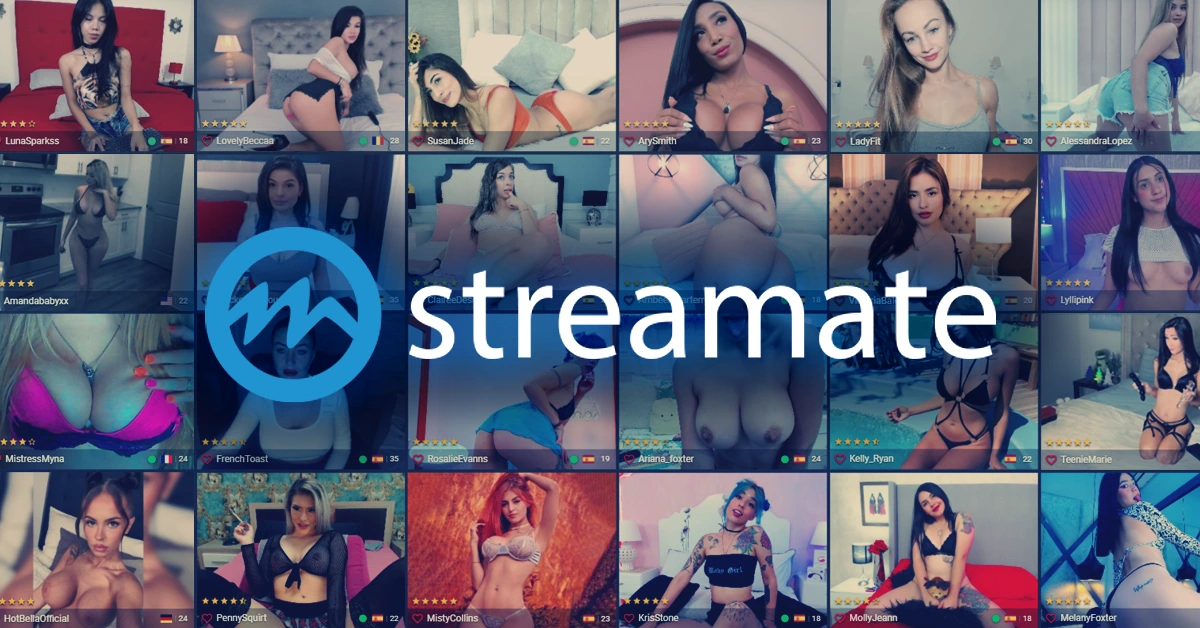 | | |
| --- | --- |
| Launched | 2005 |
| Type | Freemium |
| Private chats | $2.80 (average) |
| Cam to Cam | Yes |
| Show Recording | No |
| VIP Program | No |
Streamate
Streamate's details
A camsite that evolved into what may be the perfect version of freemium
Streamate' models reviewed by MyCamgirl
Introduction
Streamate is one of the oldest camsites in the industry, and the fact it is still strong means that they are good. It has changed a lot since its inception in 2004. Over the years, it has had its downs and ups.
But still, Streamate stayed strong, came up with some exciting features, and always had a vast list of models. They have changed their design and layout drastically. A layout that is now the industry's standard, and Streamate was the first to try it. But despite the changes, it still offers the same type of service.
Is Streamate Good?
If you had asked me this 10 years ago, I would say they are not bad, but not near the top. That's because 10 years ago, they were going through some significant changes, and they were kind of stuck in the process a bit like Cams.com is now.
However, Streamate managed to complete its plans and move forward. The camsite you see now is the result of many years of development, and it is entirely different from what it was when I first saw Streamate back in 2008.
Is it good? Hell, yes! It is terrific.
Overview
Streamate is another veteran camsite, officially launched in 2004 with a design that looked good enough for that era.
It was kinda empty in terms of features and options. But it had what matters: Models, and lots of them. When I first visited them in 2008, it was the most populated camsite. It had many models, and the variety was immense.
Streamate is still like this. It is impressive how many models they have and how different they are from each other. Suppose you want diversity and move away from the perfectly standardized kind of models you find on LiveJasmin. In that case, Streamate has what you are looking for. In fact, some former LiveJasmin models have moved to Streamate exactly to have freedom over how they look.
Streamate Getting Relaxed With Nudity In Free Chat
Streamate comes from a different era. Compared to them, Chaturbate is just getting into college. So, naturally, they didn't have free shows like all these new camsites have.
They still don't have free shows. But they have moved towards a more relaxed and fun approach. I remember seeing for the first time a model showing her tits in free chat on Streamate, and my first thought was that she probably didn't know the rules. It turns out that I was unaware of the changes. Streamate models could now be topless if they were on pre-Gold Show. That was the first step towards a significant change. A step that is very similar to what LiveJasmin finally took after years of forbidding models from showing any hot bits in free chat.
From there, I think it was more of the models pushing a little bit to sell more Gold Show tickets and Streamate testing the waters. Slowly, they relaxed more on the rules until they made it official by launching the Tip Menu feature.
Streamate's Camgirls
It has been said before that Streamate has many models for all kinds of likes. They have always been like that. Some models are exclusive, mainly the American models. By the way, Streamate was the first camsite I found a vast list of American models. Cams.com used to have some initially, but Streamate had at least 5 times more. Now, it has even more.
What is the most common country on Streamate?
There is a clear winner, and that is Colombia. There are so many Colombian girls on Streamate that they could even start a new camsite dedicated to them. It would still have more models than some camsites have with all models.
Streamate is so over-saturated with Colombian girls that many prefer to be listed as Spanish to try a different market. I have made the bots consider Spanish girls as from "Unknown place" because I am sure many are not from Spain. That is why you don't see Spain on the list.
If you exclude Colombia from the list, you have a more balanced ranking, with Russia taking the lead and Romania and the United States following not too far behind.
Model Profiles
It has the same information it had before the redesign. Just basic stuff. It just got re-arranged, but it is well-organized. Streamate introduced something new and handy: the online activity heatmap, Which shows when the model is usually online so you can know when to expect her.
Profiles have photo galleries, though some models prefer not to have any galleries.
It was possible to buy recorded privates, but models didn't know about this, and they were not getting any money from the sales. Streamate ended up removing this option after some pressure from the models. Now, models can upload their own videos, which can be watched for free or for a price. But not many models use this option.
Models Censoring Tags
On Streamate, members can tag models with keywords that better describe the model. Of course, this allows members to troll models. So, in response to that, Streamate added an option for models to hide tags. This then allows models to abuse this feature and remove tags that they consider harmful.
It is a complicated situation. Yes, members can troll a model, and it happens. It is true. But there are also genuine situations where members have bad experiences with models. In these cases, the models can simply hide the negative tags.
The thing is, a member can only tag a model after having a private with her. Trolls can't just tag models that they never spent money on.
In fact, this feature was used by Streamate itself when people started tagging the infamous bots to warn members to stay away from those accounts. Streamate simply hid all the tags mentioning the bot scheme.
Member Comments
Same idea as the tags. Don't expect to find negative comments there. Again, members can post comments after a private chat. So, trolls can't just write whatever to harass a model.
But still, models can remove comments.
Tip Menu (aka Gold Menu)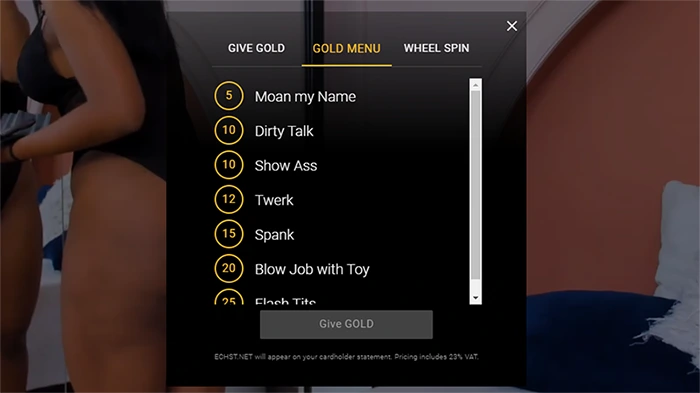 Most models have this. It is a simple menu with items that you can choose by simply tipping. You tip, and the girl performs the act. Very straightforward.
Girls do it right away after getting the tip. I never saw any girl taking 5 minutes to flash her tits or something, as I have seen on other camsites.
The duration of the action depends on the girl and depends on the action. If it is 10 spanks, she spanks herself 10 times, and that is it. If it is something like "flash tits," it varies. I have seen girls forgetting to put the bra back on and girls showing tits for 30 seconds.
I suggest you observe the girl for a few minutes before tipping. But if she is too hot and you can't wait, I understand the feeling—just tip in this case.
Yes, you can find this on other camsites. But Streamate has this as an official feature.
Premium Content
I already mentioned this before. It could be an excellent tool for models to make extra cash. But they don't really use it. I guess it is all about popularity.
It is not that models are lazy. It is just that they don't see the motivation to upload content there. They prefer to upload to other more popular platforms and where they have a much better chance to sell the content, and the percentage is better too. So, they don't bother to upload anything to Streamate.
Live Room Preview on Streamate
It works… ok. It takes a little bit too long to load. At least the quality is pretty good. I understand that this is a live preview, unlike other camsites that use a preview recorded moments ago. But still, I'd prefer to load the preview instantly, even if it means seeing a preview from 20 seconds ago.
And for fuck's sake, it loads with audio. It used to have an option to turn it off. But now you have to accept that the room preview will load with audio, and it can be at any random volume.
Streamate Chat options
Free Chat
Just a normal free chat. Public shows are allowed on Streamate, but they are rare. Members have the Tip Menu and Spin the Wheel to pay the model to perform some acts. There are "flash tits", "show fee", "spank ass", "shake ass", etc. But there is no option to tip for a full show.
Usually, the public shows are actually countdown shows that the model is performing on another camsite. They choose to stay in free chat on Streamate, hoping to get some tips for the show.
I don't like that you can't open more than one chat room at a time. It is annoying because sometimes I am in a room, and I see another girl online I'd like to talk to, and then I need to choose one of them. I suppose they do that to control bandwidth.
Also, the site is very much focused on private chats and gold shows, i.e., premium services, rather than public shows so popular on Chaturbate and StripChat or the whole entertaining concept that you find on MyFreeCams. Therefore, it is natural not to catch cum shows that often or tips like the big tips on MyFreeCams.
Private Chat
Although Streamate has options for members to have good fun in free chat, it still is a camsite focused on privates. And let me tell you, it was not cheap at all. You can find models charging a fair price. But many of them charge over $6 per minute. If we talk about exclusive private chats, then expect to pay a lot more.
Most girls do pretty much anything you wish in private chat. I have found a few that will tell you to go exclusive for certain things, usually for anal sex or a special toy.
Group Shows
It is a countdown show being done correctly. Streamate just took the same concept with some changes and made it an official feature. The girl sets a goal, a description, and a time limit. Members can buy tickets to this show, and if they purchase enough tickets to reach the goal, then the show starts.
If the goal is not reached within the time limit, there is no show, and the members return the money. There is no place for freeloaders here. Sitting there waiting for others to buy tickets is pointless because you can only watch the show if you buy a ticket. That's why I say this is a countdown being done properly. Money returned if no show, and no freeloaders.
The model can perform the show even if the goal is not reached. I see that if the goal is close to being reached, most models just go ahead and do the show.
Goals are higher than on LiveJasmin, but on Streamate, goals are reached much easier and faster than on LiveJasmin.
By the way, props to Streamate for turning countdown shows into an official show. Before that, there were no countdown shows on Streamate. It was huge on MyFreeCams, but it was just an official show built on top of the tipping feature with models counting tokens themselves.
Streamate Unique Features
Spin The Wheel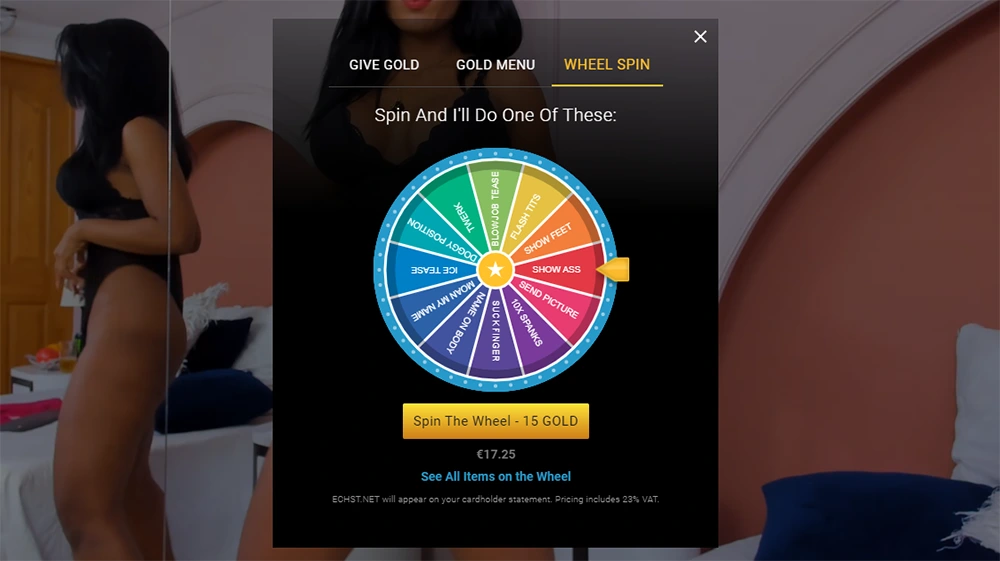 Another idea that appeared first on MyFreeCams was also built on top of the tipping feature. MyFreeCams never made it official. So, today, the model needs to spin the wheel herself after getting a tip. I don't think this is as popular as it was 5 years ago, but members still like to play that occasionally.
Streamate made it official by developing a helpful feature that allows members to spin the wheel. Not for free, of course.
Basically, you pay to spin the wheel. You see the wheel spinning, and where it stops is what you get. It can be shown ass, flash tits, twerk, send a picture, etc.
The cost of spinning the wheel varies tremendously. Some girls ask merely $5, others ask $15.
Common questions
Can I Watch Free Shows On Streamate?
Yes, you can. It is allowed to get naked and perform shows in public chat on Streamate. But don't count on that happening too often. You can find girls in topless and teasing while holding a pre-Gold Show to encourage members to buy tickets. But it rarely will be more than tits and tease because, rightfully so, the girl will save the hot action for the Gold Show.
How can I get free credits on Streamate?
Streamate does not even work with credits. They use local currency, real money, in a pay-as-you-go style. This means that you don't buy credits, tokens, or minutes on the site. You just start a private chat, and at the end of the session, they calculate how long you stayed there and charge that on your credit card.
With the videos on demand is the same idea. You just select buy, get access to the video, and they take the amount from your credit card.
There is no "buy credits" and then use the credits to pay for a show or buy a video. Therefore, getting "free credits" would mean someone putting real money into your credit card. Does that sound possible to you?
Prices
Please, bear in mind that Streamate does not use credits or tokens, unlike the standard practice in this industry. It uses real money with a pay-as-you-go system. Honestly, I prefer this.
Before pulling the data, I would say that the average rate on Streamate is way higher than on other camsites. This was based solely on the girls I wanted to have private with, and I only wanted expensive girls. I realized that, but grabbed my credit card anyway to spend money on Streamate.
After pulling the data, I discovered that the average is not that high. The average is $2.86 for regular private and $4.06 for exclusive private chats.
Do you like this data? There is a lot more data available on this Streamate page.
The thing is, while there are many girls with super low prices, you still can easily find many girls with super high prices. This ends up giving an average price that sounds fair.
When I say super low, I mean hundreds of girls charging $0.99 or less. But for this price, you can know the level of experience you will get.
For the super high, I am talking about $8 and over. I get that if you go for a quick chat, like 5 minutes, that will be $40, and it is not a fortune. But what can you get in 5 minutes? I never stay in private for just 5 minutes. I already learned that I should stay in private for at least 20 minutes for a decent show.
Anyway, here is the price breakdown for regular private chats on Streamate:
| Price Range | Models |
| --- | --- |
| $0.99 or less | 620 |
| $0.9 – $1.99 | 5391 |
| $2 – $2.99 | 9559 |
| $3 – $3.99 | 2814 |
| $4 – $4.99 | 1327 |
| $5 – $5.99 | 726 |
| $6 – $6.99 | 267 |
| $7 – $7.99 | 182 |
| $8 – $8.99 | 77 |
| $9 – $9.99 | 65 |
| $10 – $10.99 | 13 |
| $11 – $15.99 | 25 |
Private Price Breakdown (updated November 2021)
Streamate Is More Expensive Than Direct Competitors
I tried to find a pattern in the prices or anything that would explain why models set high prices, but I couldn't find any explanation.
Here are two examples: LissanaScott and MistyCollins. I had private chats with them on LiveJasmin. There, they were charging $1.99 (back when this rate was allowed.) One day, they moved to Streamate, and the price increased like crazy. MistyCollins is now charging $4.99, a roughly ~150% increase. For LissanaScott, it is $5.99 per minute, so her rate is now 200% more expensive.
Sorry to put things like that. But as a paying member, I need to consider these things. I don't mind if a model raises her rate, and honestly, these two girls deserve more than just $1.99. But the discrepancy between then and now is insane. It is not like they slowly increased the price over the years. It was an overnight change. As soon as they moved to Streamate, they chose those prices.
Also, although they are super hot girls and their performances are very good, they still provide the same experience as before. Not that they need to improve, but really, nothing can justify such a significant increase.
Discounted Block Sessions
If you find the prices are too high, some models offer discounts. They call it Discounted Block Sessions. You pay less per minute, but you buy a certain amount of time.
For example, a model charges $3 per minute for a regular private chat. She then has Discounted Block Sessions, which is $2 per minute, but you need to buy a minimum of 10 minutes. So, in this case, you must pay $20 to watch her for 10 minutes. Just an example. Each model chooses how much they charge and the minimum purchase time.
You still can leave the show at any time, but that won't save you any money because you agreed to pay $20 no matter what.
It is a pretty good deal if you know that you will stay in private for the minimum period. But this is not available by default. The model needs to enable it, but many models offer that.
How Is The Video Quality on Streamate?
It's pretty good. Much better than the standard definition Streamate had years ago.
That being said, Streamate does not have admins checking models' streaming quality as LiveJasmin does. If the model has a bad webcam or connection, then there is not much Streamate can do.
But in general, most girls have the proper equipment and good connections. That is enough to offer outstanding video quality.
Streamate Is Mobile Ready
Streamate opens perfectly fine on mobile devices. It is pretty much the same as the desktop version but adapted for mobile devices. Smartphones will always be a bit uncomfortable to use for a webcam site. If I go mobile, I prefer tablets.
Streamate's Customer Support
They offer a live chat, which is good. But often, you need to wait a bit to have someone talking to you.
The people answering the live chat sound a bit "unpolished" to work for customer service. They are not impolite, but they sound more like a dude who doesn't care about your problem.
They still can help you with basic stuff. But if it requires something more complicated, good luck with that.
I once had a problem logging in. First, Support copy+paste standards answer for common issues, and even they do it slowly. After going through all that, the guy gave up for ten minutes. Seriously, he asked me to wait and then returned ten minutes later with the most bizarre answer: Please, use a different credit card.
Say what?! The problem was with my login, not my card. And how can I use a different credit card if I can't even log in to edit my payment options? I said fuck it and left like that. A few days later, the issue was mysteriously gone, and I could log in again. I think their anti-fraud system messed up something and locked my account by mistake.
The Bottom Line
Streamate has been the preferred option for many models tired of the public show and community approach that tipping-focused camsites force them to do. Therefore, you will find many more models busy in private than on other camsites like Chaturbate and MyFreeCams.
You can get a more intimate experience. It comes at a cost, but in many cases, it is a much better experience than watching public shows where you can barely interact with the girl.
But if you are still not convinced and don't mind sharing the girl with other members, you still have the Gold Show option, with a plus that you won't be bothered by freeloaders.