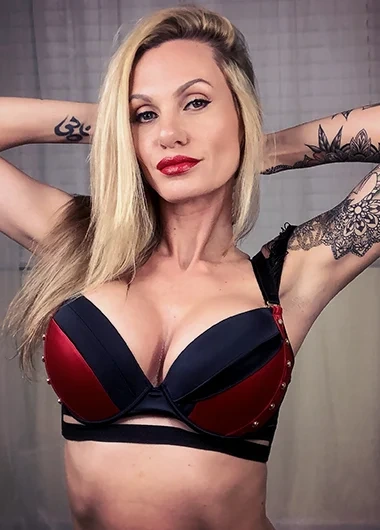 Stella Sol
My Dream Girlfriend
Nicknames:
This review has been written when Stella Sol was known as THEGIRLFRIEND on MyFreeCams. Since then, she has changed her name, however, she still is an amazing webcam model. I have updated the review to reflect this name change.
No, she is not my girlfriend. But that is a status I wouldn't mind giving her. I consider Stella Sol a dream girl, the type of girl who could easily be a mainstream top model and if it was not for her uncontrollable desire for sex, you could see her on the cover of a less liberal men's magazine. Lucky us that, one, she can be our girlfriend on cam, and two, she has no problems unleashing her desires.
Stella Sol hot and friendly
I start quoting Stella Sol:
I am a freaky nerd with sincere heart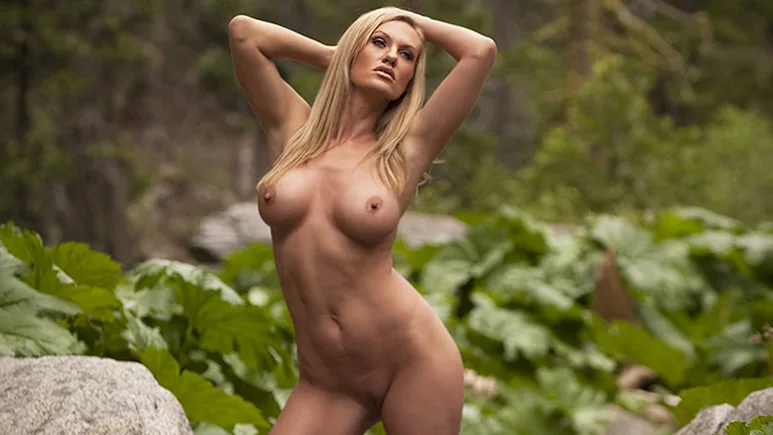 Beg your pardon, but I disagree. At least with the first part. If she is a definition of freaky nerd, maybe I don't really understand what a freaky nerd means. Every time I look at this smoking hot blonde the last thing that comes to my mind is a nerd. Not even when she is wearing glasses, which in her case just helps her look even hotter. So, yeah, I don't agree with that part. I am sorry, but that is how I see her. So damn hot to be considered a freaky nerd.
As for having a sincere heart. I agree 100%. The first time I went to her chat room I caught her in the middle of a conversation and she was explaining in detail to a guy what he would watch in private. She was quite honest and ended the explanation saying that she didn't want him to jump into a private without knowing what he was going to get. She was not only honest, but sincere telling him that she didn't want him to be disappointed with her performance because of a misunderstanding and she wouldn't feel good with herself.
No doubt she is a down to earth kind of girl who actually care whether the performance she delivers pleases you or not, and being frontal doesn't scare her.
The naughty girlfriend
If you are now wondering what description she gave about her private shows, maybe probably thinking if she was warning about being a non-nude or/and softcore, don't worry. That is not how she is in private. As I said, we are luck because the girlfriend has no problems unleashing her sexual desires. So, yes, you can expect a lot of nudity and the use of dildos in private.
She won't go soft on herself. I've seen her fucking non-stop for like 10-15 minutes with dildos of all sizes, shapes and color (not sure if colors make any difference), and in different positions. I like asses, and the girlfriend got a nice ass, but I gotta say that I love watching her laying down in the bed, legs open, filling up her juicy pussy with a big dildo. Writing about this brings up what I call "the sound of sex", which is quite audible when the girlfriend is in action. She gets wet and all juicy quickly, and it does not take much to start hearing classic sound of sex while she deeply slides the dildo, going faster and faster. This is a 5 stars performance. The best evidence that she got too much for a simple softcore show.
The hardcore girlfriend
Speaking of evidences… the videos she is selling are absolutely amazing in every way. The first I watched was the deep throat video, which I can now say it is a rare demonstration of fine art of fellatio. Seems it is not for sale anymore. But that was a great video. I also watched the Double Trouble (Part 1), Nurse Knockout and Ice Princess.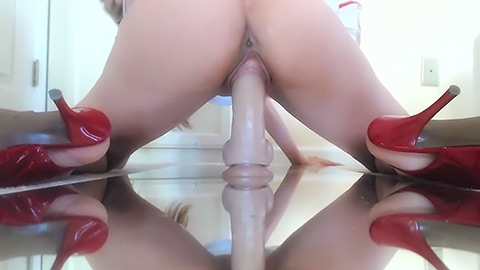 What a nurse…
The Nurse Knockout is pure art spiced with a truly desire for sex. The best part must be when she rides a big thick dildo, slowing going up and down and taking every inch of that dildo. Impressive 5 minutes riding that dildo, ends up getting her all creamy. She finished sucking the dildo soaking wet with her cum.
The Ice Princess gets back to "the sound of sex". Following a sexy strip, she puts an ice cube in her pussy and with no hesitations she slides two fingers pushing the ice cube deep inside her. From there on, it is all pleasure. You can hear her loud and clear moaning while "banging" her pussy.
I am talking about a recorded video. But her live performance is equally 5 stars and a guarantee of real fun.
No reviews have been added yet.