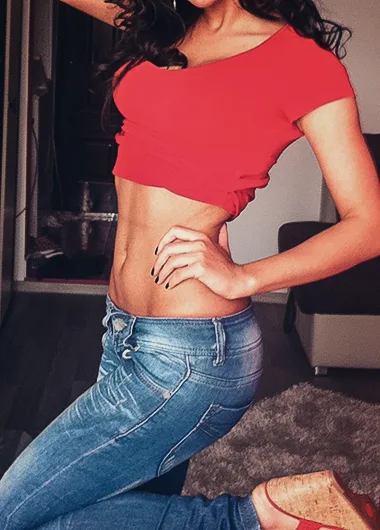 Nicknames:
MyFreeCams:
ShyTeen2009
·
ShyTeenn
·
Shyutza
This is a review about ShyTeen2009, later known as ShyUtza, from MyFreeCams. Please, notice that this camgirl has quit camming in 2013. The only reason that I am keeping this review available is that ShyUtza was a huge star on MyFreeCams, and she has great relevance in the industry.
Since she decided to fully quit, deleting all her accounts and erasing any trace of her online presence, I won't be sharing any photo or video.
Also, notice that this review makes reference to things that took place in 2009-2010. I won't be updating the text because that wouldn't make much sense. The review is now a look-back kind of thing. Like a historical event that people can read with nostalgia, and maybe learn something.
A Star Is Born
ShyUtza is the girl who in her first month on MyFreeCams took second place on Miss MFC from the famous Goldenlady. And I won't be surprised if in the future she reaches number one, which belonged to Mellanny for the last 3 months.
ShyUtza started camming in September 2009, and she got her place on MyFreeCams top list really fast. It is really a meteoric ascension.
However, I must say it is a mystery how she got there so fast. I'm not saying she is bad. She is cute, definitely. But after joining her group show and taking her in private, I started thinking about how she managed to be so famous doing only softcore shows.
Yes, you heard me. She does not have sex toys, does not use fingers, and she never shows her pussy. Although she gets fully naked. For now, she is not doing much more than just nude shows.
I had a chat with her a few days later and she told me that for now, she will only do that. Maybe in the future, she can change her approach.
Maybe A Free Token Scheme?
This theory has been around for some time. Basically, people are saying in Lounge that members are getting free tokens through the "Bring a Friend" program and then tipping everything to her.
It could be a possibility. But MyFreeCams would eventually catch this and stop these guys. Maybe a couple of fake accounts per week. But for the number of tokens people are spending on her, they would have to run a big scheme that MyFreeCams would notice right away.
I talked to one of her regulars, and according to him, nobody is getting free tokens and giving it all to her. There are 2 or 3 guys that are spending a lot of tokens on her, but they are actually paying for the tokens.
Seems that one guy is spending like 3000 tokens on her every single day. I guess this answers that old question: Will she show more in private?
Earning 3000 tokens per day (about $150, which is a small fortune in Romania) for doing softcore shows, why would she get naked and do nasty things in private? The only problem is that when people see the top list, they think that ShyUtza is an excellent model performing hardcore shows because people are formatted to think that the only way a camgirl can make money is by performing sex acts on camera.
The First Notorious Non-Nude
The truth is, ShyUtza was the first notorious non-nude camgirl. There were non-nude camgirls before her time, but they were not as popular. In part, because they were camgirls on camsites that didn't have the hyped culture.
Combine that with the fact that in 2009, MyFreeCams was 100% hardcore. The idea of members tipping just for tipping was that popular, let alone tipping huge amounts.
So, when ShyUtza reached the top, and people noticed that she was very softcore, they wrongly assumed that there was some fishy going on. But the reality was that a few guys with money really enjoyed her. This is very common nowadays, but in 2009 it is a strange concept.
ShyUtza Was Really Shy
I think she just justified the "shy" in her nickname. Indeed, if you have a chance with her in a private/group show, you will notice that she barely shows her face. It is the main security measure that new models take when they still are insecure about showing their naked bodies on camsites.
But give her a break! I know that many of you guys want to see her spreading her legs and fingering her pussy deeply. But remember that she started camming not long ago.
Before that, she had never been naked on a camsite. Considering this, I must say that she is doing a lot. But I hope she makes her private shows spicier in the future.
Her original name was ShyTeen2009, and years later she changed to ShyUtza. Notice that in being in the business for some years, she kept "Shy" in her name. It is interesting that almost nobody remembers that ShyUtza was ShyTeen2009 before.
Revealing ShyUtza Private Bits
And then you say… she seems worried about being naked online and you put her videos and pictures here?
Yes, it is true. I know she has some concerns about that. Indeed, when she started working on MFC, she first put her Italy as her country. Only after a few weeks she finally put Romania.
But well… let's say that ShyUtza and I have a deal about this and as long as I geoblock Romania, she is "safe". I say between commas because nothing is safe online. And this is the reason you won't see me posting these videos on any other place, not even for advertising.
Anyhow… As I said, her show is not as spicy as I would like. I bet that you agree with me. But she is being honest and upfront because she telling everyone, before a private chat, that for now, she will not do any hardcore stuff.
Considering this, I have no reason to post a review about ShyUtza.
Quick parenthesis here for the folks not familiar with MyCamgirl reviews. The site was born originally with the intention of exposing camgirls with bad behavior. The ones that don't follow through with their promises in private chat, or plain simple scammers. This has changed to include any camgirl. Good, bad or meh. That is why ShyUtza is here.
She is not doing any scams (otherwise she could be banned from MyFreeCams), she is cute, but not hot as hell and she is not doing hardcore shows.
These are the 3 main reasons why I post girls here. But, I realized that many guys were coming here looking for her, and considering her excellent starting on MyFreeCams, I thought that you guys would love to see her on this blog.
That is the only reason why I went to talk to her about being here, otherwise, I would just keep the videos I recorded on my computer and ignore her.
ShyUtza Performance In Private Chat
About her performance in private… if you are looking for a nude show, she is perfect.
I said that she is not hot as hell, but she has a nice body and a great ass. But her show, for now, is only that, nude and softcore.
I must say that it is really calm. It feels like she is performing an erotic show. Like she is posing for a painting. So, do not expect things like doggy style, squeezing tits, fingering. She won't do any of that.
Well, at least not for now. You can try if you want. Maybe you can be lucky and get her first hardcore show. If you do, please let me know if she started doing that. I must say that now I'm curious to know how ShyTeen2009 performs as DevilTeen2009.
Dropping 2009 From ShyTeen2009
One day, still in 2009, ShyUtza, who was still known as ShyTeen2009, decided to change her name to just ShyTeen.
Somehow, this change made her camscore reset to 1000 points. At first, I thought she got a new account. But since she was still on Miss MFC (third place,) this couldn't be possible. Otherwise, she would disappear from the contest too.
I talked to her, and she simply said that she changed her name because she didn't like the "2009" on it.
A Whole Mess With ShyUtza And This Review
And the party is over. Shy decided that it wouldn't be a good idea to have her videos available here. She also said she didn't allow me to use the videos. It is insane, and I have a chat log to prove that she is lying.
By the way, Romanian people were not able to access this review, as per her request. But some friend of hers (probably not from Romania) found this review and told her about it. Perhaps this freaked her out. And then, she asked me to remove the videos.
Really, she was being a nice girl, but after this, I changed my opinion. Indeed, after solving the issue, I politely asked her never to talk to me again.
She could have asked me to remove the material anytime, and I would do it without asking questions. That is not the problem. My issue here is how she did. She simply said she never gave me permission to use her videos when in reality, she did. She probably changed her mind and thought that fabricating this story would fix the problem.
And More Troubles (November 2009)
ShyUtza continued causing me a lot of headaches. She first told me that I could post a review about her (videos and pictures included.) Then, a few weeks after publishing it, she came to me asking to remove her videos. She specifically said videos. Not the pictures, not the review, not the comments.
Now, she decided it would be a good idea to remove the pictures too. And it was what she did last week. Really? If there was also a problem with the pictures, why didn't she ask that a month ago? Why didn't she say "videos and pictures"?!
As I'm completely ignoring her since the last time we talked, a regular of hers came to talk to me on her behalf. He already knew the whole thing about the review and explained that she wants to remove the pictures too.
I know that I say that any girl can ask me to remove her material. But she didn't do that in the best way. She first gave me permission to share her videos, then she came up with a story that she didn't let me share the videos (I have a chat log to show what she really said) and made me spend some time editing the review and removing the videos. A month later, she asks me to remove the pictures. If she didn't want to be here, why in the hell she said I could put her image here?!
I told her friend that all I will do is edit the pictures, removing her face. As she is now worried about what the people from her school will think if they see her here, I think that removing her face will be enough. Plus, people from Romania are already blocked.
And A Final Request (February 2010)
At this point, I haven't visited ShyUtza's chat room in months. But she keeps bothering me. Now she contacted MyFreeCams admins, asking them to ask me to remove her pictures.
Yes, the pictures that I had edited two months ago to cover her face because of a request from her, and she seemed ok with that. Let me repeat, she said I could use her pictures if I removed her face. That was what I did. It took me some time, but I removed her face from all pictures. After that, I never touched this review again.
Now she wants these faceless pictures removed too. But somehow, she handed the request to MyFreeCams, giving them the impression that I have been using her pictures without permission.
How many times has she changed her mind? Remember that I published this review because SHE gave me permission to do so.
Anyway. As camsites can also request for removal, not only models and studios, I had to remove all her pictures. If you didn't see the pictures, they were nothing special. Only her tits. It is all that she shows (or used to show).
Now, all left here is the review, which she says is ok for now. Let's see if, in the future, she does not change her mind again and asks me to remove that too.
Then ShyUtza Was Gone
Just like how she appeared, she disappeared out of blue. One day she was camming normally, as usual. Finished her shift and said the usual goodbye. She was expected to online the next day, but she never returned. There was no announcement or anything.
A couple of her regulars say that they knew she was quitting. The reason? She is done with camming. Literally, a classic veni, vidi, vic. She saved up to pursue other goals and thought this was the right moment to move on. That is good for her.
And this was the end of an era. A camgirl who won Miss MFC twice and second place five times. She reached her best CamScore moment just four months after quitting. I'd say that she quit at the top of her game.
No reviews have been added yet.
This review has no photos.
This review has no videos.