The queen of anal fucking! The bubble ass queen! Jelly tits! Blonde, big ass, big tits, the perfect body for a good anal fuck! Not many women can sit in the doggy style position like that – chest/tits on the bed, ass up in the air, butthole prepared for anal lovemaking! You need the practice to sit like that! MonicaVelez, ladies and gentlemen! This exclusive LiveJasmin camgirl is just amazing. Her big areolas around those nipples will make you feel dizzy and she will perform without any shame, in front of the cam, for you!
Getting to know MonicaVelez
Unlike other girls in other rooms, that will focus the webcam on them, closeup – sometimes annoying, MonicaVelez will show you the entire room, she will move from a place to another, she will show you her body while standing, she will show you her butthole while sitting in the doggy style position, as described above, she will spread the legs to let people see what a wonderful pink and wet twat she has between the legs! Punk ass mother fuckers, unite and drill her holes! She won't say no! Monica, oh oh! You chubby slut! Naughty babe, let's admit it!
Hot body, amazing bubble ass!
No special outfit, but when you have those natural big tits, you need to show them, not to dress them! And when you have such a wide butthole, you need to keep it up in the air, not cover it with a thong! MonicaVelez will even talk to you on cam, and she would be glad to have a C2C session!
Not really my thing to turn the camera, but if this turns you on, she will happily watch you. I prefer to watch, and I watched a sexy woman who knows how to do many things. My favorite is probably the way she energetically twerks that bubble ass of hers. That twerk technique is the perfect warm-up for the real deal that is her anal show.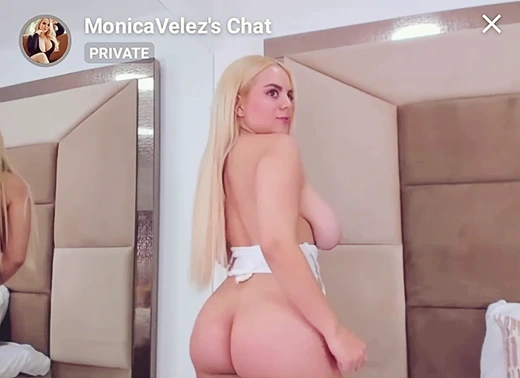 Comparing to another Colombian camgirl, Akira Leen, also known for a great booty, I would choose MonicaVelez as my favorite because of the energy and vibe she has in private chat.
Already said, blonde hair! Fingering the horny ass! What a lovely view! And she has a mirror in the room, which is great! You can see the other side of her when she's standing up! Mirror, mirror on the wall, who's the fairest of them all? The price is good, like not expensive, not cheap!
Many other models charge more money, even if they are less hotter than the golden booty princess we see here! MonicaVelez is a fearless camgirl! With her, it's all about hardcore performing! No questions asked, no stalling, no time spent for nothing alongside money spent for nothing – live sex with a beautiful curvy sexy blonde anal queen!
No reviews have been added yet.