When I saw MichelMon for the first time, I thought LiveJasmin had a bug on their "new model" tag. Often new camgirls tend to be shy, uncomfortable, or even look awkward—a fish out of water. But MichelMon is the complete opposite, and she has been showing this since she started camming.
Cute, fun, and full of energy that is MichelMon
What drew my attention was MichelMon's face. She is a cute young camgirl, and her avatar was showing precisely that. We all know that avatars can be misleading, especially on LiveJasmin. So, I had to check if on cam MichelMon was as cute as on avatar.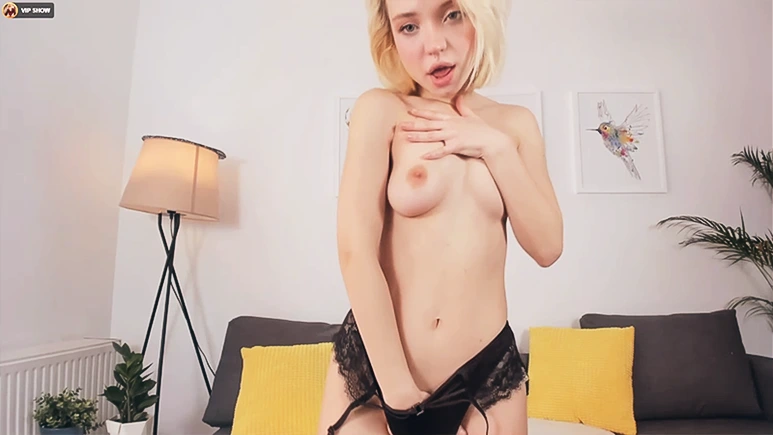 The answer is a big YES! And not only that. MichelMon is fun and full of energy. She is always dancing and interacting with members. She acknowledges them in the room and makes them feel welcome. It is completely different from the usual newbies that are still giving the first steps in the business and have no idea what and how they should do.
It is like MichelMon was born to be an entertainer. She is always in a good mood and naturally energetic. I remind you that we are talking about a camgirl who started camming shortly after turning 19 years old and had no previous experience in this business. But yet, it seems she has been doing this for a couple of years, and she enjoys every minute. She looks all ready for the job. Definitively not shy and inexperienced like other newbies like Annie Kean.
MichelMon is all ready for full hardcore
But does MichelMon have the same energy in private chat? Again, the answer is a big YES!
There is no taboo nor limits to what MichelMon can do in private chat. The show starts right away, without any small-talk (unless you want to). No, it is not a cold auto show like MariaRya. She won't start anything if she does not know what you want. She will ask before starting the show.
Another good thing about MichelMon is that she is not puzzled by requests. New camgirls tend to not understand what members want because they are just not used to our vast imagination regarding sex desires. You won't need to explain twice what you want. MichelMon will understand right away.
In fact, she is so good that she will figure out how hardcore you want and then try different things based on what you tell her. She can masturbate more softcore with some sensuality. Or she can go full hardcore like she is doing porn. And she is open to some fetishes, though this I haven't tried.
Very busy on long private sessions
One small detail, though. It seems that a member already fell in love (and obsessed) with MichelMon. So, don't be surprised if you see her busy for hours in a private chat, not doing anything. That is that member monopolizing her time as much as possible, so other members won't take "his" girl in a private chat.
If you peek on these long private sessions, MichelMon usually is just talking to him or reading what he is typing. She is never naked or doing anything explicit. What I find interesting is how bored she looks during these long sessions. It is the only moment I have ever seen her looking bored. On every hardcore session, though, she always looks happy and joyful.
Kudos to her for not raising her price to some surreal amount to milk money from this guy. This means that other members still can take her in a private chat and pay a fair price.
If you happen to jump into one of these private chats, she will be nice enough to let you know right away that she is busy and won't be able to do any show at the moment.
Authentic hardcore action on VIP Shows
Usually, VIP Shows are less explicit, and often camgirls set ambiguous topics that leave you wondering what you will get. But MichelMon is very clear with her topics, and her performance is as hardcore as in a private chat. The only difference is that you need to share her with other members.
She also set the show to last at least five minutes, which gives her plenty of time to get somewhere. So, she won't pull an Emma and just tease you dragging the show until the last second to get you to go in private. She will be as explicit as you can imagine. In fact, she makes this very clear on her topic.
In the VIP Shows I watched, she got naked while dancing, then went to bed and masturbates. Constantly interacting with members. Most importantly, she interacts verbally. So no delay or interruptions for typing.
I mean, just one minute into the VIP Show, and MichelMon is already fully naked on her knees sucking a dildo.
These shows are a good option if you want to just watch her masturbating, and the price is very fair. But a private chat is way better.
However, precisely because of that member who is constantly taking her in for long private chats, MichelMon has less chance of doing VIP Shows.
MichelMon playing with JiaMont
While digging about MichelMon, I found out that she is from the same studio as JiaMont. I don't know where I got this idea, but I checked both girls, and they both state on their profiles that they are bisexual.
This got me wondering if they really are bisexual. Their sexual orientation matters. But I have seen so many camgirls claiming to be bisexual only to feed the members' imagination, and I am kinda tired of that.
During a private chat, I asked MichelMon if she was really bisexual. The answer was affirmative, as I expected. But what came after I wasn't expecting. I wondered if she would make a short video kissing JiaMont. Surprisingly, she said yes.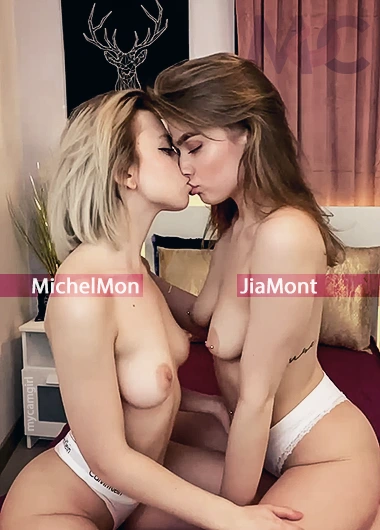 I could imagine so many different scenarios with other girls with excuses and obstacles to not make the video. But MichelMon was straightforward. She said yes, and she sent me a video in a message a few minutes after I closed that private chat.
My guess is that she already had that video ready. She probably posted that before on her LiveJasmin stories or sold it to other members. First, because she said yes right away. She didn't even check with her studio or LiveJasmin if she really could do that. Second, because she sent the video promptly.
Then I asked for more, and she sent one more. Then I got into a cycle because each video was more explicit than the other and always ending too soon. After every video, I just wanted the next to see how far MichelMon and JiaMont could go. The final video was JiaMont licking and fingering MichelMon's pussy.
These videos, however, I don't think were previously posted on stories. I think they made those videos for selling via messages. This just shows once again that MichelMon is all ready to be a camgirl.
In any case, either you go for a private chat, VIP Show or buy a video, MichelMon is worth every penny.
No reviews have been added yet.