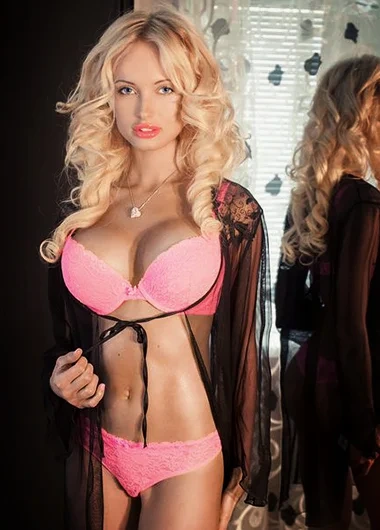 MashaSpaces
My Desirable Blonde
Nicknames:
Being part of the 69's team at LiveJasmin (now replaced by LiveJasmin's awards) may not be so hard, mainly if you are a new model, but stay among the top 10 models for several months is something not many girls can brag. Masha (former SexySweetMasha, now MashaSpaces) is one of these girls.
MashaSpaces is quiet and shy, but very naughty
You won't see MashaSpaces bragging about her current rank in the top list, nor how many times she finished in the top. She is not the kind of girl who talks much, and besides that, she is busy in a private chat that even if she wanted to talk about her awards, she wouldn't be able to.
She is quiet and somewhat shy. At least, this is what you see in the short minutes she is free to be in free chat. You don't see her talking much or teasing much. She does not need to. Despite being a quiet girl in free chat, she has no problem getting members to start a private chat. It seems obvious why if you take a look at her hot body. It was her body that convinced me to check her out, and I am pretty sure it is also what makes so many guys join her private shows.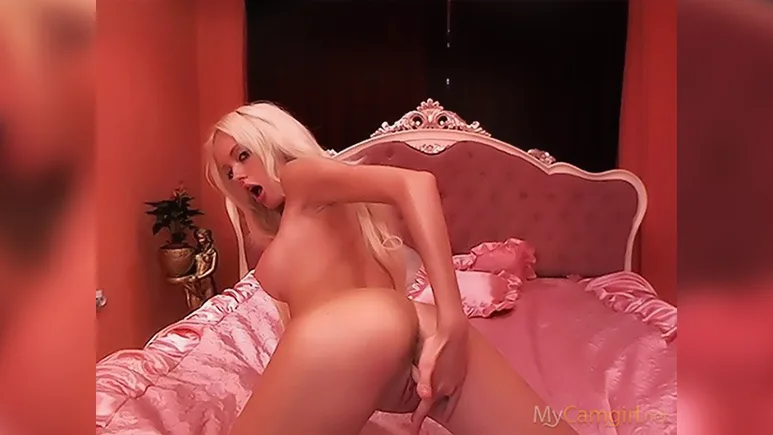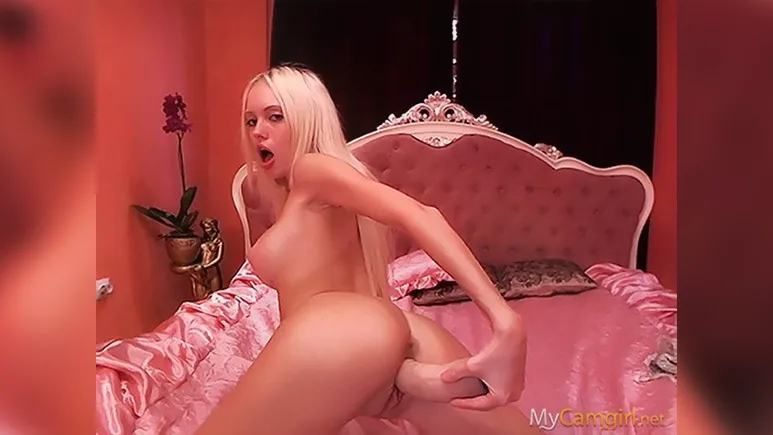 Slowly and hot
She is hot, that is unquestionable. But I honestly thought that that shyness could be extended to the private show and that she would bring in a sexy but softcore show. I was wrong.
She started slowly, and now, after many privates with MashaSpaces, I know this is how she does. But not slow as in delaying the show. No way. She gets naked quite fast. I mean, slow the way she fucks herself. Like a sexy dance, slowly moving her hip while riding a dildo or fingering her ass. It is like you can see she is feeling every inch of that dildo inside her. As opposed to some girls that fucks so fast that you can't even see if she is really doing it. Masha performs shows which give you a detailed view of what is going on in a very sexy and naughty way.
MashaSpaces got amazing oral skills
One of her best skills is perhaps how she licks a dildo. Once again, she does it slowly, like she enjoys licking and sucking a dildo. It is enjoyable watching her slowly put her tongue around the dildo and lick it up and down. If not a long time ago, Kerry Banks, my dream brunette amazed me with her oral skills and her deep throat technique; I can say I am equally amazed by Masha's hot tongue.
It is also good to know that she knows how to do it. I've never had to tell her to lick the dildo that way. It was actually MashaSpaces who revealed her skills when I once asked if she had a dildo. She didn't answer verbally. Instead, she grabbed the dildo and started licking it. For sure, the best way to answer my question.

Slow and hot
Anal pleasure
At this point, you have noticed that everything MashaSpaces does, she does slowly and very sexy way. Not delaying the show, as I said. This also happens when she masturbates, either with a dildo or with her fingers. Besides being very hot, it is also obvious that she isn't pulling any trick. I've watched it a dozen times, and she always mesmerizes me when she licks her finger and slowly pushes it in her ass until she gets deep in there, moving her finger in and out in her tight asshole.
This is something she seems to enjoys. Actually, I would say that MashaSpaces enjoys every minute in private. She has never tried to trick me or refused to do anything (although I've never asked anything extreme, it is not my kind of show). If I wanted a 30-minute private chat with her just fingering her ass, she would still enjoy the session. This is something important. If the girl enjoys the session, her performance tends to be much better.
SexySweetMasha vs SexySweetNastya
Who is who? Are they the same?
There seems to be some confusion about them, which leads people to think they are the same person and that the girl is using recorded videos. I have been told they are sisters. Twins, to be more precise. I didn't ask any of the girls to confirm. I didn't confirm with them but sounds quite plausible.
Edit: I had a talk with Nastya in private chat, and she confirmed that they are indeed twin sisters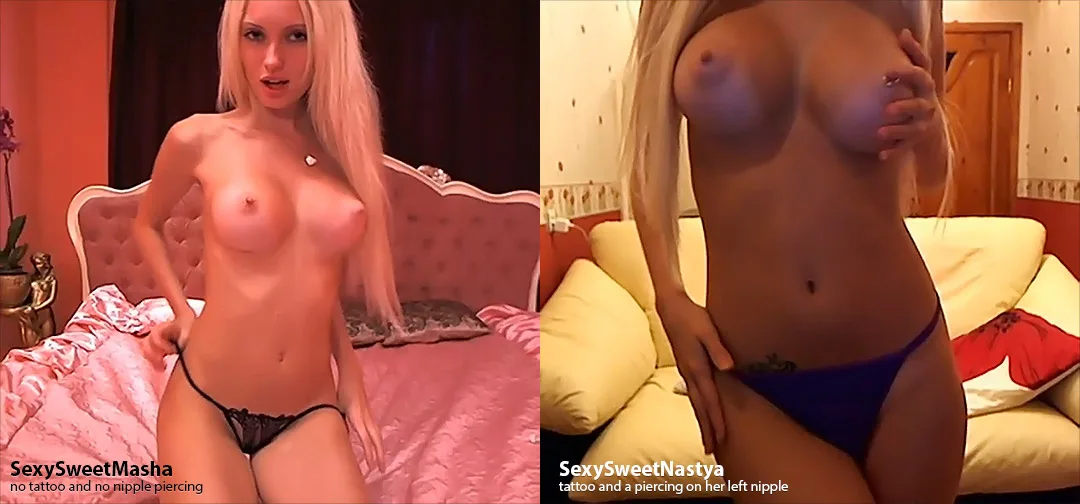 Both blonde, both with a nice slim body, both with fake tits, are basically equally hot. But Nastya (this is not the girl reviewed here) has a tattoo on her hip and a piercing on her left nipple. MashaSpaces (the webcam model that this review is about) has no tattoo and has no piercing. You can see the difference in the picture on the right.
I can go even further and say that each one has different performance in private. While MashaSpaces is how I described here, with a 5 stars performance, Nastya seems to be a little off the show and has a bad habit of conducting a bogus show (faking the penetration, for example). Despite that, I believe that Nastya does not use any recorded video. She has a bad performance.
No reviews have been added yet.