MariaRya has been camming since 2008, and I know her from her first years. She is well known for her energetic and pure hardcore performance. But has all these years in the business drained her out and burned all her stamina?
MariaRya or Melenna?
Or Melenna1, or SexyMelena, or any variant of Melena. Let's clarify this. Melenna, or just Melena, was her first name when she started. From there, every time she would get a new account, it would be a variant of Melena. Back then, there were more camsites than today, so she got many names.
The name MariaRya actually came years later when she decided to be a "porn actress". She got herself a name to be her brand and settled down with that. Well, she later added Melena to her name to be officially Melena Maria Rya. It seems that she adapts her name every time she moves away from whoever is managing her website.
Anyway, I say "porn actress" between quotes because I don't consider MariaRya a porn actress per se. All the content she produces for her own site or agrees to do for other sites is solo masturbation. Some videos they try to sell as lesbian, but those are no more than duo masturbation, with Maria Rya masturbating at the same time as the other girl but without touching each other.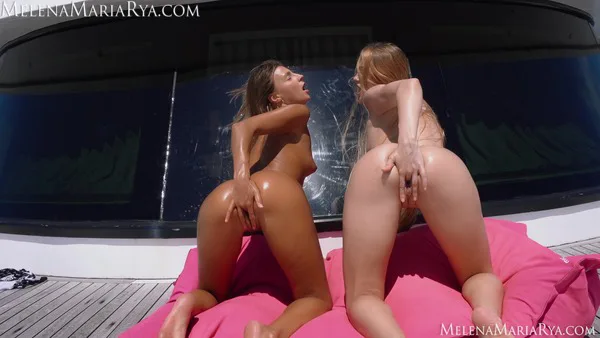 People have been asking her where she will do a boy-girl video. From the looks, it seems to be never. But fun fact: Once, she performed a quick blowjob on an unknown man live on camera. If you can call that, the funny part is that she did that on MyFreeCams, where there is a strict no-man rule.
Update: I found a photo gallery with MariaRya and Cerise Spice (which seems to be a TikTok model or something). That was the closest I have seen a girl getting to MariaRya's pussy. But I only saw the free gallery. Maybe by getting premium access you can see something more hardcore.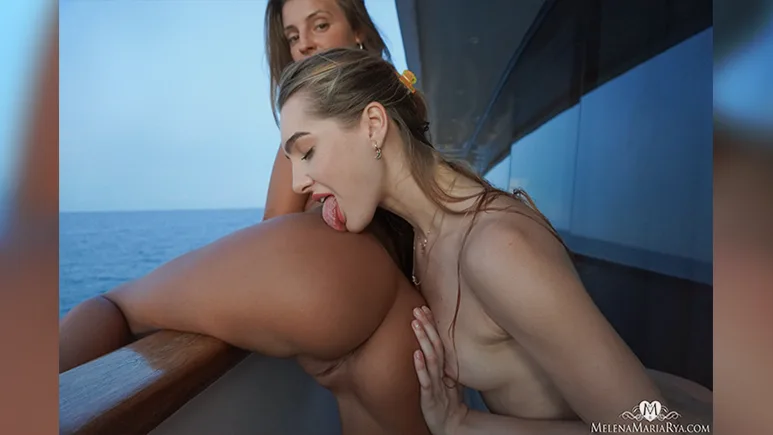 Newbie Maria vs. Veteran Maria
Honestly, this review could very well have been written now or 10 years ago. Except for the scenario and the sex toys, nothing much has changed on Maria's performance since she started in 2008. She was always known for her pure hardcore, no taboo performance. She still does the same.
My only complaint is that her performance often feels like porn on autopilot. If, on one hand, we can find girls pouring too much sensuality and seduction in her performance, on the other hand, we have Maria not making use of any seduction and just going straight to hardcore.
This has perhaps got more obvious in the last years. While MariaRya was somewhat moderate in her early years, her performance has been pure porn and almost no interaction in recent years.
I remember the first conversations I had with her. It was almost like chatting with a girl who was still discovering her body and sexuality for the first time. She would make an effort to interact with you, even with the language barrier, and get you horny for the show.
On her 10-year-camniversary, I had a private with her. Everything happens so fast. She didn't give me a chance to talk to her, nor asked me what I wanted to see. She simply dropped her panties, grabbed a dildo, and started the show.
Ok, I must admit that the show was still super hot. That's how she is. No matter what, she always looks hot and genuinely horny. But the lack of interaction is a bit of a turn-off. It feels like watching a live porn video. I am sure that for some, this is what they look for precisely. But I would prefer a pinch of seduction and interaction.
VIP show is autopilot porn
I am impressed by how fast she can sell tickets for her VIP show. Most girls struggle to sell enough tickets to make a VIP show profitable. Maria does not have this problem. In less than 5 minutes, she has reached the minimum.
I complained about Emma performing a scripted VIP show, with too much tease and seduction and no action. Now I complain of too much action. But honestly, too much of anything is never good. I always finish a private chat happy when I get a well-balanced performance. But again, there are guys out there who want just that: autopilot porn.
Maria's performance in the VIP show started without a hello. She went straight to a topless dance. After that, she put two beach towels on the floor, got on her knees, and oiled her body like she was putting on sunscreen. This was the most robotic part of the show.
The show continued with masturbation with a big dildo. I don't know what magic she does, but she always manages to get her pussy creampied. And this time was no different. She then finishes with a pee show. Yeah, she just grabbed a transparent bucket, rubbed her clit for no more than 3 seconds, and started peeing. Somehow one guy thought she was really squirting. She never promised to squirt, and she never claimed she was squirting, though. So, don't start the usual debate, whether it is real or not. She was peeing, and as far as I can tell, she did that because there are guys into that fetish.
I assume that someone really liked that VIP show because she went to private chat as fast as she sold tickets after that. This pretty much sums how her performance is.
Related links
No reviews have been added yet.