I can easily say that MaeMoon has one of the best asses on LiveJasmin. I could even dare to say that MaeMoon's ass is one of the best across all camsites. Her booty is just breathtaking. But Mae isn't only a girl with a hot ass, but also an undoubtedly, equally spectacular beautiful woman with a pleasant smile and fit body.
But can this sexy Romanian brunette make good use of her insanely hot body? More importantly, how naughty can she be with her ass?

Eating the hitachi with her ass
Introduction To An Amazing Booty
First, if you say that MaeMoon is not unknown to you, then I must say that you are right. She has been around for some time already. Well, not for that many years, though. Since 2020, to be more precise. However, she only got on my radar in 2021.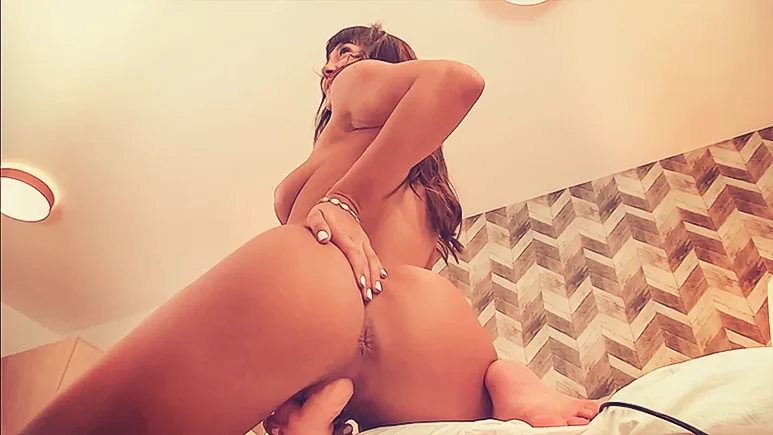 She had two other names, LunnaPure and MabelMoon, before being known as MaeMoon. LunnaPure is her first account, and MabelMoon is her second account, later renamed MaeMoon during LiveJasmin's glamourification process.
You may know that her room often changed if you have known her since the beginning. This constant change is a hint that she was in a studio. But since she got a new account, she has constantly been camming in the same well-decorated room. She does not discuss this much. From what I heard from now-independent models, they prefer not to talk about their former studios. Some prefer never to say they worked for a studio. That seems to be the case with her.
How MaeMoon Got My Attention
Funny enough, it was while checking the most searched models here on the site. I noticed that more than a few guys were looking for her quite often. Typically, people search for top models on Chaturbate or MyFreeCams. A relatively unknown LiveJasmin model isn't that common to get many searches. Naturally, this made me curious, so I went to check who MaeMoon was.
I must say it was a pleasant surprise:
Because it is a camgirl who is still active. There are so many searches for camgirls that have quit a long time ago;
Because sheis truly hot. Not only hot but very much my type: Cute with a hot booty;
Because most searches are for Hot Flirt and Soul Mate camgirls on MyCamgirl, and she is far from being a non-nude model;
These three points guaranteed MaeMoon a place in my favorites. But I still had to find out if she would deserve to stay as one of my favorites.
Amazing Things MaeMoon Can Offer
Yes, she has a spectacular ass. One of the best asses. But she can do more than just show her ass. From stories to hardcore private chats, she is just amazing.
Her Stories Are The Best
It is disappointing that so many models on LiveJasmin don't use the Stories feature correctly or use it in a not-so-fair way. I wish more models would post content like MaeMoon. Indeed, she does not post stories often, usually every other day. But the type of content she posts are worth the five credits she asks for a one-week subscription. It is so cheap that I would say that it is for free.
I mean, I don't mind if a girl posts some pictures of her lasagna or her cat jumping out of bed. But that is not exactly what will convince me to go into private. It gets frustrating loading the stories and seeing only random pictures of food and memes.
What You Can Find On MaeMoon's Stories
On the other hand, many stories she posts contain pictures of her after working out, showing her fantastic body. But she also posts very explicit photos and videos that most models wouldn't dare to post out of fear of revealing too much.
She does the opposite, and she posts content that makes you want a private chat with her right away. She has no problems posting topless pictures or a close-up video of her fingering her pussy. After seeing that, you will beg to have your own one-on-one time with MaeMoon and be in charge of the action.
Yes, she posts stories with stuff you would only see behind closed doors. She knows that giving away free explicit masturbation videos won't stop people from paying for a private moment with her. Hey, I am a living example of this.
In fact, after watching her deep-fingering her wet pussy, I just wanted to have my own private chat with her.
The only reason I don't put her at the same level as DaianaEltons in terms of stories is that Daiana posts full shows almost daily, while Mae posts sporadically random short videos.
Private Chat With MaeMoon Is Pure Hardcore
I didn't have to spend much time to find out that MaeMoon is 100% hardcore. I was already expecting this, considering the naughty stories she posts.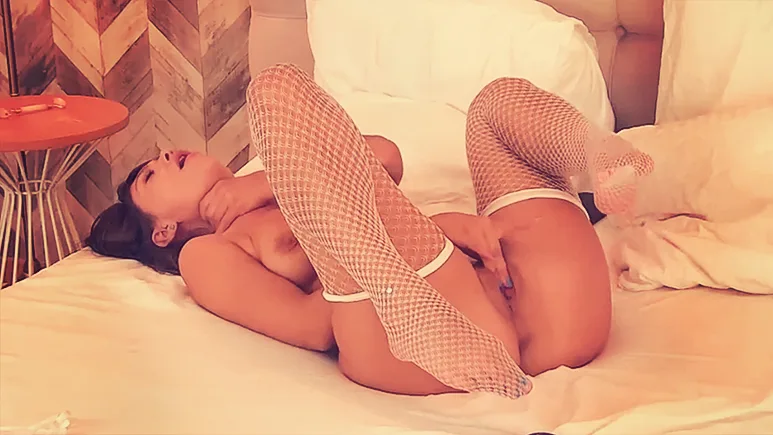 The first time I caught her online, she was busy with another member, and thank God, unlike so many girls nowadays, she does not auto-block her private shows. One extra point to her.
Not blocking it allowed me to peek on her, and I caught her right in the middle of the action. She was in bed, wearing just a white fishnet, and trying to figure out the best position to play with her black Hitachi Magic Wand.
I can only watch her for 30 seconds before the curtains close using the peek feature. So, I peeked on her again, and surprisingly she was already in a different position. I quickly realized that she tends to change position quite often and move around all the time.
Keep Peeking Or Join Private Chat?
So, why not join the chat? I was a little afraid because I wasn't sure whether the private was open because she wanted to or forgot to block.
Yes, forgetting to block a private chat happens often. And when another member joins it, the model realizes and blocks it right away.
Luckily, MaeMoon never blocks her chats. If you find yourself locked outside without the ability to peek or join her private conversation, you can be sure it was the member who blocked it, not her.
I joined the private, and she just naturally continued with the show without flinching. I prefer it when the model is not surprised or curious about who just joined her show.
She Is Straightforward In Private Chat
Unless you want to chill with her, MaeMoon will perform a very straightforward hardcore show in private. She won't ask many questions. If she knows you already, she won't ask any questions at all. She reduces the conversation to the minimum.

Riding her fingers
But what I like is that despite the zero-talk approach, a private chat with her is not cold. On the contrary, it is very hot. The idea of a girl not talking much may give the impression that it will be dull and cold. But somehow, MaeMoon's energy is so much that you don't even realize she isn't talking. She talks with her body, and her moves are the universal language she speaks in private.
You can still chat with her, and she is pretty nice to talk to. But honestly, with a bomb body like hers, I can't think of anything else other than watching her masturbating.
She Is A Pro Camerawoman
No, I didn't mean camgirl. But yeah, she is a pro camgirl too. But what I meant is that she operates her camera like a pro cameraman. In her case, camerawoman is the proper term.
As I said, MaeMoon likes to move a lot and change position constantly. That requires moving the camera with her so you can stay in action. Mae has mastered the art of operating a camera while still performing the show. The camera follows her perfectly and smoothly, zooming in and out at the right time that it feels like someone is operating the camera.
If it were not for the camera remote control on her hands, I actually would think that she had someone there. And no, she does not use the follow-my-face feature on the camera because this feature only follows faces, not butts. So, yes, it is all her, always performing a hot show and operating the camera simultaneously to give you the best experience.
There Is No Need To Direct Her In Private
Of course, if you want, you can tell her what to do and confess your fantasies to her. But I would say that MaeMoon provides a hand-free show, where you don't need to type/talk much, let alone direct her on what to do.
Her constant change of position assures that her performance will fulfill all your desires.
She has a few toys, including dildos and a magic wand. Although, I have only seen her using two different dildos.
Does MaeMoon Do Anal?
Anal is perhaps the only thing you may need to ask her. It is not that she does not enjoy it because she enjoys doing anal. But anal is something that not every member is into. So, to not risk turning off a member, she does not automatically include in her show.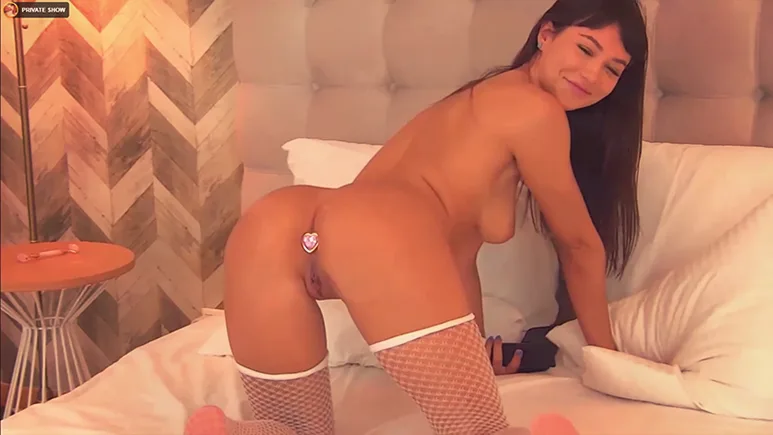 Still, she lists anal sex on her willingness list. However, I have never seen her doing anal with toys, only fingers, and a butt plug. Two fingers if you are curious.
Her performance is delicious. She keeps everything so sexy, never too hard, never too soft. The way she slides her fingers inside her asshole is just supreme art.
Now that I say that, I realize that maybe two fingers are the best option for her ass. Maybe a buttplug can work too. But I think a dildo wouldn't be so graceful and sexy as her two fingers.
She works pretty well with two fingers, so there is no reason to ask for a dildo.
It Is Hard To Catch MaeMoon Online
Perhaps, the only thing I don't like about MaeMoon is that she has a very erratic schedule. I get that she works out every day, and everyone needs time for their private lives. But sometimes Mae goes missing for a month.
Even when she gets online, it is on random days at random hours. Sometimes for a half-hour in the morning and another half-hour in the evening. The last time I remember seeing her online almost every day for more than a few hours was in July 2021.
That is one of the few things a studio model is a better—solid and consistent schedule. When she was LunnaPure, working for a studio, she worked 23-26 days per month for about 8 hours per day. Maybe a bit too much, but at least we knew when we could catch her online instead of wondering when she would return from her one-month hiatus.
Why Does MaeMoon Go Missing For So Long?
I am just guessing here, but it is based on my conversation with her. She isn't entirely focused on being a camgirl. It is like camming is just a side thing she does from time to time. In fact, she gave me the impression that going to the gym is more important than having a productive day camming on LiveJasmin.
Besides, she has her own social life. Simply put, she enjoys her life. She comes online when she feels like. This usually results in a better experience because the girl isn't there to complete a work shift.
In a normal situation, this would significantly affect her performance in the long term. Since she isn't online often to build a fan base and stay in touch with members. But she seems to be very good at collecting new fans, and no matter when she comes online, there is always someone taking her for a private chat.
At least, when she is online, you have a chance of having a private chat with her. It is not like AlexandraClark, who is online almost every day but always busy with exclusive private chats.
Bottom Line
Suppose you are into hardcore action with hot girls. In that case, MaeMoon is a camgirl who definitively should go straight to your favorite list. It is a plus that she can also keep up with a decent conversation.
On the downside, it may be hard to catch her online. Consider yourself lucky if you manage to start a private chat with her. MaeMoon can put on a super hot show with her breathtaking booty and unlimited energy.
No reviews have been added yet.