LiveJasmin – My Favorite Guaranteed Heaven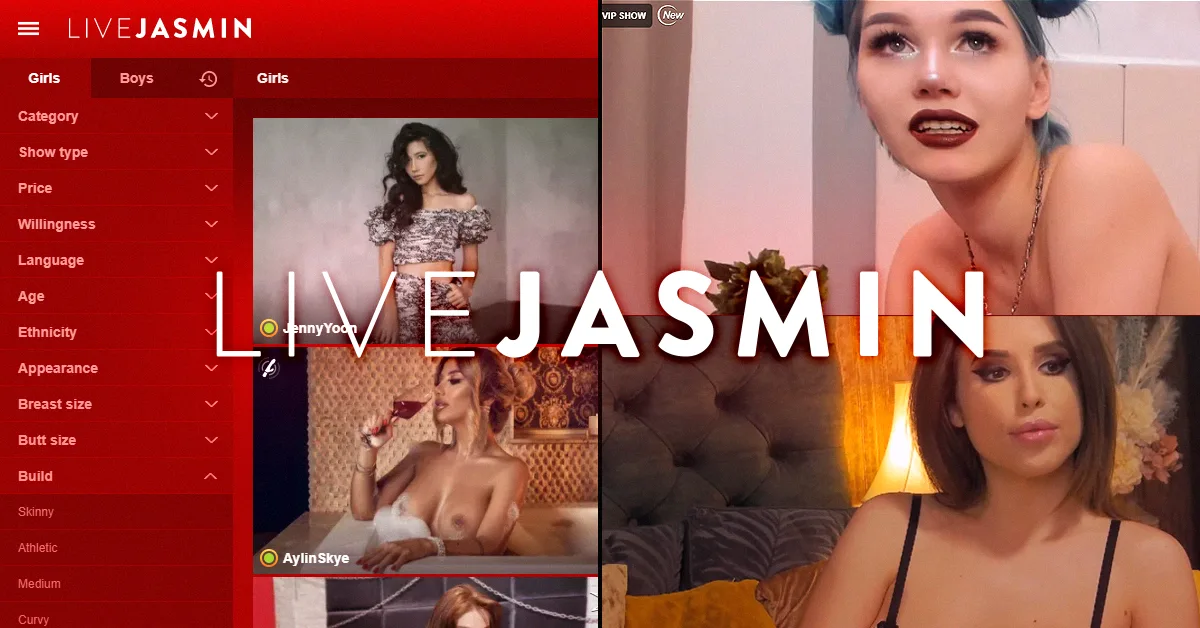 | | |
| --- | --- |
| Launched | 2004 |
| Type | Premium |
| Private chats | $2.42 (average) |
| Cam to Cam | Yes (for extra price) |
| Show Recording | No |
| VIP Program | Yes |
LiveJasmin
LiveJasmin's details
Pretty much the camsite I go to when I want a guaranteed hot action in private
LiveJasmin Models reviewed by MyCamgirl
Introduction
I will start by saying something that many models may not like: LiveJasmin is one of my favorite camsites. This review will explain why I like LiveJasmin so much and why many models may not have the same opinion.
They have been around almost since the beginning of the webcam site business. Unlike the camsites that got on this boat at the same time, LiveJasmin always managed to keep up with competition and stay at the top of their game.
It took me some time to find LiveJasmin and start using its site. This was around 2007-2008. I was still very much into Cams.com. In fact, I was using only Cams.com because I genuinely thought they were the only camsite. I have no idea why I felt that. But one day, I decided to search for other camsites, and LiveJasmin was very prominent in all my searches.
Yeah, I know; they used to have banners and pop-ups on pretty much every site. It was almost impossible to go anywhere online and not see a LiveJasmin's banner. Annoying as hell. But this does not change the fact that they had, and still have, a very robust site.
Is LiveJasmin Good?
If you haven't realized yet, I make it pretty clear now: In my opinion, LiveJasmin is one of the best camsites. I can go even further and say that in the private-oriented category, LiveJasmin is THE best.
Bold statement? Maybe. You have all the right to disagree. And I can understand why some models would differ (more about that later.) But you can't ignore the fact that LiveJasmin offers quite a long and broad list of models, a crystal clear video stream, and some neat features that may not be unique. Still, at least it works how you expect. And on top of that, everything is at a reasonable price.
Overview
LiveJasmin is a veteran camsite, being officially launched in 2004 already with their distinct red colors. It seems like they found the site in a late stage of development because everything was in the right place and well designed. Models were well presented, the categories well organized, and the options were obvious. It was, and it still is, impossible to get lost there. For what it's worth, they have won several awards from the adult industry.
The very first version of LiveJasmin is somewhat similar to the current version, with all models listed on the first page and categories for easy filter them. They are just missing the number of models online in each category.
They only went through one major redesign. I know some LJ members that didn't quite like the change. I think they know that, or at least they feared that. That is why they didn't force members to transit to the new design, giving them 3 years to adapt before the old layout was discontinued.
I would say that this redesign was very well done, and with this, they accomplished something that not many camsites have: More with less. The design is simple without looking empty. Users can still get around and access everything the site offers without taking more than a couple of clicks. They did pretty well by making the members focus on what matters, the models! After all, it is a private-oriented camsite, and there is no reason to add features that distract members from taking girls in private.
The redesign also reinforced LiveJasmin's professionalism and the level of attention they give to details. It looks like a very professional webcam site, and their whole organization shows that. If you ever had to contact customer support, you know what I am talking about.
LiveJasmin Categories
Before talking more about LiveJasmin and its models, it is vital to mention its categories.
The way LiveJasmin is organized, there are some categories where models may refuse or even be forbidden to perform an explicit show. Because of that, I wrote a compressive review about LiveJasmin categories so you can be sure what you are getting. The bottom line on categories is to stick with the Girls category if you are looking for hardcore stuff.
Every aspect of the things I talk about here is based on my experience with models in the Girls category. Take that into account.
LiveJasmin's Models
Over the years, their model variety has shifted. In the early years, it was regular to find independent models working from home. This would go from a young girl next door to a mature MILF. LiveJasmin started working to change its image around 2013 when they released the new design. Included in the redesign plan was a set of marketing strategies that would change the user's experience on LiveJasmin and how models present themselves.
Any model on LiveJasmin must pass a test, let's say. The appearance is not essential. LiveJasmin wants to ensure that the girl has a neat room, fast internet connection, perfect lighting, and a decent webcam. Suppose the model is independent, and this is her first try as a camgirl. In that case, she may have difficulty setting up everything. Studio models don't have much trouble with this process because studios already have all rooms set up to meet LiveJasmin's standards.
That idea that a girl can start camming just with a webcam and a computer connected to the internet is simply not possible anymore on LiveJasmin. It takes away a bit of the amateurism part of camming. But it gives the professional and glamorous image that LiveJasmin was aiming at when they reloaded themselves.
What Is The Most Common Country On LiveJasmin?
The answer is Romania. During its first years, Hungary was the top country on LiveJasmin, probably because it is originally from Hungary (they moved to Luxembourg years ago.) But due to its close relationship with Romanian studios, it is no surprise that over 50% of models are from Romania.
Top 5 Most Common Countries On LiveJasmin
This data is based on all accounts online in the last 90 days.
Model Profiles
It has the same appearance for every model, and the models can't add custom styles. I prefer that because it makes it easy to read the profiles. Every time you open a profile, you know exactly where everything is and where to click to get what you want. Also, I am sure they have a UI/UX team that ensures that all colors, sizes, and shapes are suitable. No random pink stars blinking, glitter falling, or red text on a green background.
The models' profiles are very well-formatted. I can list all details and the exact position of each one without looking at a profile. That is how you design something that will be used by millions of people.
The first thing I check when I visit a model for the first time is her basic information. I skip the age, languages, and description, and I read only what the model is willing to perform in private chat. In fact, even when I like the model, I may never read the rest of her bio and just pay attention to her chat room.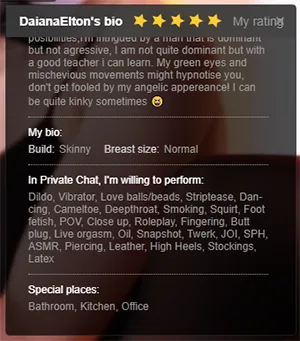 Almost every model list there at least ten tags, but I scan through the list to find tags like striptease, fingering, dildo, vibrator, and live orgasm. That pretty much tells me that that model is as naughty as I can imagine.
But models without these tags may also perform the same. They just don't want to list there to everyone to see. My suggestion is to send a message to the model asking what she can do in private. But don't just ask, "what do you do?" because that sounds rude, and the model will assume you are a cheap ass member who wants a one-minute private chat.
For some time, LiveJasmin removed some hardcore tags from their frontend. Tags like anal and dildo just disappeared. That was when they were trying to portray themselves as a more glamorous and high-class camsite. Listing anal sex right there on the model's profile wouldn't be so charming.
But after half-year or so, they brought back all these tags. I have noticed, though, that some models decided to remove these hardcore tags. Kerry Banks was the first one that I noticed. She is very well known for supreme anal shows, but she didn't have anal sex listed on her profile for months. I asked her why, and she said she was still doing it. It was just not listed to keep it as, let's say, VIP service. And indeed, her anal show is VIP. Later she enabled that tag again.
Birthday For Three days
When it's the model's birthday, she gets a very distinct birthday label on her avatar. But if you see a model carrying this label for the next three days, don't be confused. LiveJasmin does that to protect the model's privacy, so you can't figure out her actual birthday. That being said, I'd say that most models already put a fake birthday precisely to protect their privacy.
Models' Special Places
Many models have special places listed on their profiles like bathrooms, offices, kitchens, etc. Those are places where the model can broadcast from and perform a private show. Most of the models I asked about special places; either didn't have any other room or I'd have to book a private in advance.
Even top model AnisyiaLove, fully independent and living alone, explained that she would need some time to prepare the bathroom for a shower show. I would have to wait, so she suggested scheduling a private show for another day.
In one situation, I was in a private chat with this girl, DaynaBarret, and she offered to continue the show in the bathroom. But then she had to call off because she found another girl already using the bathroom.
Premium Content
These are photos and videos that members can have access to for a price. The prices vary from model to model. I have seen models with albums with 25 images for just 5 credits and models asking 50 credits for 5 photos.
After buying the content, it can be a video or an album; you can access the content for 90 days.
The explicit level of the premium content is mild. LiveJasmin does not allow models to post very explicit photos or videos. You can find some tits, that is for sure, and also fully naked photos. But most pictures keep a glamorous/softcore style. You will never find on premium content any masturbation video or a close-up shot of a pussy. The most explicit I have seen was Anerix fully naked posing in doggy style on a divan, with pussy being shown very explicitly.
Buying Content Through Messages
This is an unofficial feature built on top of an official feature. On LiveJasmin, members and models can attach photos and videos to private messages. Whether you use the site or LiveJasmin's app, this feature works smoothly. It is as easy as attaching a photo on Whatsapp.
One option that models have is to set a price for the content they attach. This opens the door for models to sell photos and videos through messages. It can be just something taken from their Premium Content or a custom photo or video.
I prefer getting custom content. It is actually exciting to find solo girls willing to record themselves kissing other girls from their studio.
Although not all girls do that, I'd say that most of them do. It is not announced anywhere. You need to ask the model. From my experience, asking during a private chat is the best way, so the model knows you are a serious member. But with some models, I bought photos and videos without having a private with them first. It all depends on the model.
The price is set by the model, with 5 credits being the minimum. The maximum seems to be 50 credits. Most girls are pretty new to this, and they are not sure how much to charge. If they ask me, I just suggest something around the price of one of their premium galleries. But if a girl sets her price and you don't like it, don't try to negotiate.
ℹ️ Pro tip: Don't buy content through tips. Models have the option to send locked content via message, which the member can only unlock if they pay for it. So, if a girl asks you to tip first, just don't do it. Support won't be able to help you with this.
Model Stories
Quite obviously a blatant copy of Instagram stories, which was a copy of Snapchat stories. But anyway, this who-copied-who thing gives you the idea of what stories are on LiveJasmin and how models can use it.
It is pure and straightforward short stories (video or photo) that models can post, and it lasts for 24 hours. Just like on Instagram. The difference, of course, is that models are allowed to post adult content without worrying about being kicked out from the platform.
The model can post free content which even guests can see and premium content. The price is set by the model. Most girls tend to put their rates to 3-5 credits.

MaeMoon's stories
What You Get In The Stories
For this price, anything any content is ok. I think it serves well as a way to tease members. Most models post regular everyday stories of them cooking, eating, training at the gym, etc. Some models post topless photos and even pussy photos.
LiveJasmin encourages models to use this feature, so almost all models post stories. That being said, some models will repost the same photos over and over. But some girls will be quite creative or generous by posting exciting photos or even screenshots of their private chats.
You can have an idea of what you will find in a model's stories by opening her stories. Of course, you need to pay to access the premium ones, but you can see blurred previews and figure out what kind of stories the model posts. It also gives you an idea of how often the model posts stories.
To find models that have posted stories recently, you can just filter by clicking on Stories. Also, if the model has stories, her online status indicator will have a yellow circle around it.
Live Room Preview
LiveJasmin has the best live room preview. First of all, it is super fast to load. It quickly loads faster than any other camsite, generally in less than one second. And second, the video quality is perfect. Plus, it loads without audio, so you don't need to worry about some girl blasting your speakers by playing some super loud techno remix.
LiveJasmin awards
Ok, this is actually one of the few things on LiveJasmin that is confusing, and I don't like. Most models and members don't really care about LiveJasmin's awards anyway.
I never know when it ends because it takes place on odd days instead of from the first to the last day of the month. They have the awards organized by categories like newbies, video calls, messenger, etc. You award the best messenger? What is that? Like the model who sent the most messages? The hottest messages? Strange way to organize.
Chat options
Free Chat
It is a typical free chat. According to customer support, this is the place to ask questions to the model to figure out if she can perform the show you want. You can send surprises, but getting naked or performing any sex act in free chat is strictly forbidden. Models can tease without showing any hot bits.
For years guests could usually participate in free chat. LiveJasmin finally changed that in 2020. Thank God! Freeloaders reading this, FYI, you are on shadowban on LiveJasmin. Yes, as a guest, you can pick messages to send from a list of pre-made text. But guess what, you are talking into the void. Not even other guests see what you are saying.
Slight correction on this matter. Guests are muted if the member is ranked Lover or higher on Club Elite. I just assumed they were muted for all because I never see them.
Private Chat
LiveJasmin is 100% private-oriented. Private chats are heavily used by models and members. This is where the hot action should happen.
There are some rules about what a model can do in private chat. Although you will see that many models stick to the rules, it is actually not hard to find models bending or even breaking these rules. More than once, I peeked on private chats only to be surprised by a model doing something that may be too extreme according to their rules. But if it's nothing illegal or damaging to LiveJasmin's business, then LiveJasmin tends to turn a blind eye to it.
Unlike what the name suggests, a private chat is not entirely private. But that is how it works on every camsite.
How To Make Your Private Truly Private
If you want to make it truly private, you have three options:
Ask the model to make the private exclusive. There is no extra cost. It is just a button that she needs to click on;
Enable two-way audio. That has a cost, usually 1 credit per minute;
Play the truth or dare game with the model. It is for free;
Any of these options will automatically make the private exclusive. There is no other way to do it.
If a private chat is not exclusive, any member can join the private and interact with the model. In a situation like this, LiveJasmin has defined that models should prioritize whoever started the session. Models still can interact with other members, but the show should follow the path the original member decides. If this member leaves, then the priority moves to the second in line.
Peek
Or you can call it a spy show if you want. It is more like a feature. For 1.99 credits, you can watch a private show for 30 seconds. You can not interact with the model, and after 30 seconds, the stream is closed. It means that you can't just sit there lurking the whole show nonstop. If you want to watch more, you need to click on peek again.
Simple math will tell you that peeking on privates on any model charging less than 3.99 is more expensive than having an actual private.
VIP Show
Excellent chat option. I have already written a detailed article explaining how it works and what VIP Shows are worth. But basically, I can say that VIP Shows are similar to countdown shows or goal shows. The model sets a goal, members tip towards the goal. If the goal is reached within the period the model defined, then the show starts. What happens in the VIP Show is also described when the model begins accepting tips.
The best part is, if the goal is not reached, you get your credits back. This may be one of the reasons some models, especially MyFreeCams models, hate LiveJasmin. It is not common for them to start a countdown show and return the money if the show does not happen. I see these shows as a concert. I buy a ticket, and if the concert is canceled for some reason, the organization refunds me. Seems quite fair to me.
Video Call
This is truly unique. If the model has this option enabled, you can simply call her. However, the model can't be online in her chat room like in the traditional way. And it makes sense because this is a feature created so models can still have video chats with members outside theirs work time.
The price is set by the model, but it varies tremendously from model to model. Some charge the same rate that they charge for a private. But most of them charge more, like 2 or 3 credits more. But it is not unusual to find girls setting a lot more. I am talking about 19.99 credits per minute. To simplify, let's assume you buy credits in USD; that would be almost $20 per minute to have a video call. In case you are curious, AlessiaThiery is the model charging 19.99/min.
Some models have explained that they charge more because that feature allows members to call them any time they want. Imagine the model is with her family or friends. Or maybe it's 3 in the morning, the model is sleeping, and you call her. And a member decides to call her on the phone for a video chat. So, they set a super high rate to make up for the huge inconvenience. Makes sense. However, they could very well disable it when it's not convenient.
Unique Features
Spin the Wheel
A very nice feature that gives away free stuff. Free peeks, free messages, video calls, elite points, and extra credits. You just spin the wheel, and it gives you one of those things. There is also "spin again" and "almost." But I never got any of these two, even after spinning the wheel more than 100 times.

Spinning and winning 45% extra credits
You can spin the wheel every hour. But there are some situations when it lets you spin twice in one hour.
Free messages and peeks always stop on 3 or 7. Video calls and Elite points usually stop on 10 or 15. Extra credits are typically between 30% and 50%. I got 60% once but never reached 70% and over. Still a very decent discount.
Just one small detail, to claim your prize, you must buy credits within one hour AFTER spinning the wheel. So, you spin first, see what you got, and then purchase credits before the time is up to collect your prize. The amount of credits does not matter. You can buy the smallest package to get the prize. However, if you get a % discount prize, the package you choose affects how many free credits you get. That is the only situation where the package matters.
Club Elite
It is a ranking for members. Crush (it is where every member starts); it gives nothing. Then, Lover, Sweetheart, Lancelot, Romeo, and Casanova.
You gain points as you spend credits. Yes, spend. You must spend credits; it can't be just bought and held forever. The point system is kinda confusing. You get x points for each credit you spend (x depends on your current rank), and you lose y points every day (called daily drop). So, you must spend credits to climb the ladder and keep spending to stay there.
The benefits?
Add more models to your favorite (from 100 up to 500). Casanova gets unlimited;
More power to vote. Each level gives you more votes to count towards LiveJasmin Awards;
Get a mask. When you talk in the chat room, it will show your mask, which represents your rank;
I was Casanova once but later dropped to Romeo. I went to a model after reaching Casanova, and she right away asked me how that happened if I hadn't spent any credit on her since our last private chat. For situations like this, LiveJasmin created an option to hide your mask.
That is the bad side. The good side is that models will treat you differently. They will take you seriously if you message them. If you ask about going into a private chat, they see you as a good spender, and replying to you may not be a waste of time.
Common questions
How Do I Know If a Model Is In Private Chat Or Member Chat?
It seems to be obvious, but it is not. LiveJasmin has two statuses for paid sessions (not counting VIP Shows): Private Chat and Member Chat.
Private Chat is what you know already, and all models in private chat get a red dot.
Member Chat is for when the model is performing a private chat on another camsite. However, many models use this feature when they want to take a break.
There is no unique color for Member Chat, the indicator is red like in private. How do you do then? Here is the trick: When you go to her chat room (before you go in private or peek), check the chat window, you will notice that it says "ModelX is in Member Chat."
Here is another trick: When models end a private chat, they are given a moment to get ready before going back to public chat. For us, the model is still listed as in private chat. But there is a small detail: The game button. If the button is grayed out, then she still is really in private. If the game button is available and you can click on it, then the private chat has ended already, and she has nobody in her room.
Does LiveJasmin allow nudity in public chat?
In a normal situation, the answer to that is a big NO. However, there is an exception. In 2021, LiveJasmin has started allowing topless in public chat if the model is in the pre-VIP show. That is the only moment a model can show a little bit more.
How can I get free credits on LiveJasmin?
There is no hack if that is what you are wondering. The only way to get free credits on LiveJasmin is by trying your luck and spinning the wheel.
Is there a hack to watch privates on LiveJasmin for free?
LiveJasmin is one of the most secure and robust camsites. There is no hack to watch private chats for free.
Prices
Surprisingly, unlike many people say, LiveJasmin is not that expensive. Indeed you can find some expensive models. I can think of this girl EvelynGriffin who usually sits to play piano and charges $15 per minute in private. But that is not common at all, and the average price, incredibly, falls on 2.42 credits per minute, which is relatively cheap. This data is based on 24373 that were online in the past 90 days.
Ok, the top models may be a bit more expensive than the average. Something like 2.99 or 3.99 if we are looking at a super hot girl who is ready to do anything. Still fair, in my opinion. I still can easily find a cute young webcam girl ready for a naughty moment for 2.49 credits per minute.
I know this is too much for freeloaders used to public show-oriented camsites. But for them, anything more than $0 is too much.
One curious fact is that 1.99 per minute has pretty much disappeared. No idea why. It can't be that every single suddenly decided to not charge 1.99. It is a low rate, but considering that there are models charging 0.98, I can't say that 1.99 is so low that nobody wants that.
LiveJasmin Interactive Toy
I have already said my piece about the interactive toy. You tip, the toy vibrates, the model cum, and everybody is happy.
Video Quality on LiveJasmin
It's simply the best. I mean, it is amazing. Considering how many users are online (models and members), it is amazing how they never have any connection issues. A few other camsites can achieve such great video quality, but LiveJasmin was the first camsite to see future demand for high-quality video streaming and invest in this when standard quality was accepted as the norm. Hands down to LiveJasmin.
LiveJasmin is Fully Mobile Ready
Too bad they shut down their iOS app. That was quite nice, mainly for the notifications. But anyway, the site loads on mobile devices very similar to the mobile app. So, we are not really missing much.
It works quite well but chatting is not that convenient. I think the mobile version is the perfect option for video calls. Or if you just want to be lazy in bed and watch some girls on a tablet.
CustoLiveJasmin's Customer Support
That is THE best in the whole industry. LiveJasmin offers a 27/7 live chat with its customer support, and it really works 24 hours, no matter what. Other camsites provide live chat, but no different site response as fast as LiveJasmin. I very rarely spend more than 5 minutes waiting in the queue.
The level of satisfaction I get from support is also outstanding. They always sound polite and professional, with an answer for anything.
This sounds like I have problems with LiveJasmin and need to contact support all the time. But most of the time, what I have are technical questions.
Yes, I may have problems with a model, but that does not happen often. That being said, contacting support because of a bad experience with a girl has proven to be the right way to settle a dispute. Maybe I get special treatment due to the money I spend on LiveJasmin. But still, support tends to be fair to both parties.
The Bottom Line
There is no doubt that among private-oriented camsites, LiveJasmin is the best. As a product is very robust and flawless. You don't experience bugs or network outages on LiveJasmin, ever.
It has an extended list of beautiful webcam models, superior video quality, and features that work as expected.
If you are looking for camgirls with an amateur vibe, that may be hard to find on LiveJasmin. On the flip side, you get very professional models and staff that follow LiveJasmin's satisfaction guarantee policy. That gives members a safe feeling that they can get the kind of experience they look for. And you can get that for a very fair price.