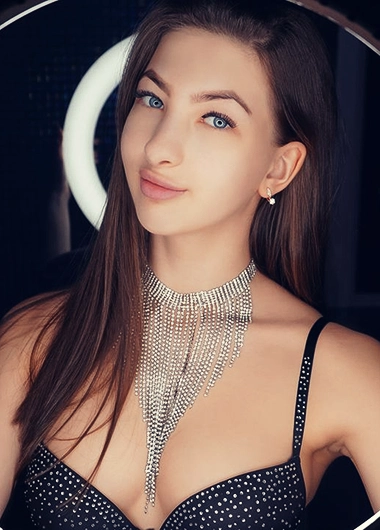 LanaWyld
My Super Elastic Camgirl
Nicknames:
LanaWyld is a young and very elastic camgirl. She does not show much of her elasticity in free chat, but you can have an idea by checking the pictures on her LiveJasmin profile. Or read this review to the end to see in detail what she can do in a private chat.
LanaWyld and her constant VIP Shows
The problem for me is that LanaWyld offers the same VIP show over and over again. Something like every 10 minutes or so, she starts a new VIP Show. The real problem here is that she rarely changes the description.
More than often, it is: "Hot dance striptease, naked flexibility, play with hard nipples, spank my ass and play with my body mmm."
It is true that if you talk to the model, she may agree to cancel the VIP Show and so you can take her in private. But for many reasons, I prefer not to. Mainly because sometimes I want to enjoy an easy show. I pay and watch the show. But with LanaWyld offering the same show, which I already watched a couple of times, it is not that appealing.
That being said, LanaWyld's VIP Shows are worth the price. Her performance is good, and you get to see quite a lot. If you are the King, she will give priority to your requests. Of course, this is as long as you don't ask for something unreasonable in the context of a VIP Show.
Russian beauty contest starter pack
I will never understand why young beautiful girls resort to aesthetic modifications when they don't need any modifications. It is even harder when the final result looks exaggerated. LanaWyld is an example. Although she does not look bad, she definitively did a little too much.
But what LanaWyld did, the way she did, is perceived as perfect among young Russian girls. Russian women are just obsessed with enhancing these things. It is what I call the "Russian beauty contest starter pack." LanaWyld got an exaggerated lip filler, unique joker eyebrows, and the classic uncomfortable long nails.
I draw your attention particularly to the long nails because they are indeed uncomfortable and a real problem for her performance. Yes, during a private chat, when I asked LanaWyld if she could drop the sex toys and use her fingers, to no surprise to me, she said she couldn't because her nails were going to hurt her.
LanaWyld is an impressively flexible girl
LanaWyld's flexibility is just wow. That is her best trait, no doubt. More than once, I went in private chat with her only to watch LanaWyld doing a split.
In our first private chat, she revealed that she is a professional dancer. She didn't say what kind of dancer, but I would say a ballet dancer. That explains how elastic LanaWyld is.
Watching her fucking her pussy with her legs spread like that is just amazing. In the first VIP show, I watched she performed it in the shower. She fucked her pussy in so many impressive positions.
But perhaps the most impressive was where she puts one foot up on the glass wall and spreads her legs to the limit. Honestly, I was afraid that the glass would break before LanaWyld could reach her limit. That VIP Show was pretty much what convinced me to have a private chat with LanaWyld.
I have here a small collection of four video clips taken from that VIP Show. And no, the 1 credit surprise was not sent by me. It was one guy who figured out he could control the OhMiBod by only throwing small surprises every 5 seconds.
And yeah, sorry, the watermarks are quite annoying. But it is the best way to be sure that others won't repost that and claim they are the original posters.
Playful, but she misses the fire
It is hard to rate LanaWyld's performance in private chat. She has that young look, and she is sexy and playful. But there seems to be something missing in her performance. It is not bad, far from that. But something is missing… like a fire.
I got to watch LanaWyld doing many things in private chat. She did pretty much everything I wanted her to do. Except for fingering her pussy, as I said before. She masturbates well, but the fire is not there. Maybe I was doing something wrong while in private.
I mean, for a couple of times, LanaWyld seemed confused with what I meant. Her English skills are average. Maybe that.
It has nothing to do with her being a newbie when I had my first private chat with her. MichelMon was a newbie too and she had all the fire that you would want.
Something that contributed to missing the fire was that LanaWyld sits too far away from the camera. This always makes the show feel cold. Studios build these super huge rooms and then set the camera 10 steps from the bed. Then the girl does not have many options. I asked LanaWyld if she could come closer to the camera, but all she could do was zoom in, making the video look blurry.
But LanaWyld got potential
That being said, I have the feeling that if LanaWyld could understand me better, we could have an experience. She has a lot of potentials. It is a shame that these small details stop her from giving a better performance. But I am sure that if you manage to get intimate with her, she can bring the missing fire.
No reviews have been added yet.