Yes, KerryBanks is naughty and, unless you ask her to chat, she will avoid the small talk and skip to the kinky stuff. But I can say that her private chat performance is far from being cold and does not drive the show on autopilot.
No time for small talk
Her performance is so good mainly because she enjoys herself while in private. She is doing that because she likes to get naughty on cam, not because a member asked. KerryBanks isn't the kind of model who stops the show every 30 seconds to ask something. She is pretty comfortable leading the show in quiet mode without being quiet if you know what I mean.
Speaking of which… you won't have to direct the show. Well, only if you want to. Just give KerryBanks some quick guidance, telling her what you like, and she can take the show from there, leading it so well that you won't have to keep telling her what to do.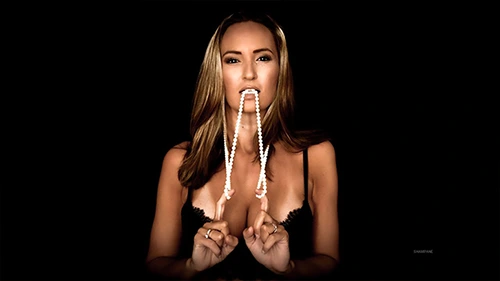 But I say again, only if you want to. You still can "interrupt" her and take the show to another direction. I just suggest you let her be. She knows what she is doing and the fact the show doesn't require much chat, it still feels like a genuine live show.
KerryBanks insane big natural tits
That is something for sure. Her tits have a perfect size. Big, but not too big. And it is all-natural. Kinda resembles the busty AlexandraClark. Though, I think Kerry's nipples are sexier.
I like three aspects of Kerry's big naturals tits: Size, shape and nipples.
Size: That is just perfect.
Shape: Because she has big tits, and they are natural, there is a risk of them being saggy. But with Kerry this does not happen, and she is already over 30. Kerry's tits have some very round nice shape, perfectly symmetrical. Although not too firm, they are not saggy at all. Her tits have the right level of flexibility
Nipples: They are small and hard. Her nipples get even hard when she is horny, making her look even hotter. That is so sexy.
KerryBanks deep-throating
It was quite a surprise when I watched her take the whole dildo deep in her throat. Not something I was expecting to watch in the first minutes of my very first time with her. I didn't know what she would be willing to do in private, so I decided to start with something that I thought would be soft, a blowjob. But she managed to turn a simple blowjob into an impressive deep-throat show. It is not just because she swallows the whole thing. But the way she does, non-stop, without gagging.
Her oral skills are so amazing that I let her suck on that dildo longer than I was planning. It was supposed to be a simple warm-up. But it ended up being almost the whole show.
Anal, double penetration and everything else
As impressive as her oral skills are the way she pleases herself. Putting it in the right words, she fucks like a champ. From a "simple" ride-a-dildo to an amazing double penetration, KerryBanks isn't picky and does it with a great desire. This, when you feel how special she perform, is. Her sexual appetite drives the whole show and makes her take two dildos with all pleasure.
Everything else means the fetish she is willing to perform. Namely with her cumming dildo. You may say this isn't anything special. But I can say that not every girl is willing to get messy with that "sperm" on any ordinary private show. But KerryBanks is. As this kind of fetish doesn't directly please her, I guess she only does this because she knows the member will be happy. There is no doubt that Miss Banks has two main concerns when in private: Please her and please whoever is watching her.
Shampane is KerryBanks
For those wondering, this model has changed her name due to LiveJasmin's new naming rules. She was known, since she joined LiveJasmin in 2010, as Shampane. But in 2020, LiveJasmin made her change her name because of its glamourification process, and that was when KerryBanks was born.
Facial cumshot picture
In 2020 KerryBanks uploaded a "controversial" picture to her premium gallery on LiveJasmin. Since the picture was part of a premium gallery, it was blurred unless. After some members bought access to the gallery, the discussion whether it was real or not, and who was the guy.
This picture features KerryBanks, in her bedroom, on her knees on the bed, topless, sticking her tongue out, with her face covered with what seems to be sperm. She got at least three big cumshots on her face. Very explicit, it looks like from a porn movie. I have this picture, but unfortunately, I can not post it here.
It remains unknown if that is real or fake cum, and if it is real, who was the lucky guy who came on her face.
Related links
Camgirls Similar to KerryBanks
Yeah, Kerry got some juicy big tits. They are perfect, but other girls have big tits too
No reviews have been added yet.
This review has no photos.
This review has no videos.