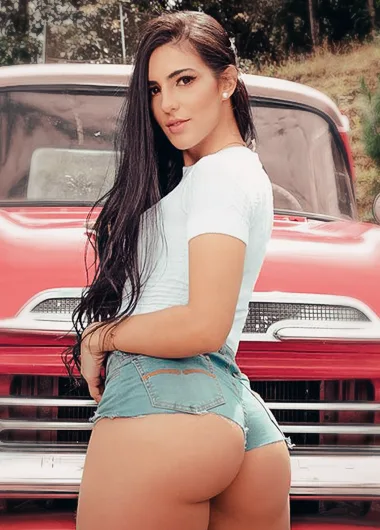 GabrielaParisi
My Terrific Booty Shaker And Her Next-Level Ass
Nicknames:
I can't deny I love big booties. When I first saw GabrielaParisi on LiveJasmin, dancing on cam, I had no doubts that I wanted a private chat with her to enjoy her ass. And what an ass this Colombia hottie has! Because of that ass alone, I took her in private chat right away. One of the best booty shakers on LiveJasmin!
We know how risky it can be to take a girl to a private cam show without having a quick conversation and figuring out what she is into. But her ass was worth the risk. Did I make the right choice?
A Jaw-dropping Ass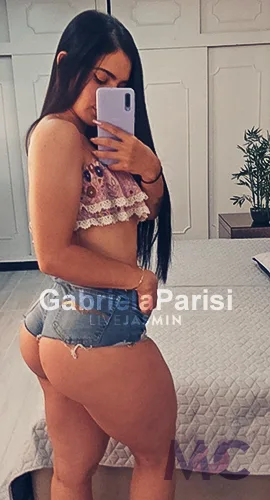 Assuming that GabrielaParisi was in free chat, wearing super tiny shorts, and teasing everyone with her magnificent ass, it would be safe to say that I could at least enjoy the view of her ass in private chat.
Sorry, I will repeat myself: Her ass is amazing! One of the best on LiveJasmin.
As soon as the private started, I only wanted her to show more of her hot ass. She opened the conversation with the usual hello and asked what I would like to see. Silly question!
I didn't want to be like, "get naked and show your ass." Somehow I was feeling like watching her teasing me with her ass. Therefore, I told her to dance, tease and get naked little by little.
She does not need to do much to tease or get any reaction from men. She could walk around the room, which would be enough to feed any sexual desire. But she danced a bit, twerked just enough to make me want more.
She does not post many stories on LiveJasmin, but when she does, it is just a dream.
GabrielaParisi The Best Twerker On LiveJasmin
Her ass gives her some advantage. It is so perfect, not too big, not too firm, nor too jelly. Because of her perfect ass, she could just stand, which would be enough.
No wonder she usually stands on her feet whenever she is in free chat.
GabrielaParisi knows how to twerk on cam and uses this as an excellent teasing tool. She twerks for a few seconds, almost mesmerizing you. And then she stops, stands up, turns around, and blows a kiss or something.

Twerking full power
This whole seduction game just makes me want more and more. I just want to tell her to get back to twerking and not stop.
I calmly watched everything, holding my instincts. But I wanted her to jump in bed and start getting down to business.
At the same time, I wanted her to keep twerking. Gosh, she is so good with that ass. The way she twerks reminds me a bit of another LiveJasmin camgirl from Colombia, MonicaVelez.
I dropped a message offering to buy a custom video of GabrielaParisi twerking on cam, but she replied saying that she could do all that in a private cam show. Yeah, but the quality is nowhere near as a 4K camera, and a custom video offers me better angles. In any case, I tried.
GabrielaParisi Is A Hot Athletic Girl
Let's make the immense effort of forgetting about her ass for a second, and let's talk about her whole body. A real piece of art. She is a goddess!
She has this beautiful body that drives anyone crazy. Thin waist, flat abs, muscular thighs, and strong arms. She definitely works out regularly.
I particularly like her thighs. Combined with her ass, they created the perfect curves. Oh, there I am, talking about her ass again. It is just impossible not to remember how perfect that ass is. I can easily say that from all the booty camgirls I have seen on LiveJasmin, GabrielaParisi has one of the best, if not the best. I can list her together with hot girls like Anisyia and Evixa.
GabrielaParisi Getting Naughty
So far, I have been talking about her as a teaser, dancer, and twerker. She is good at all that. But, at this point in my first private with her, she was still in her hot shorts. Because I didn't ask her to get naked right away, she was "just" dancing.
It is true that while twerking, she spread her ass, revealing part of her sexy bits.
Now it was time to see GabrielaParisi on cam, fully naked, and how naughty she can be in private. She was following my directions to dance and undress little by little. At this point, just four minutes into the private, she was topless already.
Six minutes into the private, she was all nude, which is not slow, in my opinion, because I asked her to go slow. Later, on a second private chat, I learned that she can get down to business in one minute. Because of that, GabrielaParisi is a perfect option if you are too horny to wait.
Fully Naked And Ready For Action
Moving on, she twerked a little bit more, now all naked and giving an excellent view of her pussy and asshole. Then she asked me how I would like to start. Fingers, toys, in bed? She gave me all the options.
I don't know why, but I like to follow the porn formula sequence: Blowjob, sex, anal sex, orgasm.
Sex, in this case, would be masturbation, naturally. You get the idea.
So, that was what I told her. First, start with a blowjob. Then we move to the bed, and she masturbates the way she prefers. I like to give the girl some freedom because then I have a better chance of having a good experience.
I told GabrielaParisi that anal sex could be optional, only if she wanted to. She promptly said: "Oh, don't worry, it's tight, but I can do anal." With that in mind, I was foreseeing a great show.
GabrielaParisi Deep-Throating On Cam
She proceeded with a blowjob first, as I asked. It started similar to a sloppy blowjob on a long dildo. Somewhat intense. I would say she was preparing for the next stage of blowjob that I was not expecting.

Deep-throating
Then GabrielaParisi put the whole dildo down her throat. On the first try, she had to push it, forcing the dildo to go all the way, then pulling it out slowly. From there on, the dildo was just sliding deep into her throat easily.
I think the only reason she wasn't going deeper was that the base of the dildo was stopping her.
I like how she did, though. She was looking to get a reaction from me. Just after pulling it out, she smiled and looked at the camera, saying, "how about that?" waiting for me to say something. I was astonished!
Time To Fuck GabrielaParisi
I didn't even have to say anything. She did the transition from blowjob to sex smoothly, laying down in bed and spreading her muscular legs, almost saying, "welcome to my pussy."

Spreading legs and welcoming us to her pussy
There was no lube or anything. She was wet enough and prepared the dildo quite well while performing the blowjob. Everything was set for her to start fucking her pussy.
She started sliding the dildo in her pussy. Initially, it was a bit hard, but she slowly pushed it until it was all in. After that, it was pure hardcore. She was going deep and hard in her pussy.
Then, already thinking about anal sex, she started fingering her asshole. But we get to this later.
She fucked her pussy in four positions, giving the best view. Every single position was as hot as you could imagine. She was giving the best porn action you can get from a camgirl.
My favorite? For sure, the reverse cowgirl, with Gabriela riding the dildo perfectly and bouncing her booty like a pro twerker.
Fucking GabrielaParisi's Amazing Booty
Now it was time to enjoy her booty. After watching GabrielaParisi masturbating in four positions for about 30 minutes, it was time for her asshole. Yep, you read it right—thirty minutes of non-stop sex. She is unstoppable and so hot that I don't want her to stop.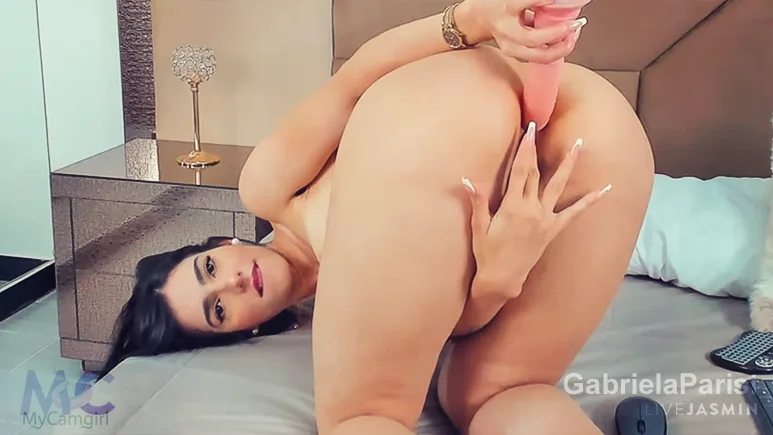 She said she was ready for anal sex but needed to grab a different dildo. I thought she was going to come back with a smaller dildo. It would be ok. I enjoy anal, but it is not mandatory—fingers, small dildo, big dildo, anything that works for the girl. But it turns out she just likes to use different dildos not to mix things up and keep everything clean.
The anal dildo was equally significantly big. I think it was the same model as the "pussy dildo." At first, I felt her ass wouldn't be able to handle that dildo, which would be ok. Again, any kind of anal play she could do would be good already. But she said, "let me just get everything ready, and you will see."
She proceeded to put some lube on the dildo and her ass. So, after all, she has lube. She just does not use it if her pussy is wet already.
Some fingering to make the way, and there goes the dildo. I honestly thought she would spend some time at the tip stage, pushing and pushing to get it inside. But then, it took just a tiny push, about two seconds, and the dildo started getting inside her ass. My reaction was, "slowly… slowly… ah, ok, we are in."
How Much Can Her Ass Handle?
Now the question was how deep she would go. She answered that quite fast. After two pushes, she went all the way in her ass. Not as deep as when she did the blowjob. But quite deep for a tight ass.
Most girls I watch doing anal sex don't go too deep. They simply can't handle it. They either are not used to it or don't enjoy anal sex at all to do it. In fact, many girls use those soft dildos that they can easily bend and pretend that they are going deep when they are not even half an inch inside.
Pro tip: If a camgirl doesn't give you a good view, most likely, she is not going in.
She Knows How To Be Perfect
But GabrielaParisi gives a perfect view. She started in the doggy style. That position alone was enough to have an outstanding anal show. I could see she was going in and that she was going deep. She was banging her asshole hard and showed no sign of tiredness.
Next, we moved to what I consider the most challenging position for anal sex: Reverse cowgirl.
As you can imagine, this was a request from me because I love when she rides the dildo in reverse cowgirl.
It is a complicated position because the dildo always slips out, and it can be uncomfortable for some assholes. Usually, the girl may not have control of the dildo because of the position. Going too deep is the best way to be sure the dildo doesn't slip out, but then, well, the girl needs to go deep.
It was a bit tricky at first. She struggled a bit to keep it inside. I think she pulled it out and tried two or three times again until she got it firmly inside her ass.
Performing Pure Hardcore
After that, it was again pure hardcore. I thought this would go slow, which is the best option to keep the dildo inside. But she surprised me! When she felt that the dildo was secure in place, she held it from the base and just started riding. Fucking amazing!
It was just like she was fucking her pussy, not her ass. She was going up and down, the dildo was holding position firmly like a hard cock, and it was sliding inside her asshole perfectly.
I must say that this was impressive. Not many girls agree to do this position for anal sex. Definitely, not many girls can go so hardcore like that. One of the most memorable anal sex moments a camgirl ever performed for me.
VIP Shows With GabrielaParisi Are As Hot As Private
Although she does not do VIP Shows every day, when she does, tickets sell out quite fast. Her performance is as hardcore as in private chats. That is not common on LiveJasmin, at all. But honestly, for LiveJasmin, GabrielaParisi is not a common camgirl. She is extraordinary.
She does not hold herself. The only thing I never saw her doing in a VIP Show was anal sex, which is understandable. If you expect anal in a VIP Show, I can tell you that it isn't easy to find a girl doing it. I suggest checking on DaianaEltons, who goes all the way and does everything you can imagine in private, VIP, and stories.
Anyways. On LiveJasmin, GabrielaParisi's VIP Shows usually last five minutes and are hardcore from beginning to end.
As I said, she does not start a VIP Show every day. Because she is very often busy in private chat, she ends up not having the chance to go for a VIP.
And Then Gabriela Got Fake Tits
She took a month off (February 2022.) The message she left on her profile informed us that she was on vacation. I am not going to lie, I was already expecting the big change. But I was also prepared for the case of GabrielaParisi leaving LiveJasmin.
On March 1, she returned with something more to show. A big pair of fake tits. The size is kinda proportional to her body. You can find some fortunate girls with natural tits like that. But still, they look a bit too big to be real. And honestly, she looks a lot better, 100% natural.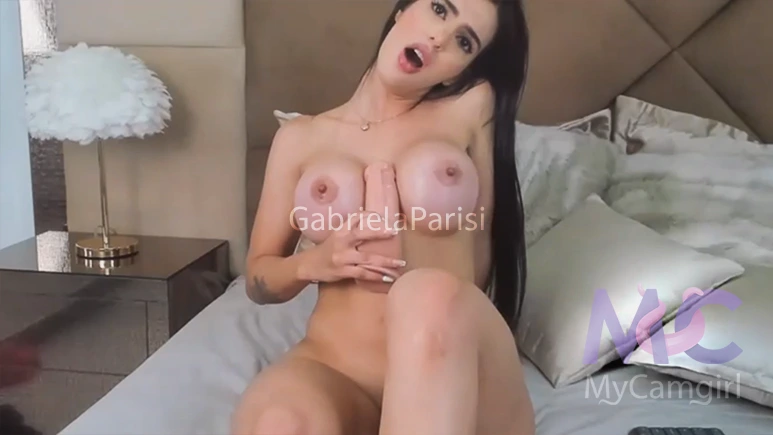 I admit that the procedure was very well done. I can't see any scar at all. The boobs look fake because it is just too perfectly round and firm.
It is true that the implants are still too fresh. Because of that, they will look fake for some time. But I still think Gabriela's natural tits were much better than the implants.
Bottom Line
One word to define GabrielaParisi of LiveJasmin? Forget! She is so good that I can't give only one word.
She is the perfect option if you are looking for an intense private show with a supreme level of hardcore. GabrielaParisi is one of the best options on LiveJasmin. She is a sure thing with no delays.
She takes all your requests as a challenge and turns that into a pleasure for her. Because of that, she can easily give you the highest level of satisfaction after a private chat.
GabrielaParisi is the best!
No reviews have been added yet.