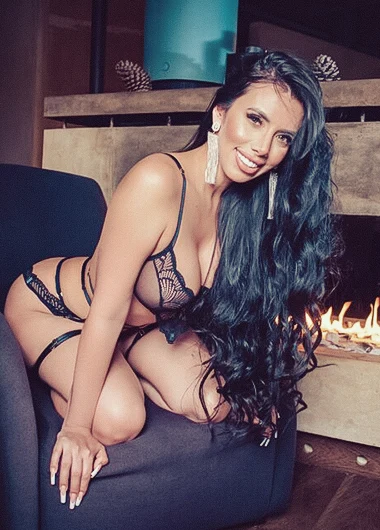 Estefania Brown
My Real Live Sex Doll
Nicknames:
I accept body modifications to some degree. Sometimes the changes are too much that I just move on. But sometimes I look at LiveJasmin camgirls like EstefaniaBrown, and I can't stop thinking of her in at least three different positions fucking her asshole. She does resemble a bit of a real-life sex doll at some level. As is usual among Latin American models, she has been through at least 4 different plastic surgeries. Again, not exactly the kind of camgirl I am looking for. But some desires speak louder.
This is a review about EstefaniaBrown, a Venezuelan webcam model (though living in Colombia) with a hot body that makes me wonder why she changed it so much. With pictures and videos of EstefaniaBrown, you will see how well she performs a cam show.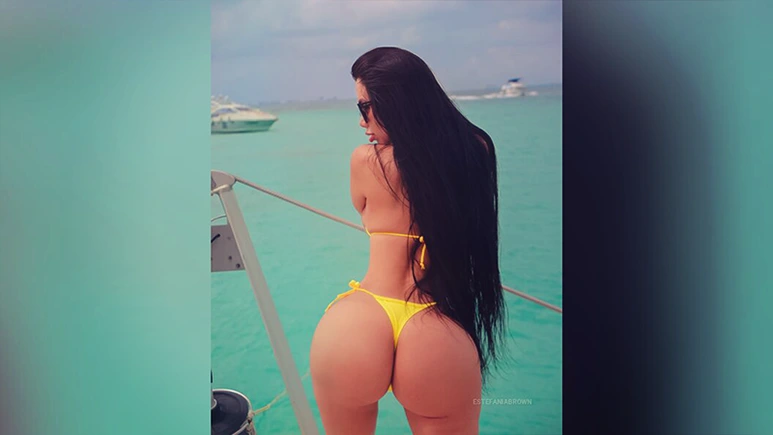 Who Is EstefaniaBrown on LiveJasmin?
She is a LiveJasmin camgirl who started camming in 2020 under a similar name: EstefaniaBraga. Why she changed her name? I don't know. But she actually got a new account. Which most likely means that she moved to another studio. She stopped coming online as EstefaniaBraga on February 2021, and one month later, she returned as EstefaniaBrown. The previous account remained active for many months until it got shut down.

Bouncing her ass
EstefaniaBrown is as naughty and kinky as you may wish. This woman rarely says no, and if she does, you probably can change her answer if you tip. She lists many things on her LiveJasmin profile that you can be sure you will get a 100% hardcore cam show from this Venezuelan camgirl. I am talking from deep throat to anal.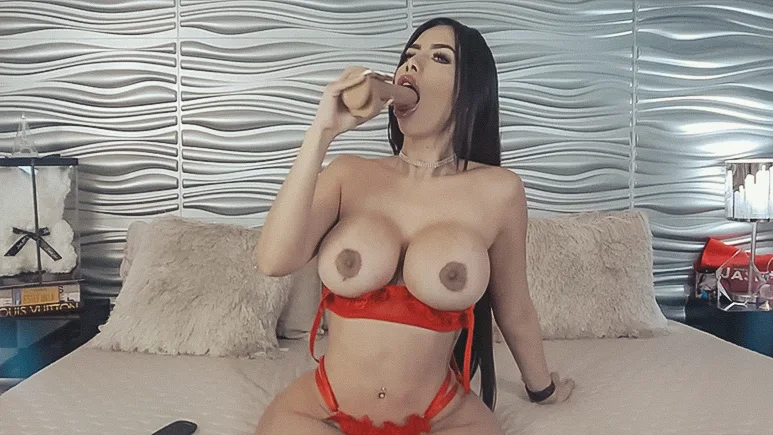 EstefaniaBrown And Her Venezuelan Camgirl Starter Pack
Yeah, that is what I call it. Well, actually, the starter pack is most common in other Latin American countries. She was probably influenced by Colombian girls and their insane body modifications. The complete starter pack includes fake tits, fake ass, lip injections, and liposuction. I am not going to count extremely long nails as body modification. But Estefania has that too.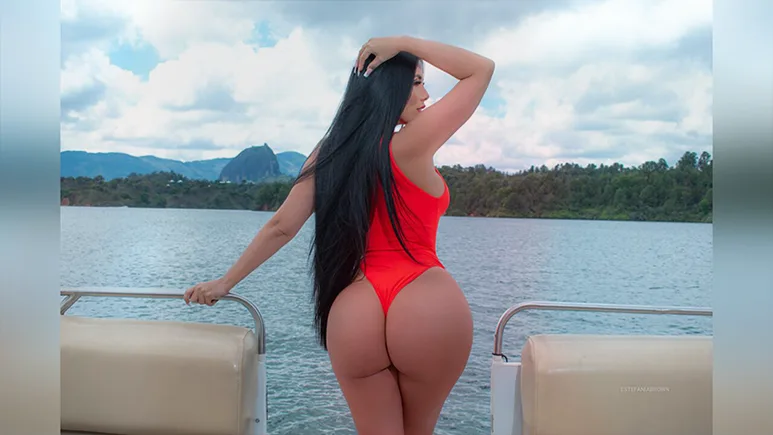 So, yeah. EstefaniaBrown got the whole starter pack. When she started camming, she already had some body modifications. She had fake tits that, in my opinion, look very good except for the scars. And she also had a fake ass, which seems a little bit too big and hard. It reminds a bit of Kim Kardashian's ass, with a massive volume on the cheeks but with the legs not fitting the proportion. Also, the cellulite effect that buttock injections typically cause.
Later, she got lip injections too. And, of course, she went for the most considerable size. Ok, maybe not the biggest because I've seen some crazy lip injections, but she has lips that are too big for her face. Or for anyone's face, for that matter. I still need to figure out why some women do this.
And a Possible Lipo
Also, I can't say 100% sure, but it looks like she got liposuction. EstefaniaBrown's belly looks so perfectly flat that it does not look natural. It does not really match the rest of her body. I am not saying she is fat, but she got some fat and cellulite that should inevitably show on her belly too. If we compare her first days as a camgirl and her most recent image on cam, it is clear that she got slimmer in the abdomen area.
The thing is, I have no problems with body modifications. My pet peeve here is how these modifications were done. Everything seems exaggerated and out of proportion. The interventions also look fake because you can see the signs of plastic surgeries. The final results make her look a bit like a real-life sex doll. Even when she smiles, her lips are oversized now, and she can't move naturally.
What Body Modifications Did She Do?
So, to recap:
Breast implants. This is obvious;
Buttock injections;
Lips injections;
Liposuction;
Why Did EstefaniaBrown Changed Her Body So Much?
It seems to be the mentality in Colombia, where she lives. The buttock injection is quite apparent. Their culture idolizes women with big round asses. It is not a surprise that this is one of Colombia's most common plastic surgeries. But yeah, if you look at that top 5, you will see that EstefaniaBrown did three of them. I believe that, technically, they don't consider lip injections as plastic surgery. That's why it does not require a doctor to perform it.
But why did she do it? Because of the culture, that is for sure. But remember that she is a camgirl. She makes money with her image. Of course, she will invest in her body to look more appealing to men.
But Modifications Aside, She Is Still Hot
But honestly, she is hot. I am just being too annoying with all that. But the truth is, I already had two private chats with her and joined her in two VIP Shows on LiveJasmin. If I had any real problem with her, or if her body modification would be a turn-off, I am sure I wouldn't spend money on her.
Yes, the modifications are a bit over the top. But she still looks hot. Her ass may be too big, but sometimes I just want to fuck in the ass a woman with a phat ass. Her breast implants left scars? Yes, but the shape and size are fucking perfect.
How Good Is EstefaniaBrown In Private Chat? (With Videos)
Now comes the critical question. Because it is pointless when a camgirl has a hot and so fuckable body if she performs poor cam shows.
Short answer: She is good in private chat.
But the long answer is a bit more complex. I will allow myself to be annoying again and say she could be better. She needs to deliver a truly hot cam show. It feels too automatic. I get that she often has quick private chats where the guy cums in two minutes and leaves. So she may wonder why she should put on an outstanding performance if the guy will most likely leave soon.
The thing is, she acts like that on long private chats too. Don't get me wrong, it is hot. Remember that I had more than one private chat with her. But overall, it is just a horny moment. I feel like watching her fucking her ass, so I go there for that.
VIP Shows Are A Good Option
Honestly, I still don't know how come her studio hasn't moved her to Streamate yet. That seems to be the normal graduation process for Latin American camgirls. After some time camming on LiveJasmin, if they reach a moderated success, the studio moves them to Streamate. There they can charge more because the audience usually spends more than on LiveJasmin.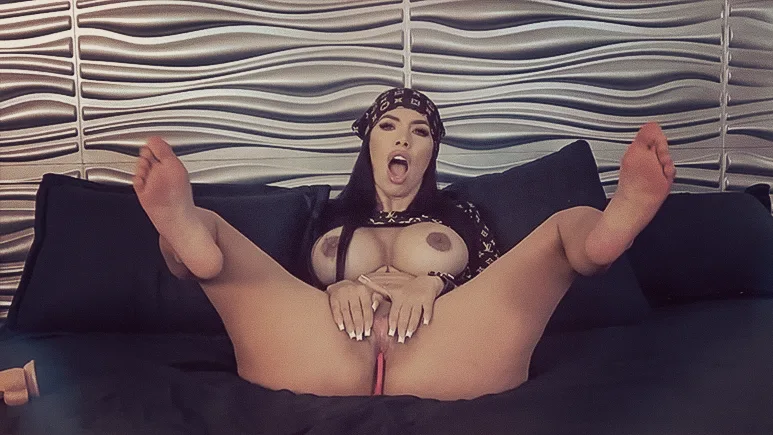 But anyway, her VIP shows are straight to the point. You get the whole explicit cam show, and you get to see EstefaniaBrown fully naked and masturbating. On top of that, she charges $3 per ticket for a five-minute VIP Show. That is merely 60 cents per minute. You know what you will get, and you can be sure she won't be stalling the show to milk more money. But I will talk about her VIP Shows later.
EstefaniaBrown's Huge Ass That You Can Fuck on Cam
Now, that is the money-maker. Yes, her big fake tits look good. But EstefaniaBrown's colossal ass is something else. Although it is manufactured, and you can see it, it is still a hot ass.
As I mentioned, I booked my private cam show with EstefaniaBrown on LiveJasmin more than once. Her ass was the only reason. She likes to spend some time sucking the dildo, and it is hot to watch her gagging on the dildo. But I just want her to turn around and play with her booty.
But Anal Comes With a Price
Now comes the turn-off; she may ask you to tip to do anal. We all know this is against the rules, but LiveJasmin does not enforce it unless it is a blatant scam or the girl is very aggressive at asking for tips. That is not the case with Estefania. So, she may ask for some tips. But she may just do anal as well without any extra incentive. It depends on how long you are in private.
On my first private cam show with EstefaniaBrown on LiveJasmin, she actually asked me that. But maybe it was because of the context. First, I joined an ongoing private chat. I know some girls don't like when members do this because they miss a chance to do the whole teasing routine. Second, it was my first time with her. She most likely assumed, like almost every camgirl does, that I was a quick-show kind of member.
So, when I asked, after a few minutes into the cam show, if she could play with her ass, she hinted that I would have to drop some gifts. In general, I don't do that. And in that situation, I didn't tip her. I ignored it and enjoyed the rest of the show without fucking her ass.
I am not going to lie; I was tempted to report her. But there is really no point in doing so. I would only get my credits back, but she would never perform another cam show for me.
Quick Tips To Avoid Problems
A quick tip: If you try to bargain and beg for anal anyway, you will get either a well-deserved rude answer or 100% fake anal sex with her bending her fingers.
Another tip, don't hold your breath counting on catching her in the middle of an anal sex cam show. When things get to premium sex acts, she blocks the private chat.
When I Finally Fucked EstefaniaBrown In The Ass Without Paying
No, no. It was not a free show. This is not even possible to happen on LiveJasmin. I meant that, on the second cam show that EstefaniaBrown performed for me, she didn't ask me to tip for her ass.
I suppose she realized I was a good-paying member, and I wasn't going to just fuck her in the ass in 2 minutes and leave without a goodbye. She was right. I stayed there for quite a long time because it is impossible to stop watching EstefaniaBrown doing anal.
I am not going to lie; I have a thing for her ass. Yeah, I have been talking non-stop about her buttock injections. But in the end, that is one ass I would fuck in porn style. Make her sit on my cock and eat it with her asshole. Balls deep.
Yeah, very explicit and graphic. But that is the best way to describe it and explain why I chat privately with a girl like EstefaniaBrown.
Unfortunately, she is not as hardcore as I want. She is not bad. But I want something like porn level, as I described. And EstefaniaBrown goes more like a MILF trying anal for the first time.
I still enjoy it. But I wish she could go to the hardcore porn level.
Rare LiveJasmin VIP Shows That Are Worth It
Considering that anal sex with EstefaniaBrown isn't precisely porn-level, though, again, still good. I don't see a real reason to pay the premium price of a private cam show with her. I get that it is a 1-on-1 session. You won't share her with anyone, and you won't be bothered by some horny guys throwing their sexual requests at her. But that comes at a price, and what she asks ($3.49) is more than the average price for a private chat on LiveJasmin.
So, a VIP Show at $0.60 per minute is a much better option. You will have five minutes of an explicit cam show. EstefaniaBrown will get naked and masturbate.
Also, if you are like me, who does not like the vibe toy thing, you may not enjoy the VIP Show much. That is because she goes to the show with a Lush inside her pussy. But I must admit that she does not beg for tips nor push members to tip. No, she is nowhere near the beggar ReynaGomez, that refuses to perform if nobody tips. EstefaniaBrown will do the show the same way whether you tip or not. But if people tip, she will do the usual phony reaction to motivate members to keep tipping.
If you can ignore this, or if this does not bother you, then a VIP Show is good for you.
But if you see her holding a VIP Show, don't think twice. Go ahead and buy a ticket. She only has this type of show sometimes. It is pretty rare. Usually, it is when things are going slow, and she wants to avoid staying in free chat anymore.
No reviews have been added yet.
This review has no photos.