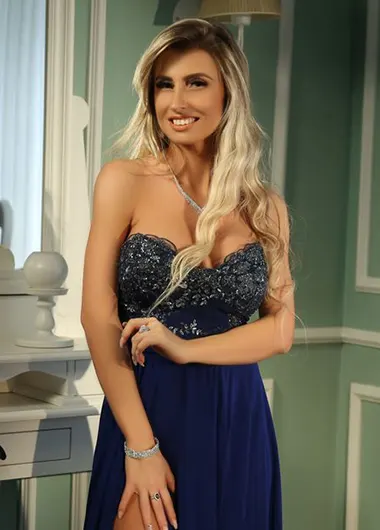 Emma
My Extravagant Model
Nicknames:
Emma is a stunning model. Here I can actually use the word model because she looks like an expensive and extravagant top model. True, Emma is no longer a teenager and can even be considered a veteran in this business. However, her beauty still is astonishing, although boosted with busty implants. But is her performance at the same level? How good is she in private? Or in a VIP show?
Emma's VIP Show Is A Well-Timed Extra Tease Show
If you are dying to see how Emma seduces you, how she teases and does a striptease, or how hot she looks in topless, then a VIP show is your best bet. You will get all that. But just that.
It seems that Emma was well trained for VIP shows. It is all scripted and timed to perfection in a six-minute show split into 3 chapters:
Talk and make jokes: 2 minutes
Dance (dressed): 2 minutes
Topless and tease: 2 minutes

The very last moment in Emma's VIP show
When the VIP show has only 10 seconds left, she will ask if anyone wants to continue the show in private. Then she proceeds to slowly remove her panties without actually showing her pussy. Everything is timed perfectly, so when she stands fully naked in the "let's fuck" position, the time runs out 😐
Financially speaking, it does not bother me much because the ticket for a VIP show is relatively cheap. She could show her tits, and it would still be a good deal. But in terms of excitement and enjoyment, it is disappointing. You hope that, out of a 6 minute VIP show, you will get more than barely 2 minutes of topless. It is frustrating, to say the least.
It is also disappointing that the VIP show is more of an extra tease, almost a set up to take you to private chat.
Private Chat Is A Slow Sexy Show With An Incomplete Performance
If you happen to take Emma in private after the VIP show, you have half the work done. She is already naked. The thing is, it still is tricky to get her to do something. You have just watched a striptease and the seduction dance, and since she is fully naked, you assume that she will start with the hardcore stuff. But you are wrong. You can't just get Emma to do that much of hardcore at all.
She acts like you need to break the ice, which was already broken during the VIP show. You are patient with her and give her some time. She plays hard, a bit pretentious, and she gives you the impression that if you push, you won't get anything. But when you realize you are already in private for 20+ minutes being nice to her, she is still sitting there just talking.
Overall, her performance feels incomplete. Three problems:
She Is Constantly Interrupting Herself
It is annoying as fuck how often she interrupts herself. Every 30 seconds or so, she feels the need to ask or say something. And she usually does not even ask verbally; she types in the chat to basically ask you if you are enjoying it or to make yet another joke or comment.
The problem is the constant interruption and that she takes too long to type whatever she wants to say.
She can speak, though. But if she can choose, she will prefer to type. It is not uncommon to just hang in there, in private, while she takes almost 1 minute to finish typing.
This whole situation just breaks the mood.
Emma Does Not Even Masturbate Properly
Emma is not even masturbating. She lies down there, spreads her legs, and fingers her pussy, or what she makes look like pussy fingering. She never really gives a clear view of the whole penetration thing. If you ask her to show it clearly, she gives excuses. It is fair to assume at least that she fakes it.
I show you two pictures of her private shows. It is not easy to tell which one she is chatting naked, and which one she is masturbating.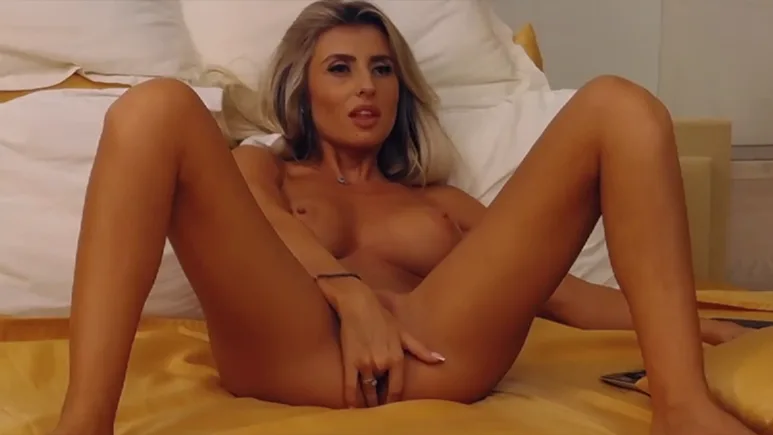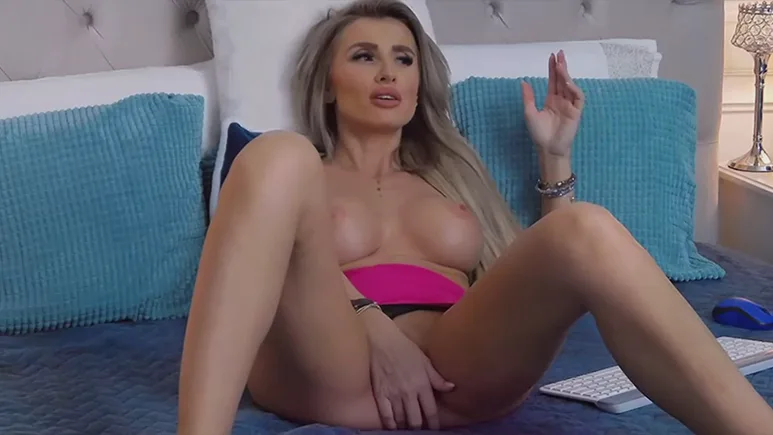 Emma Does Not Get To Finish It
First, it seems obvious she is not enjoying it. Masturbating is not what she wants to do. Naturally, she won't reach the climax. What happens is more like she is fingering because that is what you want to see. If she ever gets to finger herself, or not just rub her pussy like she is trying to rub something off.
But she won't move much; she won't try different positions. You feel it is all forced. At least with me, I prefer to stop watching. That's why the show feels incomplete. It does not get a happy ending.
It is not only the show, but the whole experience does not have a happy ending.
By the way, if you think you saw this girl before with a different name, you are not wrong. That's because Emma was previously known as EmmaNightX, or more commonly as EnjoyableEmma. She changed to Emma because of the LiveJasmin glamourification. She also dropped all her other accounts on the other sites when she decided to be an exclusive LiveJasmin model.
Related Links
Camgirls Similar to Emma
The look the same, but they have different and better performance in private
No reviews have been added yet.