For those who don't know DestinyDixon, she started camming on MyFreeCams in 2009, and, when I met her, she was already announcing her website.
I know, a website… something trivial nowadays, but back then it would take more than just creating an account on ModelCentro. A model would need to show a great potential to generate profit before a webmaster/producer could even consider setting up a website for her.
In a few weeks, she reached a good status there, raising her camscore quickly and a long list of fans. I just don't know why she didn't start camming sooner.
DestinyDixon a supermodel
My definition of a supermodel is not necessarily related to how hot the girl is. But how professional she looks.
MyFreeCams, and camworld in general, had on its first years almost 100% amateur camgirls. Most young girls, low quality cameras, poor lighting, etc. Different times.
A girl like DestinyDixon you would find on either glamour nude sessions or porn. In any case, they come with high-quality and professional equipment. I call them supermodels.
Like the other supermodels that I wrote about before, Destiny is very cool, contrary to what I thought a supermodel would be. She is really nice and caring (when she does not have 16548 guys on PM, of course).
Sometimes it's hard to have a chat with her or even have a private with her. The good thing is that MFC offers the spy mode. That way, if someone takes DestinyDixon in private first, you can just spy on the private show. Of course, it is not the same as being in control of this gorgeous girl.
DestinyDixon gone wild
For those who always had a fantasy to be in touch with a supermodel, to have a private chat with a sublime girl, and get nasty with her, DestinyDixon is an excellent chance to make your dream come true. I don't know if she has done some work before, like hardcore, but she definitely has an excellent move. I will try to ask her about that, but as I said, she is always busy. And now that her website is online and she is getting more and more famous, I don't know if she will keep working on MFC and what will be her schedule.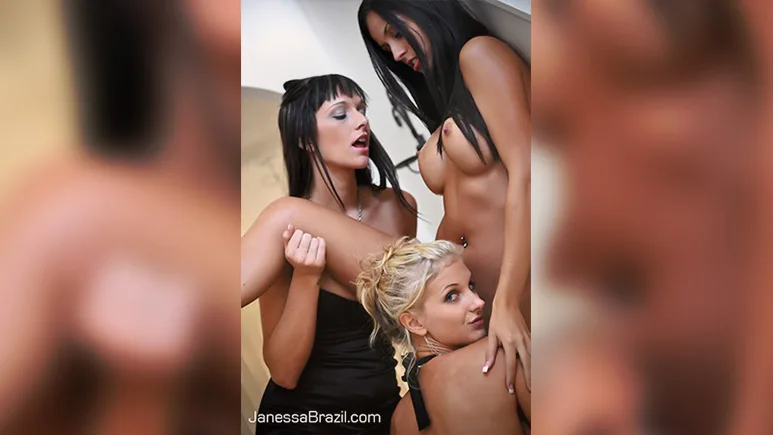 Charlie's Angel?
As with most of the American camgirls, Destiny plays perfectly. Many positions… many fingers… many things that she can do in private. Toys included. And she knows how to use her toys, sliding it up her pink pussy. She always starts unleashing her big tits, which is an excellent warm up. But quickly she takes off her panties and start playing with her pussy. But she does not stop there… Destiny is a girl ready for anal sex too. I have seen her sticking a big glass dildo up her asshole. Her ass is so tight that she has to do it slowly and as she goes pushing it, she moans like a horny devil.
DestinyDixon and her well known sexy friends
When I was talking to her about this review, I realized that she had a picture with JanessaBrazil on her profile. In her words:
MyCamgirl: is that JanessaBrazil on the photo with you?
DESTINYDIXON: yes she my girl, we work together
Actually, it was Janessa who sent me an email telling me that DestinyDixon.com was launched. By the way, the blonde girl that you see on the picture in the left, is NatalieNice.
I'm now waiting for them to make a photo session together. Just an innocent kiss and some Chantilly will be enough for my eyes. But they are free to do anything they want.
Lesbian shows on MyFreeCams
Speaking of lesbian shows, Destiny used to work along with some girls. Indeed, when DestinyDixon is online on MFC, normally there is a girl with her.
Most of the time it is KalliBurke, who is also a model on MFC. As far as I understand, they are not there to perform lesbian shows, but if there is a horny girl around and if you ask nicely, DestinyDixon will double the pleasure and do some sexy things with her friend. Actually, I have been told she would add some lesbian videos on her paid site. But it is better to ask her first.
And this is DestinyDixon. If you want professional and high-quality pictures and videos, you can check her paid site she now sells her content via OnlyFans.
For a good private chat with this gorgeous girl, add her to your friend list on MyFreeCams and wait for her to get online. And if you are looking for a sexy girl who can also do crazy stuff with a motorcycle, you should talk with DestinyDixon. She is also a motorcycle stunt rider.
Related links
No reviews have been added yet.