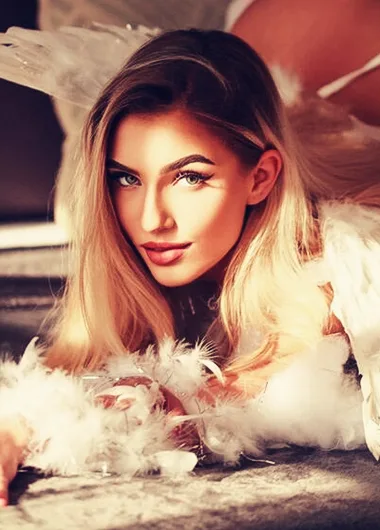 DaianaEltons
My Fascinating Anal Queen
Nicknames:
I can safely say that DaianaEltons, now just Daiana, is one of the best camgirls to join LiveJasmin in recent years. This beautiful slim Romanian camgirl is more than just a hot body. She is a girl who definitively knows how to play with her body and take it to the extreme. DaianaEltons is the definition of kinky and naughty, and I will show you why. Her shows are so straight to the point that you can't point out any problems.
Who Is DaianaEltons?
DaianaEltons is an exclusive LiveJasmin camgirl from Romania, working for one of those famous studios. She started camming on LiveJasmin in 2021. I dare to say she beats MichelMon for the LiveJasmin girl of the year title. And I say this being a big fan of MichelMon.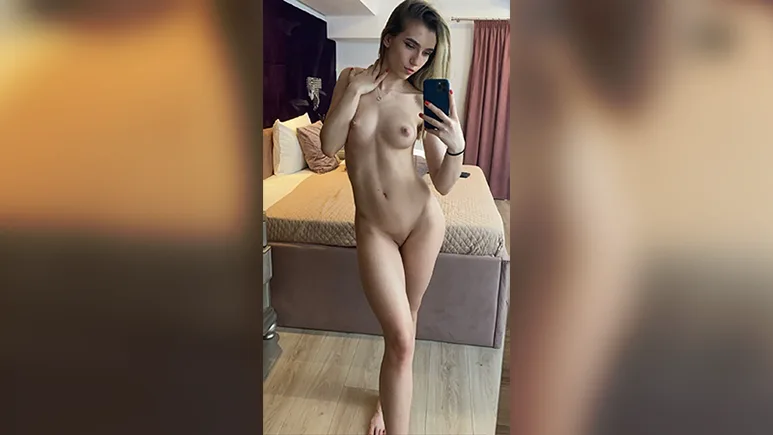 I met her shortly after her debut; she still had the "new" badge. But her performance and way of being in front of the camera were so natural and hot that I thought she had a few years of camming under her belt.
No, no. DaianaEltons had really just started camming on LiveJasmin. Her price, 1.99 per minute, which is the usual starting point for most models on LiveJasmin, just gives away that she was indeed just starting.
Note: If you go run to her now thinking you can have a private for just 1.99, you can forget. She has graduated since then, and now her price is 2.99. Still an excellent price for the performance she provides. You should go before she graduates to 3.99.
Really, her price may go up in the future, and I foresee her becoming one of those busy girls you rarely see available in free chat.
Edit: And just as I predicted, Daiana changed her price on LiveJasmin. On April 2022, she increased her price from 2.99 to 3.99. I even got the price right.
DaianaEltons Introduces Herself
I saw this beauty in free chat a few times but never had the chance to start a private with her; I weighed whether to go private or not. At first, I must admit, she is not an instant decision. She is beautiful and everything. But she has that studio look that reminds Emma. Because of that, I was a bit reluctant.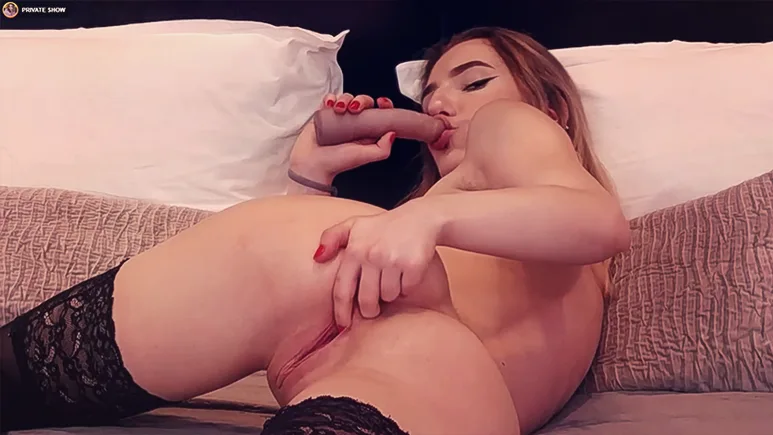 But one day, she was busy in private, and I decided to peek. What I saw pretty much sums up her style. I call that DaianaEltons' business card and how she introduces herself.
Basically, she was fully naked in bed, sucking a dildo and doing a double penetration with her fingers. That image was the best presentation I could get. I like that on the Peek feature; I can see what is going on for a low price.
It goes without saying that I immediately ended my 30-second peek session and joined the private chat. I didn't want to risk the other guy leaving and then she would stop the show. That's what I don't like about the Peek feature. I wanted to let her know that another member was watching and that she could just continue in case the other guy would leave.
Alone In Private Chat With DaianaEltons
A couple of minutes later, the other guy left, and I was alone in a private cam show with DaianaEltons. He probably ran out of credits because the show was at its peak, with Daiana in doggy style, still fingering her ass and pussy.
She right away shifted her attention to me and asked if I was enjoying it. I simply said that she was doing quite well and could continue. A few minutes later, she offered to use her toy, which released the beast in her.
Going Hard On DaianaEltons' Ass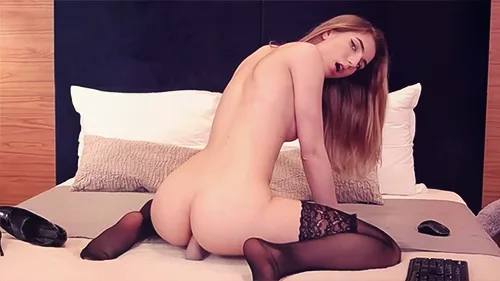 Something I appreciate about DaianaEltons is that she never says no. I asked if she could use the dildo in her asshole, and she promptly said yes.
How would you like it? – She asked. Before I could answer, she said she could sit on it. Really? Not that many girls do that, let alone take the initiative to sit on a dildo. Given the position, it is a bit extreme because the dildo tends to go way too deep for what most girls can handle.
Still surprised, I said I would like to see that. Slowly at first. But with time, she got deeper and deeper. She was really riding it like she was fucking her pussy. But it was actually her asshole. Not the whole dildo, but almost.
She Keeps Going With Anal
I told her that she could stop doing anal altogether if it was getting too painful. But she just positioned herself in a different way to get more comfortable. She continued fucking her ass like she was eating ice cream on a hot day.
Anal is not a must for me. If the girl does it, it is ok. If not, it is ok too. Since she had been doing it for some time already, DaianaEltons assumed that I was the kind of guy into anal. So, she offered to play with her ass with toys like Buttplug or anal beads. I chose the beads.
It was a middle-size anal bead with four bead balls. She gracefully put each ball inside her asshole, taking about 2 minutes to complete the task. Then, we just talked for a few minutes with her lying down on her side with the bead balls in her ass.
I enjoyed watching her fucking her ass in four different positions, using anal beads, and catwalk with it in her ass.
In the end, I said I was running out of credits and that she could remove the beads. But she said she would keep it there as a surprise to the next guy to take her in private. How naughty of her…
DaianaEltons Performs Superb VIP Shows
VIP Shows are a feature that many models use as appetizers, a promo tool to get members to join a private chat. But camgirls are free to do anything they want in a VIP Show, where she differentiates herself from the competition.
Clear subject: DaianaEltons is very clear about what will happen in the VIP Show. There are no ambiguous words or puns. You read the topic and know what the show will be about.
Great value for money: It is just 5 credits per ticket to watch a whole show that other models only do in private. Actually, considering how much she provides, she could easily ask for more.
Amazing performance: Forget about teasing and foreplay. Daiana jumps right into the action on LiveJasmin and delivers a great show.
If you search around, many models will fail on at least one point, if not all points. Too many models will be confusing about the show. Some will set a very high goal that they never reach, so the show never happens. And other girls will perform a scripted show with the sole intent of getting you to start a private chat afterward.
That last point is essential and surprising because she is a studio model, and also Daiana is a LiveJasmin model. Yes, that's right. At this point, you have already forgotten that we are talking about a studio model. Therefore, she has been through some initiation and coaching.
Yet, DaianaEltons doesn't do any tricks the studios usually teach models. She doesn't have any bad habits or anything. It is like she went to the wrong class and ended up training to perform pure porn. This is a big plus for her because it makes her very different from most models.
DaianaEltons Getting Wet On LiveJasmin's VIP Show
She announced that it was written right there in the subject before the show. But I thought she meant a poetic wet. I definitively was not expecting what she had saved for us.

DaianaEltons Squirting in a VIP Show
Mid-show, DaianaEltons started getting wet, but crazy wet. It was not some cream; it was really wet. She was masturbating using a lush and a dildo, both inside her pussy. She started squirting like crazy, which I am always skeptical of. But moving on… She was squirting hard, and the more she squirted, the more her asshole was opening.
At some point, she was already wet, including the bed, and reached her final squirt. Her orgasm was so intense, and she squirted so hard that her asshole simply went wide open like it was screaming for a cock. That was a very unique view.

Asshole Opening
DaianaEltons Has One Of The Best Stories
After my first private with her, she presented me with some free topless pictures, encouraging me to check her stories. She had so many premium stories that I thought it would be expensive to subscribe to. It turns out she charges only 5 credits 7 credits (the price was updated while I was writing this review.) Still quite cheap for one of the best LiveJasmin stories.

Example of a premium story
Trust me, DaianaEltons posts stuff that most girls wouldn't dare. For example, it is common for her to post at least a masturbation video once or twice per week. Because of the limitation on stories, the video needs to be split into small chunks. But you get the whole thing anyway.
All parts together are about 3-4 minutes. Considering that her stories cost 5 credits per week, she is charging just a symbolic price. I am talking about 100% explicit videos for merely 5 credits. That is the average price girls ask for stories featuring pictures of the yogurt they just ate or some random cat. If they even update their stories more than a couple of times per week.
She actually posts on her free stories some teases of her premium stories in case you are not convinced. You can just go there and take a look before paying for anything.
Where Does She Get Inspiration?
Short answer: From porn. She just watches porn for her own pleasure and then takes ideas from there.
DaianaEltons was already performing shows like a porn actress with only a few weeks of camming. She would know hot positions, how to give the best view, how to play, etc. In other words, how to masturbate to an audience.
You know, because there is a fundamental difference between masturbating for pleasure in your bedroom's privacy and masturbating to pleasure others. It is an art that DaianaEltons somehow has mastered.
I asked her if she had any prior experience. Maybe she was a camgirl before or did some porn. She said she learned everything she knew from her sex life with her boyfriend. They used to watch porn together and try things from porn movies. Now, she just applies the same idea in her private chat.
Getting Wild In A Changing Room
One day I saw her busy in private chat, and I decided to take a sneak peek to see what she was doing. To my surprise, she was in a changing room at a clothing store. I knew she was broadcasting from her mobile phone while at the mall. But I didn't think she was going to stores to perform shows.
I want to clarify that I am not a big fan of cam shows in public places like changing rooms. It is ok if the girl is just going to get naked. After all, the changing room is the place for that. But performing a full show? Although it is hot and naughty, I always think about who will use the booth after. Or, if the girl squirts, which Daiana does, who will clean that?
Also, I'd like to point out that LiveJasmin allows private chats in a changing room. She was not breaking any rules. In fact, I am almost 100% sure that she checked with LiveJasmin first before doing it.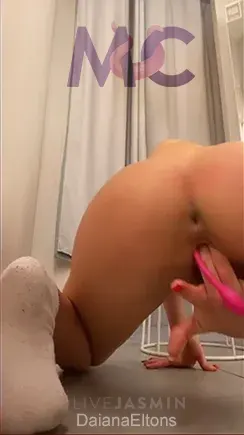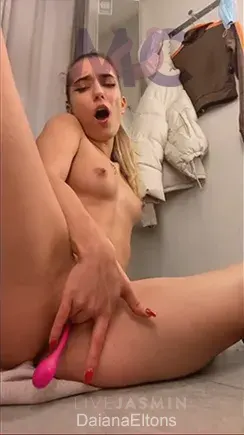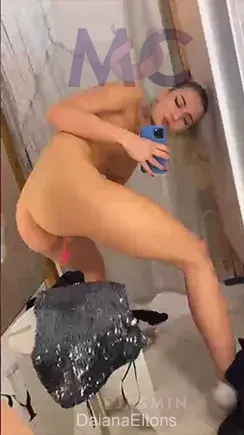 During the private chat, which was not started by me, she acted like this was the member's idea and dared her to do it. She sounded like she had never done this before, but at the same time, she looked comfortable. She did the whole show fearless, even though there were people around.
VIP Show With Orgasm In A Changing Room
After this private chat, she started a VIP Show where the subject was "Orgasm in the changing room" or something along those lines.
This VIP Show reached the goal in like 2 minutes, which is impressive for LiveJasmin. Everyone wanted to watch her masturbating in the changing room. She not only masturbated, but she also squirts like crazy. She even tried to fist her pussy while sitting on the changing room floor.
When the show was over, she got dressed and walked away. The clueless security only told her to put her mask on when she left the store.
The Name Change
This is a quick update. DaianaEltons has changed her name to Daiana on LiveJasmin. She is still camming exclusively there. This seems to be a common thing on LiveJasmin now. If a simple, shorter version of a model's name is available, models change their names. Usually, they drop their second name, as Daiana did.
Bottom Line
DaianaEltons is a sure thing, 100% pure hardcore porn style. She won't say no to anything and will try her best to accommodate your sexual desire. She can be, as she describes herself, naughty or nice. Indeed, Daiana can be anything you want.
No reviews have been added yet.