Chaturbate – My Super Free Camsite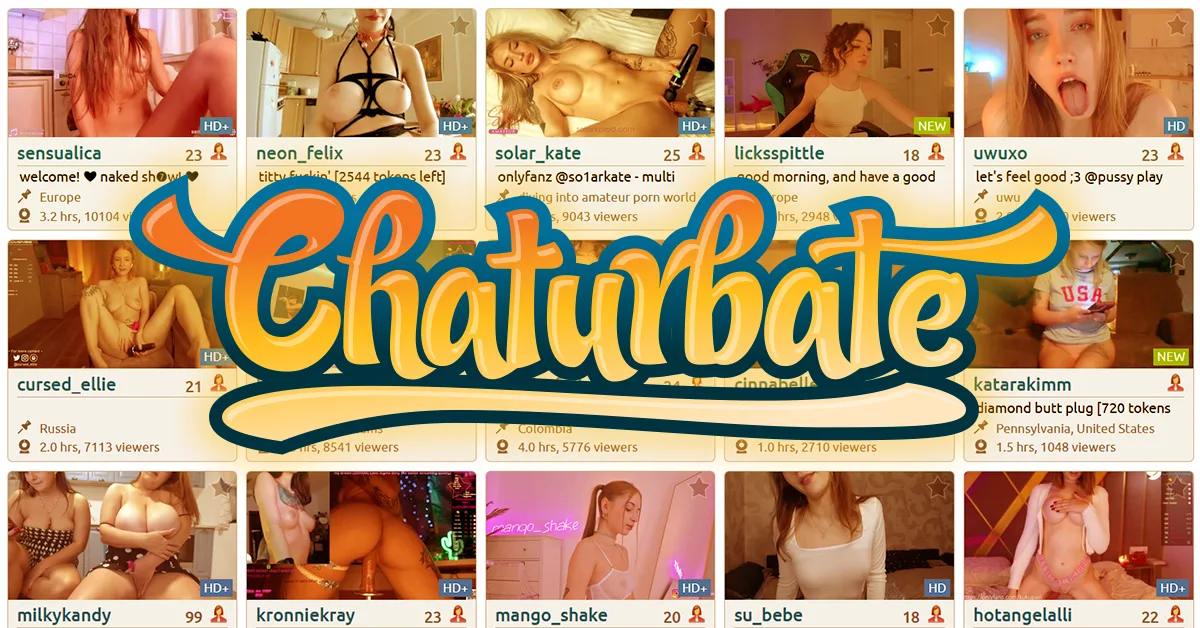 | | |
| --- | --- |
| Launched | 2011 |
| Type | Freemium |
| Private chats | unknown |
| Cam to Cam | Yes |
| Show Recording | Yes |
| VIP Program | Yes |
Chaturbate
Chaturbate 's details
The definitive camsite to watch free show 24 hours
Chaturbate models reviewed by MyCamgirl
Introduction
Chaturbate is the free-show business model on steroids. They came at a historical moment when free shows were already the next big thing after the fire. What did they do? They turned that fire into a volcano.
This is a camsite that brought us camgirls like American Kati3kat, and homemade porn model HannahJames710
I am trying not to mention or make comparisons with MyFreeCams, but it is hard. During its prime time, MyFreeCams, the big bang of free shows, has around 1,500 models. That is half Chaturbate's models during its off-peak hours on a slow day. It is not only about online models but how many of them are performing free shows.
I have already talked about how public shows sent Chaturbate to the Moon. You can go ahead and read in detail why Chaturbate became so successful in this business, even though it arrived late to the party.
Is Chaturbate Good?
Well, I would say yes and no. It will depend on what kind of experience you are looking for.
If you prefer a traditional private-orientated camsite, complete attention from the model, and a one-on-one experience, then Chaturbate may be frustrating. The percentage of models accepting privates is not that great. The ones that accept tend to charge more than average to compensate for their potential earnings with public shows.
In fact, Chaturbate is so much about tipping and free shows that the option to list private shows is relegated to the footer links. Yes, it also appears on the top menu, but there, for some unknown reason, they call it "Spy Shows." Wanna start a private chat? Don't miss the small link under the video stream that says, "Start private show."
But if you want free shows, participate in tipping, and all the things that come with public chat rooms, then Chaturbate is one of the best options out there. The amount of models and variety is astonishing. You will easily find at least 100 girls performing a show in public chat at any given time. And I am talking about shows. If we also count the girls fully or half-naked willing to do a handful of sex acts for some tips, then you have virtually unlimited options.
Overview
I can say that I saw Chaturbate coming to live back in 2011; it was interesting to see the site growing exponentially. It quickly became THE site for free shows.
But I admit that my first impression was not that great. At least regarding the design and layout. Which still is the same. Chaturbate started with a basic design, planning on changing it later. Still, models and members got so used to this that now Chaturbate is afraid of making any substantial design changes. I know what I am talking about. People really don't like design changes.
The models were primarily amateurs with low-quality cameras and poor lighting. In fact, many streamers or broadcasters (let's call them that because they were not camgirls) were using Chaturbate as some kind of alternative twitch. There were quite a few doing this, and fun enough, they used to appear on the first page. Can you imagine? The page that is now the dream page for all camgirls, used to have a handful of exhibitionists.
But things quickly started changing. Chaturbate got more camgirls in a matter of months, but these new models had better cameras/lighting. Most importantly, for a camsite like Chaturbate, these camgirls were not shy at all. I mean, on a camsite like Chaturbate, a shy girl will have a hard time finding her audience.
I must give credit to audacious and confident camgirls for Chaturbate's enormous success. They really embraced the site's vision and the members' desires very well. You must understand that on Chaturbate, you use tips to communicate, and camgirls are good at understanding what your tips mean.
Chaturbate's Models
It is not mandatory, but camgirls who want to join Chaturbate should be ready for the hardcore fest they will be facing. They may need to join that fest if they wish to have a chance on Chaturbate. Yes, camgirls still can be non-nude or any other softcore variant. But that is not common on Chaturbate and not successful neither.
That is to say, what kind of camgirls and action, as a member, you will find on Chaturbate.
Are these camgirls hot? YES! It is a big yes. The reason is straightforward and logical. Chaturbate has so many camgirls of many sizes, shapes, colors, and ages. They are so different from each other, performing shows with different styles and skills. I am sure that with such broad options to choose from, there are camgirls that fit pretty much all tastes.
Model Profiles
Kinda basic, but with the possibility to spice it a bit. It is impossible to completely change to make it look like some tacky myspace profile (yeah, MyFreeCams, I am looking at you.) All that girls can do is use HTML code in the "About Me" area. They are free to put anything in there. Even increase the size, making the page longer. But no matter how much HTML code they use, they are still confined to the About Me area. They can't change the whole profile page.
Paid Photos and Videos
It is essential, but it does its job. The girl uploads some photos/videos, organizes them into galleries, and sets a price. There is no preview, just a small cover. You can see how many items are in the gallery. But that is all. If you are interested in seeing what is inside, then you need to pay.
You can also join the model's fan club and have access to the galleries.
Live Room Preview
It still is the same since 2011. Around 2018, Chaturbate increased the image size a bit, probably to fit all devices. But on the desktop, you still see the same small room preview.
The preview s static, so it won't load a live video if you hover over. By default, it gets updated every 45 seconds. I suggest increasing it to 90 seconds or even disabling it altogether. Otherwise, it can be kinda annoying with the model list being reorganized all the time. So many times, I was going to click on one room, and then the page is reloaded, and the room is moved two rows away.
Tip Menu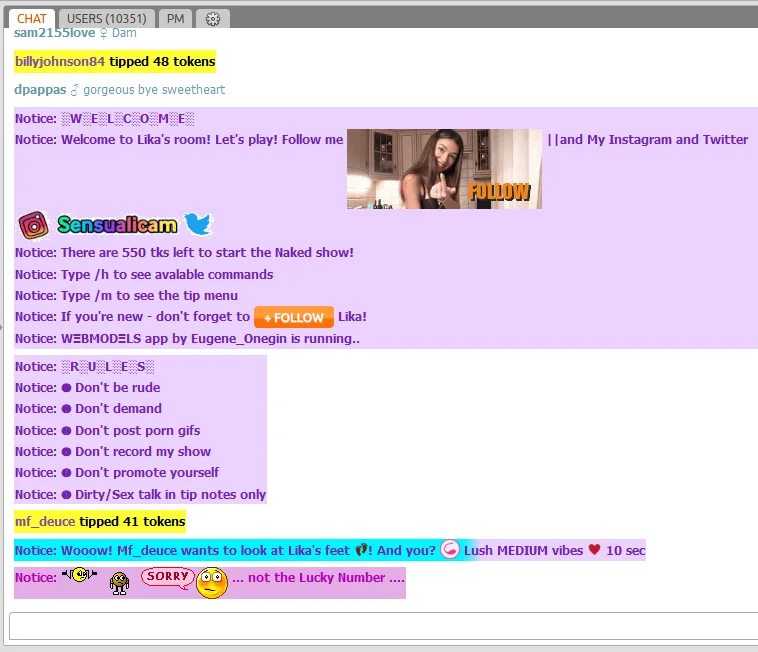 Almost every model has this. You get spammed by the room bot every time you join a room. If you miss it, just type /menu to see it again.
Keep in mind that the tip menu is an optional feature (Chaturbate calls it an app.) Like I said, almost every camgirl uses the tip menu. But some don't. They need to build a menu and activate the app. This same app also handles the countdown/goal. I think that is why so many girls have a tip menu.
Anyway, if you don't know how this works, it is very simple: You tip, and the girl perform the act.
There are no written rules about how fast a model should perform an act or how long she should perform it. But most girls, if not busy already performing something else, will do right after getting the tip.
Chat options
I almost could say that Chaturbate only has one chat option: Free chat! But they actually have other options. Although more girls are now open to private chat, most still focus on free shows.
I must say that they have too many confusing chat options for a camsite heavily focused on free chat. But the thing is, these chat options are actually apps that allow models to add functions to their rooms. And these apps can be created by users, which can create an app for a particular situation, and boom, that is yet another chat option. I will focus on the possibilities Chaturbate offers.
Free Chat
That is where the action happens. Yeah, this sounds like the usual description for private chats. But no, "free chat" means precisely that at Chaturbate. With so many girls doing countdowns and very explicit items on the tip menu, you can be sure that a lot of action happens in free chat.
Here are some random snaps of the kind of action you can find in free chat on Chaturbate:
In many chat rooms, the action is non-stop to the point that you can't even tell if another countdown has already started. But in other rooms, you will need to tip to get noticed and get things going.
You can't do anything without an account; just watch. If you wanna say anything, you will need to create an account. And sometimes, even with an account, you will need to buy some tokens because models can block zero-token members from talking, which I think is good.
Private Chat
In the beginning, the private chat option was not popular at all. Really, it used to have only 3% of girls in private. Back then, models were deeply involved with public shows. But the public shows, although still super popular and profitable, got oversaturated.
Nowadays is more common to find girls taking private chats. Just to compare with the 3% from 2011, this number increased to 8% in 2021. Keep in mind that 8% today means around 260 girls. That is how many girls used to be online in 2011! Now Chaturbate has that same amount busy in private. Talk about growing a business…
Anyway, private chats work the same way as on other camsites. It is your intimate and personal time with the girl. However, the model needs to be open for private chats.
Community Controlled Shows
So, this is where things get confused and wild. First, you need to go to Spy Cams to see the models doing these community-controlled shows. Yes, the page is kinda hidden and it was supposed to list private chats. Scroll down, and you will see these community-controlled shows.
Judging by the name, it sounds like you can control the show, but it is nothing like that. By control, they mean you must do something (tip) to join the chat room. All the chat rooms listed under Community Controlled Shows use apps to hide the stream and control who can access it.
The Popular Apps
The most popular are the Ticket Show and the CrazyTip apps. With the famous "Ticket Show," you tip a certain amount for a ticket, and access to the room is granted to you. The CrazyTip option is 100% as a group show on other camsites. You tip a certain amount to join the room, and then you pay the same amount for every minute you stay in the room, exactly like a group show on MyFreeCams.
What annoys me is that the list of Community Controlled Shows doesn't tell me what app the model is using and how much it costs to join the show. This forces me to load the model's room (without joining it) to see what she is up to.
By the way, watch out for tricky broadcasters. Chaturbate allows broadcasters to upload a custom thumbnail, which opens doors for people to use an eye-catch image that does not reflect what is going on behind the curtains. But in all fairness, Chaturbate is fast identifying these broadcasters, and then they put a big warning in the chat every time you join the room. I have no idea why they don't just ban these accounts. It is Chaturbate who is labeling those as "fake accounts."
Group Shows
No, they don't have it anymore. At least not as part of Chaturbate's official features. If you want a group show, you must look for the CrazyTip on community-controlled shows.
Unique Features
Apps
Apps are a convenient and unique feature on Chaturbate. Basically, Chaturbate opens its chat API and allows anyone to build apps that interact with Chaturbate. These apps can control the room by blocking streams, sending auto messages, removing comments with offensive words, etc.
This gives freedom to people to build extra functions to make Chaturbate more complete.
Common questions
How What Do Chaturbate Username Colors Mean?
It simply indicates the status of each user in the chat room.
Orange: That is the model
Red: Those are the room's moderator (don't them confuse with Chaturbate staff)
Green: Fan club members
Dark Purple: Users that have tipped at least 1000 tokens in the past 2 weeks
Light Purple: Users that have tipped at least 250 tokens in the past 2 weeks
Dark Blue: Users that have tipped at least 50 tokens in the past 2 weeks
Light Blue: Users with tokens but didn't use the minimum to be any of the above
Grey: Users that have no tokens
As you can see, the color can be misleading, especially if you spend more than 1000 tokens. Say that you spent 20 times more than the minimum; it will still show you as someone who spent the minimum.
Also, suppose you are a fan club member. In that case, your color gets overridden by green, so nobody can see your actual spending status.
Can Models See How Much I Spend On Chaturbate?
Models can't see the exact amount. But they can have an idea based on the color of your nickname. But as mentioned before, the colors can be misleading. Also, it is just an idea of how much you spent in the last 2 weeks, not your all-time tokens spent. If you are coming from vacation, they will see you as someone who has tokens but does not use them.
How Does Chaturbate Rank its Models?
They use the number of viewers with tokens in the chat room. As simple as that. They used to count everybody, but then people started using bots for gaming the system. So now, someone would need not only hundreds of bots but bots with tokens. Not that this will stop people for sure, but at least discourage many of them.
Is There a Chaturbate Token Hack?
Yes! You just need to click on… Nah, I am joking. There is no hack. If there was, then it would defeat Chaturbate's ranking system. Also, let me make this very clear. There is no, and there was never, hack to get free credits on any camsite.
Prices
Well, prices with Chaturbate are complicated because so many camgirls prefer free shows over privates, and each girl sets different prices for the shows, with so many levels of tokens. It is almost impossible to break down the prices and build a table.
For privates, Chaturbate allows camgirls to set prices from 6 up to 240 tokens per minute. However, there is not easy to collect this data because Chaturbate does not include this on its API. But options for private are the following:
6 Tokens
12 Tokens
18 Tokens
30 Tokens
42 Tokens
60 Tokens (this seems to be the most common)
72 Tokens
90 Tokens
120 Tokens
150 Tokens
180 Tokens
240 Tokens
But How Much Costs a Token Anyway?
Well, that will depend on how many tokens you buy and the payment method you use. It can go from $0.08 per token up to $0.109. Basically, the more you buy, the less per token you pay.
If you compare just one token, then the difference is not that much. But the difference between buying one large package vs. buying multiple small packages is something to consider. For example, I can buy 400 tokens or 4050 tokens. If I buy 4050 tokens, I save $79.92.
I know that this is peanuts for big tippers, and they usually don't look at this. But for most users, this is a great deal. And if you are like me that keep buying tokens, you save a little bit here, there… and after a few months, you have saved thousands.
By the way, the only way to buy at $0.08 per token is by wire transfer, and the minimum is $250.
Video Quality on Chaturbate
As good as you can get. Chaturbate has an excellent network. I hate blaming camgirls, but if you see someone with bad video quality on Chaturbate, there is no doubt that is exclusively an issue on the girl's side. Either her camera, connection, computer…
Unlike LiveJasmin, which constantly checks each model's stream and warns them to improve it, Chaturbate does not do it at all. If a girl's video looks like it straight out of a birthday party from the '80s, Chaturbate does not do anything. They provide the best network possible to handle thousands of girls. That's all they can do.
Chaturbate is Fully Mobile Ready
Yes, it is. It works pretty well on mobile. Well, if the room is not too busy, it is easy to follow the conversation. The font size is big enough to read it clear. Tipping is also easy on mobile since it does not take too many clicks.
Chaturbate's Customer Support
My experience with Chaturbate's customer support is zero. I never had to contact them. That pretty much says how good the site works. I know that people have problems with them. But I can only speak for myself. Never had a single issue that would require customer support or any question not already answered on their help page.
The Bottom Line
Chaturbate could be considered a sea of camgirls, but it is more like a whole world of camgirls. It has a primary interface with simple features, almost telling users to focus on the shows. They pretty much took a popular concept sent it into exponential success.
With thousands of camgirls of all sorts ready to start a hardcore show at any time, Chaturbate has become the place to go if you want public shows and flash your tokens.