Cams.com – My First Camsite. Are They Still Good in 2021?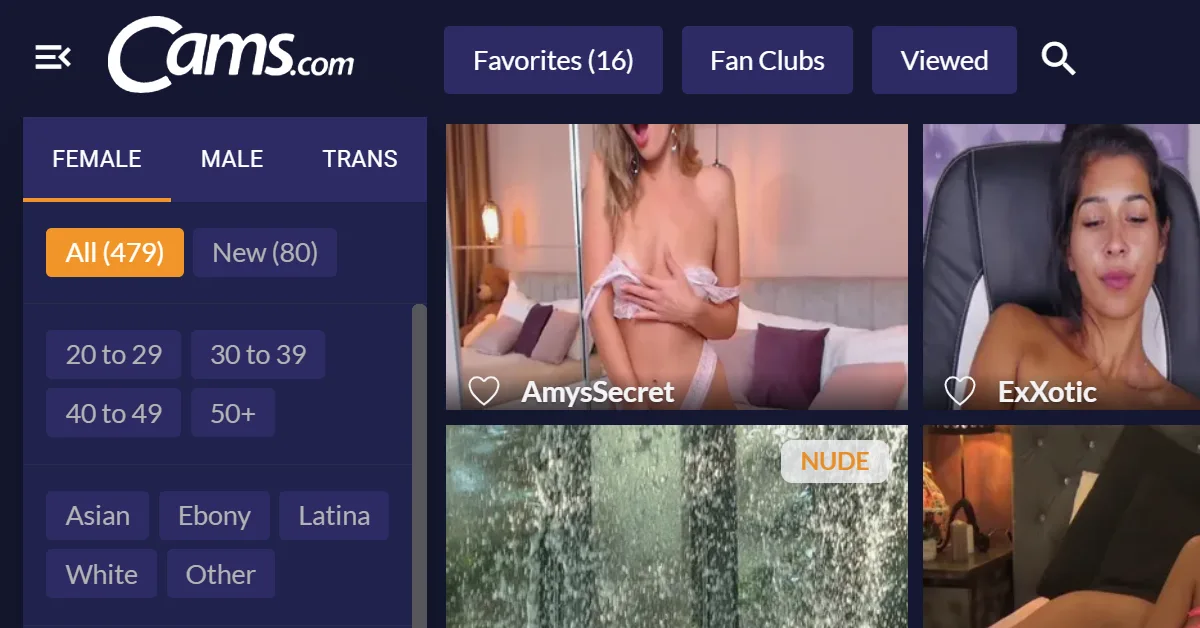 | | |
| --- | --- |
| Launched | 2004 |
| Type | Freemium |
| Private chats | $3.33 (average) |
| Cam to Cam | Yes (for extra price) |
| Show Recording | Yes |
| VIP Program | Yes |
Introduction
I have a particular affection for Cams.com. This camsite was where I had my first interactions with camgirls my first private chats. Back then, I was still skeptical about camsites and a bit hesitant about whether I should spend money on the site or not. Cams.com, and mainly its models, showed me that paying for a private chat might be worth it.
I remember paying to join models' Fan Clubs almost every week and access exclusive photos and a huge archive of private shows. It was so much money that I spent that they gave me free access to the private snapshots archive. I miss that… last time I checked, Cams.com had purged a large number of videos from the archives, and the Fan Clubs got a redesign that made it look too simplistic.
On Camsites Where She Works, you can find a complete list of Cams.com models that work on other camsites.
But is Cams.com still good in 2021?
It was good, that is for sure. But we are talking about a camsite that has been around since 2004. A lot has changed in this industry, and the site has been through at least one major update.
In general, Cams.com is still a valid option with some very lovely (exclusive) camgirls. They improved many things but also changed or altogether discontinued features that were quite good. I will walk through the whole thing so you can have a better idea.
Overview
As mentioned, this is a veteran camsite. I know that people are now used to an infinite number of features and options. But back then, when Cams.com came to life, they had pretty much only one service to offer: Private chats. Many of the old-school camsites ended up dying because they simply didn't update and improve. Cams.com actually managed to kinda keep up with the new competition.
As I said, Cams.com went through a deep redesign. This changed not only its looks but also how features work. In fact, they discontinued some features. If, on the one hand, they got into the tipping system, on the other hand, they changed Fan Clubs so much that now it is no longer a good deal. And thanks to God, they upgraded their network to support a better streaming experience.
Despite the updates, they still lack essential features that other camsites have a standard. For example, the live room preview is basic. I would call that absent since not all rooms get a preview, and their system does not update the previews often. Those previews are static. Don't bother hovering the mouse over the rooms because that won't give you a preview.
Another feature that they miss is the messages. Although it is there, I would say it is not really there. It is very archaic, and from time to time, old messages just disappear.
Cams.com's models
Generally speaking, Cams.com has a good variety of models. It is somewhat balanced between studio models and independent models. However, I admit that at certain times of the day, it is more common to find studio models.
Country distribution
In terms of country of origin, Colombia is the winner nowadays. Romania used to be the clear winner years ago, mainly because Cams.com was the hot site to work for, and also, a few big Romanian studios had chosen Cams.com as their preferred site.
Top 5 most common countries on Cams.com
This data is based on all models online in the last 90 days.
Colombia
Russian Federation
Romania
Ukraine
United States
Model Profiles
That is something that they changed, and I wish they hadn't. The old version was more informative and organized. But it seems that Cams.com has decided to remove a lot of the content.
It had free photos, paid photos, awards, badges, comments from members, ratings, etc. Then, they redesigned it to be cleaner. It indeed looks neat, but they sacrificed things to accomplish that.
Maybe they can bring the old design back
---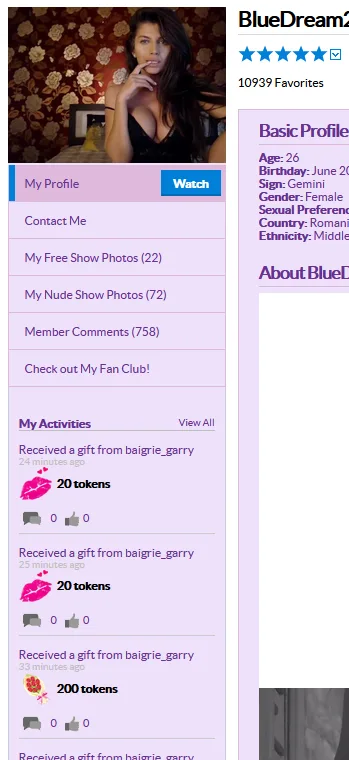 Cams.com can actually bring back the old profile. Well, at least they can restore the comments, badges, and snapshots. I found out that they still have all this data on their servers. The new profile design is simply not using this data.
Do you want to access the old-style profiles? Just add a classic to the URL, like classic.cams.com. You can use that to filter models by status and access their profiles in the old design. But you can not use the classic version as a member. If you try to log in, it will accept your credentials, redirecting you to the current design. If you want to access the Classic view, you must log out first.
What I find strange is that on the Classic view, we can see the model's Activity fee, which is not present in the new design. There we can see that private sessions are still being recorded and automatically added to the feed.
These recorded shows are videos from other members' private chats that we can buy. But there is no way to access those videos on the new design. Cams.com is spending money to store it, but it is not profiting from it.
One profile, multiple models
This was always very confusing to me. I often would go to a model's profile and see other models listed there. Their names would appear similar to tabs, where you could click on them, and the profile would update to show information and photos about that model.
After some investigation, I found out that Cams.com created this option to accommodate couples who occasionally work solo. A model could get online and perform solo, and therefore, her profile would show only stuff about her. But maybe on another day, she would get online with her boyfriend. That way, Cams.com would have both of them on file for legal reasons.
But then studios and single models started using this. If a studio had a new model, they would just add her to an existing account. A model could tell her friend to join Cams.com under her account. This was not why that feature was created, and it would be very confusing.
New design, less info
I already mentioned this, but seriously, that was a wrong decision. I give you an example: Snapshots! They simply removed this. I often would end up checking a model's profile while she was offline, an unknown model to me, and her profile would show (if she was online long enough) snapshots from her chat room. It was handy to see the model on camera instead of just looking at a tiny avatar. That would help me decide whether to add her to favorites or not.
If I had access to the private gallery, I would have access to snapshots exclusively from previous private chats. It would be even more helpful to figure out what the model can do in private chat.
Of course, I can use the live snapshot feature that I developed for MyCamgirl. But it is still frustrating that Cams.com has decided to remove it from their site.
Member comments are gone too
It is another disappointing decision. However, I wouldn't read comments that often; I would sometimes check the comments after a private chat to compare my impressions with other members' impressions of the girl.
Live Room Preview
Yeah, Cams.com never had a proper room preview. What they have, and I can't figure out the logic behind that, is a random static snapshot. That snapshot is not updated often, and the most infuriating part is that not all models get a picture. For some models, they will show photos; for other models, their avatars.
No clear status indicator
Another frustrating thing. The original design had not only the indicator but also filters. The redesign they got in 2010 removed the filters but grouped them by status. Hence, you knew who was in private or in free chat, and you could navigate through the list independently. It was a bit similar to what Streamate has now, but with easy filters and groups. It even had the country flag and the model's age.
In the current design, it is not that easy. The models are sorted randomly. They show labels saying "private," "goal show," or "nude," but often that does not reflect the actual status (I guess it takes a bit to update.) If you want to find models doing goal shows because, you know, you want to contribute to the show, you need to scroll down to load all rooms, and then you can calmly scroll back up looking for models with the "goal show" label.
Also, the ones in private chat, you never know if they are in private chat or exclusive private chat. It is a big difference. You need actually to open the chat room to figure it out.
Unique models
I give that to Cams.com. They always had some beautiful models that you can't find on other camsites. There is no exclusivity clause on Cams.com. I think it is just studios/models that enjoy Cams.com or are doing so well that they don't consider other camsites.
Indeed, you can still find studio models that are also working on LiveJasmin and Streamate. Particularly one from Romania that split cam strictly between Cams.com, LiveJasmin, and Streamate. These models are still hot but not working exclusively on Cams.com.
All Cams.com models are NSFW
The concept of non-nude does not exist on Cams.com. You can safely assume that all models will get naked and perform hardcore shows. No delays, no taboo, no rules. Just straight to striptease and masturbation.
That being said, just like on any camsite, there is a chance that you can find a model that won't get naked quickly—basically delaying the hot bits. It does not often happen nowadays, and when it happens, if you are patient for a couple of minutes, they will get naked. Being patient and polite is a golden key with some models.
However, some camgirls on Cams.com will act more softcore and even refuse to get naked. Some are trying to redirect their audience to a non-nude show, but they can do nude shows. A common example is CuteAndSexy, who has been camming on Cams.com since 2007.
Chat options
Free Chat
Traditional free chat option. You can tip models in free chat, but models can't do anything in free chat. Tips in this mode are just to show appreciation.
Private Chat
There is nothing much to say here. This is the primary chat option that all sites offer. You pay to have your own private time with the model. There is an option to make it exclusive but be prepared to pay more for that.
Group Show
Cams.com calls it Nude Chat. I prefer to call it Group Show because it represents better what this is about. Yes, indeed, the model is naked, but more important to note is that it is a group show.
You are not alone (though you could be if all members leave), so you share the model's attention with other members.
Goal Show
It works just like the countdown shows you see on other camsites. However, on Cams.com, it is an official feature that automatically counts every tip towards the goal and a timer.
Compared with the traditional countdown shows that you find on Chaturbate and MyFreeCams, there are two significant differences here, and for good:
First, if the goal is reached, only the members who contributed can watch it. Bye-bye freeloaders!
Second, you only pay if there is a show. If the goal is not reached, your credits are returned to you.
Voyeur Shows
If a model is in a private session, and the member has not made that exclusive, then you can spy on that show. You can spy for as long as you wish, but, of course, if the private is finished, you can't spy anymore.
This is a good option if you want to figure out what a model can do in private without going through the formation lap. You wait 10 minutes after the private has started and then give it a try on the spy mode. You can do this as many times as you want. However, notice that you can spy on the naughtiest girl ever. Still, you may never see her naked or masturbating through the voyeur feature because the member may want to just chat with her.
Also, even if you spy on a super hardcore show, it is not the same as a private chat. You can't chat with the model, and there is no audio (to protect the other members' privacy). On top of that, you pay the same price as a private chat.
It is a good option only to peek for 2 seconds. You check how hardcore the model can go, and later you start your own private, 100% sure that she can do what you want.
Buzzmode
I am not sure if I should call that a chat mode. It is more like a feature. Cams.com launched it in 2015 to not miss the tip train. Basically, you click on the chat video stream to "buzz" the model. They call it buzz, but that is just a tip. A sex toy, OhMiBod Club Vibe 2.OH, inside the model and connected to her computer. It is precisely the same idea as the LiveJasmin interactive toy.
Be careful because it is easy to buzz a model by mistake. All you need to do is click on her stream, and that sends the tip.
The default price was $1 per buzz. Later, they changed it to allow models to set their own prices.
How can you find models on Buzzmode? Well, that is another problem with the new design. You can't find them. There is no option to list only Buzzmode, and models don't get a label. You can only find out if a model has the Buzzmode available if you open her chat room.
But that does not seem to be a problem. Do you know why? Because every single model has the Buzzmode active. Which bugs me. It is not possible that all models online have bought the OhMiBod. It seems that Cams.com turned it on by default in all chat rooms, and I suspect that the models can't turn it off.
Unique Features
Connexion
Do you know the Lush toy? Same idea but two essential distinctions: First, the toy is on your side. It is to make you cum, not the girl; second, of course, it is a toy for men; you don't get a toy shaped like a penis. You get a toy called Lovense Max—the same brand as Lush.
It works one or two ways. It means that you can use it alone, or if the model has a Lush, you both can use the toys simultaneously. But get this: you control her toy, and she controls yours. It is the closest you can get to having sex with a camgirl. You two give pleasure to each other. Well, if you manage to control her toy while she is riding your cock, then all is good.
I am not going to deny this is a very unique feature. No other camsite offers this. However, I am not sure how exciting this can be.
Cams.com still has a page explaining how connexion works.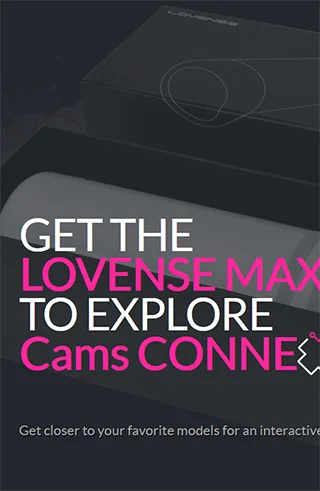 Common questions
What can I do as a free user on Cams.com?
Not much. You can watch chat rooms, watch the video stream and follow the conversation. But that is for a limited time, and you can not type in the chat. After a few minutes, the video stream will be covered, and a box will pop up inviting you to join the site.
Does Cams.com allow nudity in public chat?
Yes, it is allowed. I wasn't sure because Cams.com keeps going back and forth with this rule, but I just checked and found two models in topless.
Cams.com used to have a separate site for models flashing tits and spanking ass for tips. But they shut it down after a couple of years. To be fair, tipping for tits was never popular on Cams.com like it is on Chaturbate or MyFreeCams.
Does Cams.com allow hardcore in public chat?
Yes, but don't expect to find that often.
Prices
Prices on Cams.com were always fair. The average is $3.33 per minute, which makes Cams.com the # cheapest private-oriented camsite. The median on Cams.com is $3.5 per minute. This is based on 8940 models that were online in the past 90 days.
Considering the kind of models you can find on Cams.com and the level of experience they can provide, I'd say that the average price on Cams.com is reasonable. You still can find a fair amount of good models charging below the average.
However, as you can see, the lowest rate is $2.50 per minute. Comparing that with the not-so-rare rate of $1.99 or the promo rate of 98 cents on LiveJasmin makes you think that Cams.com is not that cheap.
Video Quality on Cams.com
It is good. I am not going to lie; it could be better. It is good, but not wow. One big problem is that many models don't get proper lighting or don't know the best settings for their webcams. Some models know to have set up everything, and I can think of Staci and ColllegeGirl off the top of my head. They have perfect lights, and their webcams are pretty good.
Premiere Membership
It is pretty good for the price they ask: $15 for one month or $34 for three months.
With this, you get:
10% discount on all paid sessions. Yes, this includes privates;
Access to free recorded shows from any model;
Full access to all premium content uploaded by any model;
This was what they gave me for life. I was paying for that every month until it failed to renew because of my stupid bank. Then, they simply renewed it for me, and I never had to pay for that again. Of course, they don't do that to just anyone. I suppose they considered the money I had spent there and gave this as a bonus.
I would like to draw your attention to the second point. That means public shows, not private shows. You know, the shows that rarely happen. You actually don't have any way to find these videos anymore. They used to list all videos in one section, but this section was removed after the redesign.
Cams.com is Kinda Mobile Ready
It is nothing special. It is just a site adapted for tablets and phones. It's not a completely different system for mobile.
I don't really like to use mobile, especially smartphones, to visit webcam sites because it is not comfortable with the chat taking half screen. At least on Cams.com, the conversation does not cover the video.
Customer Support
I rarely need to contact Cams.com's support, which is a good indication that the site works without issues. But whenever I needed help, they were relatively fast. I like that they offer a live chat instead of a useless "email us." It is the right thing to do when you are a camsite offering live chat. I mean, your primary service is a 24/7 live chat with girls, but you don't have support available for a live chat?
Cams.com also offers email and a phone number. But I always prefer a live chat. They also have a FAQ, but that got shrunk a bit.
Anyway, I remember one particular situation when I subscribed to a model's fan club to get all the discounts and access to her gallery. Still, shortly after subscribing, the model deleted all her content and stopped coming online. I had a 10% discount on privates, but that is useless if the girl is never online. I asked customer support if they could contact that model to check if and when she was coming back. They said that that account had been suspended and immediately offered me a refund.
The Bottom Line
Cams.com is a camsite to consider. Back in the day, it was my favorite camsite, which I used to visit every day and spend hours there. Not so much now. On the one hand, they killed it a bit with so many changes, and on the other hand, they offer some unique features like connexion. It still is a decent site, mainly if you prefer to stay away from super busy rooms with 10,000 viewers. On Cams.com, you can quickly become a king without spending a truckload of money.
Cams.com's models reviewed by MyCamgirl