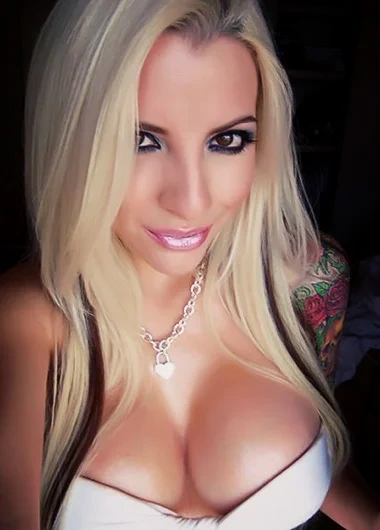 BritneyFoxy
My Tattoo Queen
Nicknames:
Streamate:
Blondeplaymate
·
JessySummers
·
hot1clara
Cams.com:
KendraLuv
·
KENDRASexG0dezS
MyFreeCams:
BritneyFox
·
BRITNEYFOXY
·
MissFoxyBrit
·
SexyBritneyXol
·
sassyworld
·
BarbieWildXXX
·
JessySummers
·
ItsClara
·
SILLYCLARA
·
MsClara
CamContacts:
BritneySpell
·
barbiewildx
Show less
Warning : Between late 2011 and early 2013, BritneyFoxy has used recorded videos. It is unknown who exactly was typing the chat during this period. In mid-2013 she returned to real live shows at MyFreeCams, however her accounts on Cams.com, Flirt 4 Free, ImLive and Streamate were still using recorded videos. After taking a break as camgirl to be on Big Brother Brazil, she returned as Clara Aguiar. After the return, as far as I know, she has never used recorded videos again.
I was in private chat with Clara Aguiar a dozen times when she was known as BritneyFoxy, but I didn't see any evidence that the show was not live. She did all that I asked, although with some delay. But she did. I'm not saying he is lying. But when I was in private with BritneyFoxy, the whole show seemed real. Edit: Read the update to know more about Britney using recorded videos.
However, I know that some girls use or might have used recorded videos. It was a pretty common thing that I found about 2 years ago. Indeed, Streamate, where Clara Aguiar is known as Blondeplaymate used to have a lot of girls using recorded videos. It changed a little few months ago. I don't know how it is right now because it has been a long since my last login on Streamate.
Many Names For Clara Aguiar
I will leave this subject for a while and focus on Clara Aguiar (BritneyFoxy, Blondeplaymate, BARBIEHORNY, BLONDELICIOUS, barbiewild, or whatever the nickname she uses now).
As I said, this girl is a bombastic one. Big tits, but fake; anyone can see that. She is the kind of girl who could be a porn actress. Perhaps she was in the past, but I doubt it. As a porn actress, she can earn much more than as a camgirl. Indeed, if she becomes an affiliate to the right studio with the right producer/manager, she can work less and earn more.
I'm not saying she could be a porn actress only because she is hot but also because of all that she can do in private. She fucks so hard in so many positions that it seems Clara Aguiar has done some porn before. Unlike some girls, she does not have any problem doing anal sex. And she does not fake like some other girls because she clearly shows that big dildo sliding up her ass.
Clara Aguiar Handling Dildos Like Porn
She can also easily handle two dildos at the same time. Sucking one and sticking the other one up her ass. I couldn't convince her to do double penetration 🙁 Only one finger in the ass and a dildo in the pussy.
He did everything in a private chat with me, exactly how I asked. That's why I think it was a live sex chat. I won't take her in private again just check if it is really live. But you can 😜
Yet, I feel like her performance is not that wow. Compared with another Brazilian camgirl, BarbaraRio, Clara Aguiar is not a top performer. With all due respect, she is super hot, she always has been, but that never really translated into success. She has never reached a big fanbase. Her online activity was always inconsistent, and her members were very random and sporadic. Maybe that is why she decided to pull the recorded-videos trick. More about that later.
Her Collection of Tattoos
For those who like girls with tattoos, the chick has some. A big one on the left arm, a funny one on the right arm, a playboy bunny on her belly, one that says "freak" and the other that says "Ay Caramba". Did I forget any? That one on her right arm is funny because it is Homer Simpson. Well, if she had tall blue hair, I could call her Marge Simpson.
Yet about her tattoos. That big one on her left arm used to be smaller. I think she did some retouching and tattooed a bigger one over the older one.
Big tattoos are for porn. And piercings too. She has piercings on each nipple and also on her lips. Not pussy lips. The piercings on her nipples seem real, but that on her lips seems to be one of those with pressure.
Overpriced Tits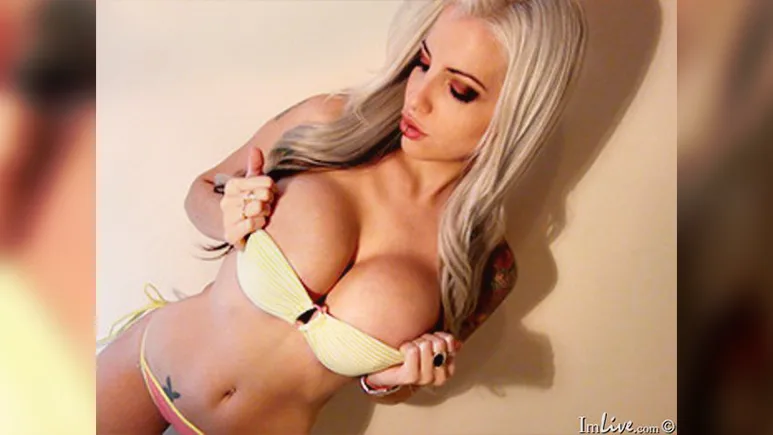 I was just watching her in free chat when I saw this interaction:
freeloader: can i see your nipples?
BLONDELICIOUS: ill show my boobs if u tip me $50
Fifty dollars for her tits? Ok, those are fine big tits, but $50 just for her tits is too much.
I know that top models ask $50 or even more to flash their tits. But, as said before, Clara Aguiar is not a top model. She has the body of a top model, but in terms of ranks and awards, she was never near the top.
For $50, I would rather take her in private and see the whole art. Why would I throw 50 dollars for a few seconds of her tits when I can have a decent private chat with her for the same price?
Anyway, I didn't know she was a "tips for tits" kind of model. But since she always worked on private-orientated camsites, where nudity is not allowed in free chat, she actually couldn't ask for tips for tits before.
Updates
BritneyFoxy Caught Using Recorded Videos
(August 20, 2011)
I will make the distinction here. When this happened, Clara Aguiar was known as BritneyFoxy. This was before her whole Big Brother thing. More about this above.
BritneyFoxy has been using recorded videos in her private shows on Webcams.com, ImLive, and MyFreeCams. More constantly on ImLive, which is exactly where she is considered a top model with many awards and an idol to other models.
Though, ImLive awards are nothing but a facade. A rigged award that management uses to promote the camgirls they want. For some reason, they decided to boost Britney by giving her random awards and listing her as top model.
It is funny that so many camgirls of ImLive look up to BritneyFoxy as an example of success. I wonder how they would react if they knew their idol is being carried by the site's managers. Not only that, but they try to take Britney's position on the rank without knowing that this is impossible due to internal manipulation.
To be honest, I was already suspecting that. The last time I visited her chat room, her video was blurry, and the studio seemed like the one where she used to work two years ago. Plus, she was chatting but not typing.
Who is behind the camera
At the time of writing this review, BritneyFox was living with a guy (she has already shown this guy on camera when he was sleeping), and this guy is who stays behind the keyboard pretending to be BritneyFox while a recorded video plays in a loop. He is also the guy who created her Twitter and has been tweeting for her. Basically, he is acting as her manager. Setting up everything for her, keeping up with fans.
Her recorded video trick explains why she is in private chat almost 100% of the time on ImLive. As models can go private whenever they want (like some kind of fake private – models appear as busy in private, but there might be no member with her.)
BritneyFox just logs in "private", puts the video to play in a loop, and goes away. She appears online on ImLive for hours. I mean many hours daily. Any member who joins her in "private" will have to pay for it. And let's face it – she is hot. Many members might join her in private just to see her on cam if she is never in free chat.
As far as I know, they have been doing this for about 1 year. I say 1 year because this was when I saw that blurry video for the first time on ImLive and also on Webcams.com.
But I must be fair. Britney still does live shows. Maybe not as many as she used to do because she has found a way to make cash without being online. But the fact that she still does live shows does not make her less guilty of this scam.
BritneyFoxy Back On Cam As Clara Aguiar, Big Brother Brazil Contestant
(February 10, 2020)
Thanks to the guy who brought my attention to this. I already knew about her being on Big Brother and some side jobs she had as DJ. But I didn't know she was back to camming.
After some years away from the adult industry, BritneyFoxy is back. Since she built an image of being a contestant on Big Brother Brazil, where she naturally used her legal name, Clara Aguiar, she also decided to adopt this for her new cam persona.
It seems she is camming exclusively on a site called CameraPrive, which apparently is focused on the Brazilian market. She had mild success in other markets back in 2010, namely in America, where she even lived for a few months with other camgirls. But after being on BBB 14, Clara became a celebrity in Brazil and she can't ignore the fact that her entire fanbase is solely from Brazil now.
She naturally focus on this, and, although she has no solid schedule, coming online at random times, she still has guys going in private chat with her. Even guys who pay to watch Clara sleeping (in Portuguese). But she still does hardcore shows, such as her premium videos on CamPrive show.
Explicit videos and photos were removed as per the model's request.
No reviews have been added yet.
This review has no photos.
This review has no videos.