AnisyiaLove
My Unstoppable Sex Machine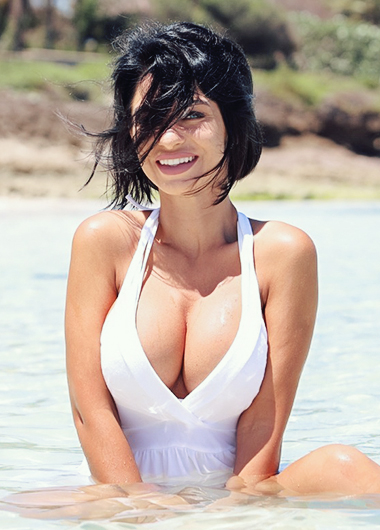 Information
Name: Anisyia
Age: 31 (April 14, 1989)
Location: Bucharest, Romania
Anisyia is one of those models that there is no way you have seen her before, specially if you spend some time on LiveJasmin. It is just impossible to not notice her. She has been camming for some years already, always at the same astonishing level.
I know her from her earlier years as camgirl. Before the implants, before establishing her "brand". Her performance was already on point. A bit shy, and still trying to figure out how camming works. Her performance improved as she loses her cam virginity. In terms of appearance, she hasn't changed much since then, except for the obvious big tits and well done make-up. Her body is still smoking hot.
Anisyia is now a cammodel who thinks the best in the world about her. She's so confident – the girl has the fucking good looks. A gymnast?! A pornstar?! The moves are of a gymnast – this girl can spread like she is about to win the Summer Olympics. And everything else will point to a pornstar! She is none of these, most likely!
But let's be honest! Who the fuck cares? The girl can rock your damn world in the blink of an eye and for this reason, she is doing so many VIP shows! Because she is too confident! And Anisyia knows that people come to see her and this way, the VIP show will make her very successful!
The perfect trick?! She will, understandably, avoid showing you her ass! And what an ass! She keeps it safe for the show – that's when you will be able to see it and enjoy it in its full splendor. Sure, the lingerie makes her even hotter, but this is not a bad thing. In fact, it's perfect! We go to webcam sites like LiveJasmin to watch what we would like to have next to us in bed. Because all of these will make us like really horny. Anisyia knows it and she is doing everything in her power to put the best of her out there!
The VIP show is on! The time has come! Her butt is ours! Well, let's get one thing straight! Anisyia is drop dead gorgeous! No secret here! Everything is perfect about her, when it comes to her shapes! Perfect ass, perfect (fake) tits – the look on her face makes everything more interesting, she moves like a goddess, like a gymnast, like a pornstar! I must be honest... Knowing her performance on privates, I would say that her VIP shows are just appetizers. It's a VIP show after all.
But what can she, in fact, do in private? Well, a very different performance, for sure. A lot more hardcore, and considering the exclusive one-on-one, a lot more intimate. Anisyia is, as the title says, an unstoppable sex machine. There is almost nothing she says no to, and, if you don't say anything, she won't stop.
Her arsenal of toys seem unlimited (ask her to see it), including an ejaculating dildo and a big sex machine that she imported from UK. And if that is not enough, if she sees that you are a man of word, she will buy a sex toy of your choice for the next time you take her in private. I took that offer and chose a toy she never used before. It was fun to watch her using it for the first time, kinda trying to figure out how good it fits in her pussy.
For all that, I can say that Anisyia is worth a visit.
Photos