I first saw AmberCutie on my Twitter feed when she, under the nickname AmberLynneGirl, started following me a few months ago. Her face seemed familiar, but I thought that it would be just some random guy trying to get followers using a sexy picture of a girl that he does not even know. Very common, indeed. But a few days later I was on MyFreeCams and I found the same picture. How could I forget about this model?! She has one of the highest camscores on MyFreeCams and she is always on MyFreeCams' top list! So, she is really a model, not a guy behind a fake account.
AmberCutie is a busy girl
I tried talking to her by sending a Private Message (PM), but… she had half-world in her room and couldn't give attention to anyone in PM. I let her work in peace. This is what you should do when you see that a girl is busy. Don't insist. It is impossible to give attention to hundreds of guys, she is not a machine.
Anyway… many guys were tipping her and she was doing great in free chat showing her big natural boobies and playing with her pink 🌸 pussy. So, I let her be. Yes, she does show her hot body in free. Just be sure to be nice and tip her before.
Then I got a reply
About a half-hour later an alert popped-up on my dashboard on MyFreeCams. It was a PM from AmberCutie!
She apologized for the delay, but she was busy (I realized that). See? I got rewarded for being patient.
Just for your information… I contacted her asking about a review, this review. So, she came to me to talk about it. Of course, she already knew about my site. Otherwise, she wouldn't be following me on Twitter.
She liked the idea of being featured here. But she wanted to understand what exactly I would put here. A few short videos of her is ok. But dozens of videos showing her in all different positions and using all type of toys… this wouldn't be a good idea. Fair enough.
I told her that I had a video of her taking a shower and she said that this video is ok. But she warned me about all that she can offer (in free chat, after some tips, and in private chat/group show).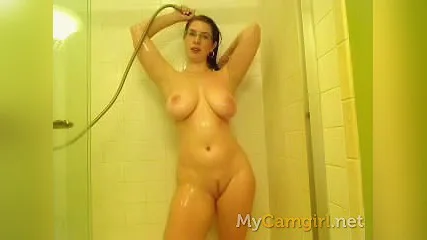 AmberCutie taking a shower
[…] but I do oil show/dancing from time to time, and generally hang out naked in free chat […] I like to try and keep the masses happy without breaking the rules 🙂
Only good things to say about AmberCutie
AmberCutie was also concerned about what I would write about her (every single model does). "I hope you write a good review" – she said. I have only good things to say about Amber and I bet that all those hundreds of guys watching her in free chat share the same opinion.
Anyway… I can only share the video of her taking a shower and a short video of her shaking her booty in free chat. I do have more – some good videos of her great group shows – but I can't share it. The only videos I don't have are the oil shows and any video of the famous anal group shows that she does on special occasions.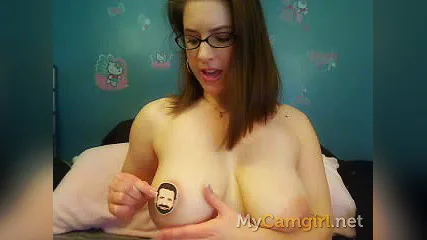 Goofing around with her tits
A sexy geeky camgirl
It was a pleasure talking to her. I had a chance to get to know her better. Talking to her and diggin' her profile a little bit, I found out a geeky girl behind that sexy body.
It was the first time that I found a camgirl that is also a World of Warcraft (WoW) player. I don't know this game very well (I'm more of a Bejeweled player), but I do know that most people have a completely different image of WoW players. AmberCutie shows they are all wrong. But take a look at her… does she look like an ugly fat geek? No, she does not! She might look like a geek with those glasses, but a sexy geeky girl for sure.
Naughty besides geeky
Better saying, not just a sexy geeky, but also a naughty geeky. Getting naked on cam for hundreds of guys, bending over and spreading her tight pink pussy… she is naughty, definitively.
And did you know that AmberCutie decided to become a camgirl after watching another MyFreeCams camgirl playing in free chat? Oh yeah… I found out about that reading her mini-bio on her new website. Go read it if you want to know more about her. And check out also AmberCutie's forum, a very useful and friendly forum for both models and members.
I also found out that today – March 10 – is her birthday. This review is like a present to her. I am sure she got better presents, but anyway… Happy birthday, Amber!
Since you guys don't have a site to post a review about AmberCutie, I'd suggest you go tip her. It does not matter how much… 10, 100, 1000 tokens… she will thank you with a unique smile, and maybe you can even see her shaking her booty.
AmberCutie got booty too
Oh.. her booty… I just love her round ass. She knows she has a nice round booty, and she knows exactly how to tease us with that booty. After all, she is way more than a busty model.
Yeah… and about her pussy. I can't help but to remember one time that she was in free chat and someone asked her to try a big toy. She said:
I'm not an elastic girl. I have a tight pussy.

AmberCutie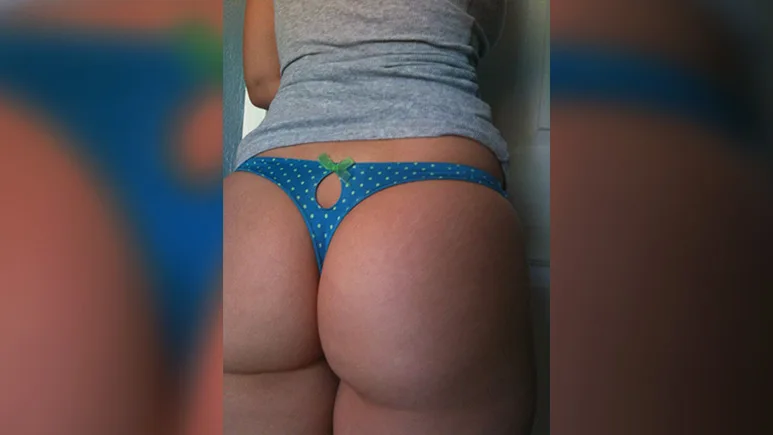 I love her ass!
AmberCutie is a sexy geek with a naughty and very outgoing personality, but she is not an elastic girl. But if you are dreaming of her with a toy, don't worry, she uses toys, but not big toys. Although I consider some of her toys pretty big. Ask her to show the blue toy and you will see what I mean. Chat with her a little, be nice and I'm sure you can convince her to use that blue toy in private chat.
Related links
No reviews have been added yet.