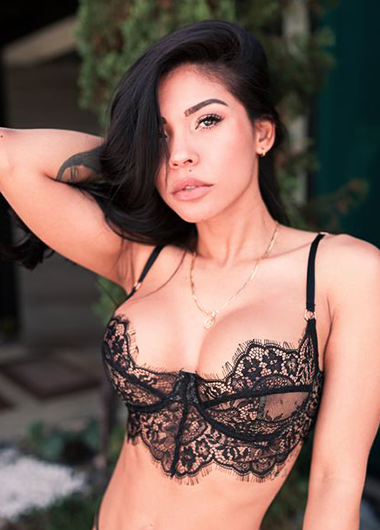 Akira Leen
My Spicy Asian-Latin
Nicknames:
Akira Leen… This name makes you horny! It inspires sex! And this is what you will get with this girl! Sex! Exquisite face, tattoos, big butt, long nails, high heels! She likes to get your attention, no doubt! When you see this Colombian girl for the first time, you will think that she is a pampered chick, full of herself and that it will be hard to get from her whatever you might want! Wrong!
Akira Leen got everything in the right place
Akira is so sweet; she is so good and so lovely! Every answer she gives comes along with a smile! The girl is that type of a model that can make you fall in love with! Too sweet to be true! Like an inked candy! Or better said, like an inked lollipop!
The decor in her room is majestic! The owners of that studio invested some money! Or maybe it's her house! She could be on her own, making money! Expensive smartwatch on her wrist! Come on; you don't joke around with Akira! She knows her job pretty well. Spend your credits on her if you want to have a chance to watch that big butt in the doggy style position. It's a really fuckable ass! Typical Colombian booty. If there are any lesbians out there reading these lines, don't hesitate to check Akira Leen. She's one hell of a chick!
Yeah, she looks a bit Asian, doesn't she? That is her Filipino side of the family, which gives her those stunning eyes. I guess that why she chose the name Akira Leen. But then, again, she has that spicy ass. Is she Asian? Latina? Half-half I would say.
But her face… so beautiful… so fuckable… Like it was made for fucking! Like, literally, to fuck her in the mouth! Not in the pussy, not in the ass, but in her mouth! Deepthroat! Fuck, yeah! You dream about that already, don't you? Perfect hot body and more energy than five Red Bull.
Akira Leen squirts… or not
This happened in one of the privates I had with her. She put a towel on the bed, and I thought it was just standard procedure. We were 5 minutes into private, Akira Leen was masturbating for no more than 2 minutes, and then I see her pussy getting wet. Correction, it was soaking wet!
Then came the surprise; a huge gush! For half-second, I thought she was truly squirting. But the illusion lasted only half-second. I quickly realized it was just Akira Leen gushing her pee.
As a general rule, I prefer not to talk about squirting or argue whether it is fake or not. But on this occasion, I need to say something.
I mean, she had barely started masturbating. She was masturbating with one hand, and the other hand was still busy on the touchpad. Yes, she was multitasking, doing I don't know what on her computer while masturbating with a big dildo. Certainly, she was not focused enough on masturbating, and definitively not horny enough to squirt.
Hot and cold performance
About her performance… Only honest reviews here, so… It's not stellar. It's not the best one you have seen. But definitively not the worst. You get a lot of the common stuff, without much passion. The usual movement, the usual dancing while taking the lingerie off, the usual doggy style position with the fingering, the usual spreading, so forth, and so on. Calling me baby all the time in a very monochord voice, this is something I can't get past easily.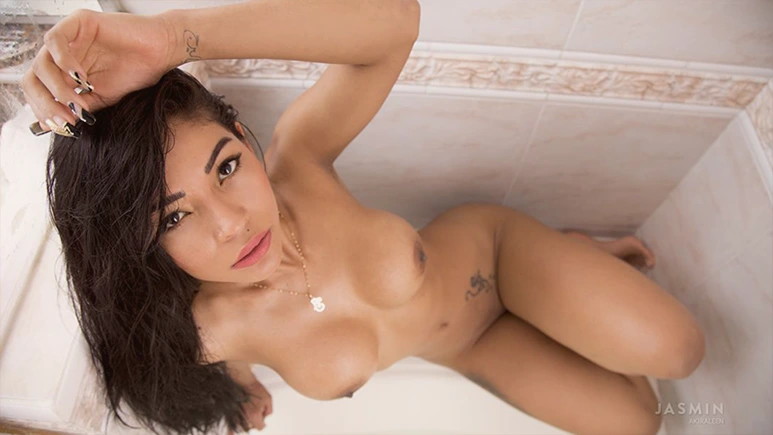 That time she squirted, I didn't even ask for that. Everything happened so fast, and somewhat automatic. That is what I feel from her performance.
You got to admit; her body is perfect. Watching her revealing each inch of her body is already worth her price, which is not that high anyway. But performance-wise, it could be better.
Maybe she can do better than this, or do some unique things! Maybe she has way too many privates. After all, whenever she is online, she can spend at least 50% of the time busy in private. I have spied on random privates of hers; I can say that she does not have much of a chance to rest in private.
But then Akira Leen rocks the world
But then she tries a different position, reverse cowgirl, for example, and she just rocks the world.
Anal in doggy style is divine. She has a hungry asshole, and she gives the whole dildo to her ass to eat it. I was surprised how wet her pussy got from doing anal. It was dripping all over the place. Maybe that is the secret to unleash her: Anal.
Anal is probably her best expertise. I didn't make any special requests. I let her be free to do the way she wants. When I realize she is already with a big dildo deep in her ass. Next thing, she is gapping her asshole, still squirting the last drops. That was extremely hardcore. The feel is like I am watching porn. In fact, Akira Leen should consider doing porn. Either by selling videos or doing on cam.
Akira Leen doing anal is visually super hot, but pay attention to a little detail on this short anal clip. Her left hand. While doing anal, she was busy interacting with something on her computer.
That is why I say it is a hot and cold performance. On the one hand, you can get a pretty standard dance and striptease, but on the other hand, you can get a fucking naughty anal performance. And it is not just anal with any girl; it is anal with a fucking booty girl.
Anyway… Own that ass in a private show and tell us if she really can rock the world with that ass, or if she can do better.
No reviews have been added yet.