What makes many camgirls hate a camsite considered one of the best? Many models feel that LiveJasmin is not a good camsite to work. Although it is far from being the best camsite to work, it also can't be considered the worst.
I suspect there is a mix of misconceptions of how LiveJasmin works and how some models expect it to work which leads many camgirls to hate LiveJasmin. But also the fact that LiveJasmin handles situations poorly makes things look not so good.
I Am Not Here To Defend LiveJasmin
First of all, I don't want to defend LiveJasmin. They don't need me to do that anyway. I don't want to convince any camgirl of joining LiveJasmin, and I certainly don't want to tell anyone how they should work.
If you are happy with the camsite you work and it helps you reach the income you like, then continue there. You have no reason to change.
This post is more to point the fact that not all camsites work the same. Each camsite has its own business model that may make it impossible for models to simply jump from one to another without adapting to that camsite.
There is no right or wrong, just misconceptions, and misunderstandings.
What Are The Misconceptions About LiveJasmin?
Most of the models' complaints are based on situations that are simply a case of misconceptions.
Some camgirls work in a particular way that can't be transported and applied on LiveJasmin. But they still try to do so, and then they can't.
It is important to notice that LiveJasmin is a private-focused camsite, and I should add that they have strong relationships with studios.
Here are some issues I have identified after listening to models:
Camgirls Are Not Allowed To Ask Tips On LiveJasmin
It is as simple as that: On LiveJasmin, models are not allowed to ask for tips.
Models from camsites like MyFreeCams and Chaturbate are used to a greater degree of freedom. They create infinite reasons for members to tip them. But also, many of them simply ask for tips with or without cause.
This situation is acceptable on other camsites, and this is seen as part of the business. But on LiveJasmin, that is a big no-no.
Yes, models can just try their luck and ask for tips. Members will rarely go for it. But it only takes a quick chat with support to report the model, and she gets a warning. That is LiveJasmin preventing a more extensive problem right there.
I guess LiveJasmin does not want to deal with the disputes that come with this. Well, just look at any other camsite that allows models to ask for tips. Tips are not refundable, they say. And that is all, that is how other camsites deal with tips disputes.
I can't say they are wrong because, really, it would be like a legal battle, with each side defending their version of the story. The number of human resources this would take from the camsite would be too much.
LiveJasmin Takes Money From Models
It is called LiveJasmin's Satisfaction Guaranteed Policy. And no, they don't take money from models just like that. Although, yes, they give cuts on models' payout, which I don't agree with.
As a LiveJasmin member who has complained to support about a bad experience in private, I can say that they don't refund unless there is a good reason.
Camgirls tend to believe that this means any member can just ask for a refund after a private chat. But it is not exactly like that.
The satisfaction guaranteed policy is a fundamental policy that many businesses have. They want their customers to be happy and satisfied.
Members can ask for a refund. But for LiveJasmin to actually issue a refund, specific points need to be checked, and I can guarantee you that members can't manipulate LiveJasmin.
What LiveJasmin Actually Does
The first thing LiveJasmin checks is: How long did the member spend in private chat? If the member stays in private for too long, there is almost no chance LiveJasmin will refund them. Support will politely say something among the lines: "if you were not happy with the performance in private, you should have ended the session within 1-2 minutes." In situations like this, LiveJasmin will just issue a warning to the model. And even that only happens in the worst-case scenario.
Many models seem to not understand that LiveJasmin is a private-oriented camsite focused mainly on explicit shows. If a model says that she can get naked and masturbate, members have the right to ask for that as soon as they start a private chat.
In fact, customer support hints that members should ask for the show to start within the first minute in private. After all, if they take too long to ask, customer support will say they spent too much time in private chat to be eligible for a refund. I am just following the logic here.
That does not mean that I agree with this approach. When I go in private chat with a girl, I want a good experience. I can't expect that from the girl if I ask: "hi, get naked and bring your dildo;" as soon as I get there.
Camgirls Can't Be Non-Nude
They are just in the wrong category. If a model is in the Girls category (the default), she automatically offers explicit shows. There is little room for delaying the show. The model can try to turn a quick show into a long slow performance. But they need to understand that the member can just close the private right away and ask for a refund if he ends the private in 1-2 minutes.
No, LiveJasmin does not force models to do anything. They just want models to do what they say they can do. If a model wants to get naked occasionally, whenever she decides, she can. Just change to Hot Flirt. She can even be 100% non-nude if she moves to Soul Mate.
I admit that the categories on LiveJasmin are confusing. But that is not an excuse to pick the wrong category. Every model has a quick webcam test with an admin before getting online for the first time. During this test, the model can ask questions to the admin.
Too Many Strict Rules In Public Chat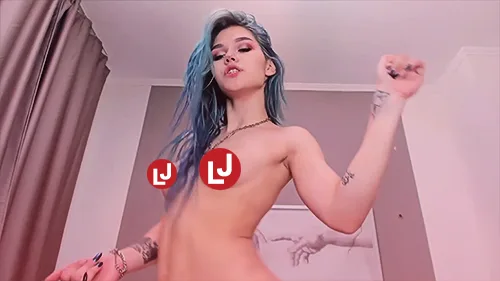 It's true: LiveJasmin has strict rules about what a camgirl can do in public chat. That is for a reason.
A girl once said: "stupid restrictions they have for a camsite whose main focus is sex."
Yes, the focus is sex… in private. I will repeat myself, LiveJasmin is a private-oriented camsite. If camgirls do and show anything they wish in public chat, what is the point of taking her into private chat?
It is just the business model that LiveJasmin has, a valid one. They want a different image and to make money through private chats and paid content, not public shows. There are consequences to public shows that LiveJasmin may not be willing to deal with.
The only exception to this rule is with pre-VIP Shows, where LiveJasmin allows models to go topless to encourage members to buy tickets.
What I get from camgirls complaining about the strict rules is that they come from camsites where they have the freedom of showing some nipples, slapping ass, etc. All in public chat. You know, teasing a little, getting some tips. Then they try LiveJasmin and want to do the same without understanding the type of service and image LiveJasmin intends to have.
Using Site's Features For The Wrong Reasons
Camgirls are creative, and they tend to see opportunities everywhere. Something built with one purpose in mind can be used for something different in a camgirl's hands. That was how countdown shows started anyway, using a feature for something else.
That being said, LiveJasmin does not like when models use their creativity to change how a feature works.
Here is a straightforward example I saw once. A girl started a pre-VIP Show. This was a girl who never performed VIP Shows, and because of that, the room got full of members. She set her goal to 100 credits, which is way more than the average price. One member bought 99 credits in tickets, leaving only 1 credit to reach the goal and start the show. It naturally reached the goal. But she held it until the last minute. At the very last minute, she canceled the VIP Show.
Members were infuriating, naturally. That member who bought 99 credits then revealed, in a snob way, that this VIP Show was never intended to happen. This was all a stunt to attract members to her room and give exposure to her. It worked. But she got a warning from LiveJasmin and never pulled that trick again.
On some other camsites, this would be fine. Some members would be furious too, the die-hard fans wouldn't care. But in the end, the camsite wouldn't do anything.
Return Credits For Canceled Countdown Shows
In the situation I mentioned above, all the credits were returned to the members. That was not a punishment. It's just how countdown shows, aka VIP Shows, work on LiveJasmin. It's the same with Gold Shows on Streamate, by the way. Some girls, mainly from MyFreeCams, don't like or don't understand this concept.
Countdown shows appeared first on MyFreeCams as an unofficial feature created by camgirls on top of the tipping feature. Because of the true nature of how tips work, even if the camgirl wants, she can't return tips. Tips are not refundable, remember? Because of this particular rule, the camgirl keeps all the tokens even if the goal is not reached.
So, in this situation, the girl gets paid for a show that didn't take place. Well, yeah, you can see this way. But in most cases, there is some action going on during the countdown. Tippers still get something. See why some models don't understand the concept of returning the money from the countdown? Because they, in fact, worked for it.
The True Problems
It is not all misconceptions, and there are points that the camgirls are right. LiveJasmin has too many rules, and they often fail to have clear communication with models.
Although they have the famous LiveJasmin Academy, that course/summit is heavily focused on studio models, and not easily accessible to every model. This explains why studio models tend to perform better on LiveJasmin.
Independent Camgirls May Struggle
LiveJasmin conducts its business in a way that is very professional. Too professional sometimes. They want models well trained, with a good understanding of the product they are selling. Hence the LJ Academy.
This leads to close relationships with studios. LiveJasmin has representatives working closely with studios, having one-on-one meetings with studio managers and models to review their performances (financially) and propose changes on the studio/models based on their analysis.
Yeah, sounds too corporate. Because it is!
If a studio model has a question or a problem, they will have a 24/7 studio manager ready to provide support. And the studio has a special line with LiveJasmin in case they need something.
Studio models have a clear advantage over independent models. LiveJasmin won't send a representative to meet with one single and explain to her what she should do to convert members into paying members. That is out of the question.
LiveJasmin Is Not A Place For Creativity And Freedom
If a model tries to act outside the box, she won't have much luck. LiveJasmin wants models to look and act in a certain way. Too formatted and boring sometimes if you ask me.
If a model wants to hold a fun game where she does live bodypainting, LiveJasmin will most likely issue a warning. Why? Because the model is going in the wrong direction by doing something that does not meet the glamour image they want to have.
LiveJasmin should be more flexible on that.
Not A Place For Streamers
I have seen girls doing this on LiveJasmin, and they get no tips. That is probably the reason LiveJasmin shut down the "Live DJ" category. A very cool category with DJ girls playing music. Some of them with a full setup like a pro DJ and doing some coll mix. A DJ girl would hardly get more than 5 guys in her room, let alone someone tipping her.
Seriously, there was this cool girl, very active and energetic. She was trying everything to get people to interact with her. She would hold VIP Shows with low goals and play piano to entertain viewers. But almost nobody would interact with her. She would sell a few tickets for the show but almost never reach the goal.
LiveJasmin is not for streamers, gamers, or an entertainer. Girls falling into these categories will have a hard time on LiveJasmin for the simple fact that members are not used to tip on LiveJasmin.
I don't remember the last time I tipped a girl in free chat on LiveJasmin. On the other hand, on MyFreeCams or on Streamate, I am sure I tipped last time I was online there. It's a habit, and given the type of entertainment girls offer on these sites, I feel like dropping some tips, and I do it without realizing I am doing it.
Models Get Punished For Anything
I understand that LiveJasmin wants to have a certain image and attract a certain audience, and having models following certain standards makes sense. The problem is that they punish models for not meeting their standards.
Things like: Bad lighting, no audio, poor makeup, wearing pajamas, etc. It all gives a 5% reduction on the model's payout.
Bad lighting… well, yeah, maybe. Bad makeup? That is subjective… Wearing pajamas? WTF?! I'd say that almost every member won't care about that, and some may even like it.
But LiveJasmin handles this situation poorly. They should at least warn models first, instead of simply giving a cut on the percentage. Most models only find out they got a penalty when they get online, and often they don't know why.
No Potential To Grow
I agree with models. Since LiveJasmin has too many strict rules, and they won't allow you to ask for tips, the model's earnings are limited by her rate in private.
Members don't tend to tip as gratitude after a good private chat. Models can't offer some goodies or tease too much in the free chat to give reasons for members to tip. In the end, there is no potential to grow.
On this aspect, tipping-focused camsites are a lot better at unlocking higher earnings.
Low Payout Rate
It's indeed low. I can't argue on this one.
It starts from 30%, and it can go up to 80%. Well, 80% is not bad. The problem is that reaching 80% is not easy.
And then, there is the situation when a model is close to 80%. She already made so much money that reaching 80% does not change her income much.
I remember when 60% was the maximum percentage. Most girls reaching it would have to work every day, and still, they would get to 60% almost at the end of the period.
Even when the model reaches it, it gets reset to 30% after the pay period (2 weeks,) and she needs to work her way up to 80% again. No wonder why models hate this system. LiveJasmin could at least start from a higher rate or reset it not so often.
Here is each level for the LiveJasmin payout:
| Earnings | Percentage |
| --- | --- |
| >$30,000 | 80% |
| $15,000 to $30,000 | 70% |
| $8,000 to $14,999 | 65% |
| $4,000 to $7,999 | 60% |
| $2,000 to $3,999 | 50% |
| $1,000 to $1,999 | 45% |
| $500 to $999 | 40% |
| $250 to $499 | 35% |
| <$250 | 30% |
LiveJasmin's Level Dependent Payment System
Notice that it can be a horrible 25% if the model is holding a penalty.
The average camgirl on LiveJasmin probably falls on the 45-50% level. Top models can reach 60-65% each period. I should run some analysis to have a full report on this.
Conclusion
LiveJasmin can be the best camsite if the camgirl understands the rules and how the site wants to sell its services. It can be a huge nightmare and the worst place ever if the camgirl tries to apply other camsites' rules and concepts.
Although many girls misunderstand LiveJasmin, I think the fault falls on LiveJasmin. They have a very unique set of rules and standards that are a bit too much. They should have a dedicated team explaining to models what they are expected to do, instead of simply issue penalties.