This is a piece of data that can be useful for models and members — a list of the busiest camsites. Do not confuse with the best camsites. Models may want to look for sites that are not saturated, and members may want more models to choose from.
Of course, quantity does not always mean quality. But this gives you an idea of where to go if you want more options.
Here are the top 10 busiest camsites, by models online based on the last 60 days (May 18, 2020 – July 17, 2020).
1. Chaturbate
It's no surprise. With an astonishing average of 4631 models online, Chaturbate appears first with double the average of the second busiest camsite. Since its creation in 2011, Chaturbate has been growing in a way no other site has before.
The number is so high that I had to double-check the data. And that peak there in the middle of the graph that looks like the Everest… yes, that really happened. On June 11, there were on average 8045 models online, and the next day 7414 models online. Here is a breakdown of those two days: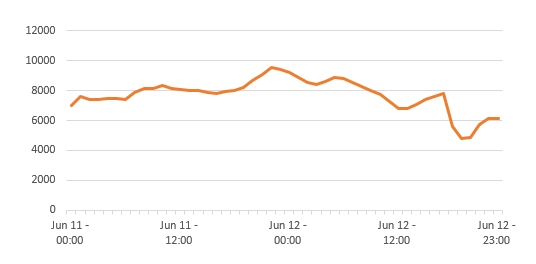 If you want a wide range of models to choose from, then Chaturbate is your answer.
Now, there are a few important things that I should note. First, Chaturbate allows models to create multiple accounts. I don't exactly know the rules on that, but I've seen models with 4-5 different accounts. Of course, not connected at the same time. Also, new accounts are approved after a basic document check, which makes it easy for bots to get an account. These bots are then quickly reported and banned, but still, they count as an online model.
2. Streamate
Now that is a surprise. Maybe because Streamate doesn't show the total model count on their site (the category breakdown can be misleading), I never realized how many models were online on Streamate until I pulled this data. With an average of 2238 models online, it appears second.
They have girls from different parts of the world. Some work exclusively on Streamate. Some are next door, kind of girl; others are porn actresses. Some are both like Emma Lovett.
3. StripChat
I confess I have never used StripChat before, and I still consider them some startup yet away from big names like Chaturbate or MyFreeCams. So when I saw that they are the third busiest camsite, that was a surprise.
They have an average of 2111 models online. The vast majority are studio models. Unlike MyFreeCams, Chaturbate, and Streamate, you won't find many exclusive models there. If you ever find one at all.
4. MyFreeCams
This is the site I thought it would be second. But somehow, it is the fourth busiest camsite. I consider MyFreeCams the direct competitor of Chaturbate. But with an average of 1817 models online, MyFreeCams has ~60% fewer models online than Chaturbate.
If I expand the date range to three years ago, I can see that MyFreeCams has been steady. This means that having fewer models online than the competition doesn't mean a decline.
It is true, though, that MyFreeCams does not allow males on camera. So that leaves a big market to Chaturbate. A direct comparison, which is what I just did :P, can never be fair to MyFreeCams.
5. LiveJasmin
Here is another example of a steady site. LiveJasmin has had about the same number of models online for about 8 years, which is its current average, 954 models.
Ok, maybe a slight drop this year. You usually could find around 1000-1100 models online on LiveJasmin. This drop may be related to their recent decision to shut down the couples category.
6. CamSoda
CamSoda has 928 models online on average, and if you browse the site, you will notice that almost all of them are either performing a show or holding a big smile to welcome you.
This is perhaps the biggest difference between CamSoda and other free-to-watch camsites. Although you can find on CamSoda girls just sitting checking their phones, this is not the norm.
Maybe the site has some rules about that. I know that LiveJasmin has strict guidelines about how models show is on camera.
7. ImLive
With an average of 716 models online, ImLive may be a surprise for you, but it is not for me. Seems a lot? Well, two words… paid chat.
ImLive has something called "paid chat" – a status that any model can manually set without any actual paying member being in their rooms. It is like a locked room that you need to pay to join. It is a good way for models to be online there while performing a private on another site. But in the end, the vast majority uses this to sit and wait for members without being on camera.
Why does it matter? When I pulled the data for each site, I included all possible statuses a model can have on that particular site. On ImLive, about 400 models are online on paid chat status. This has a huge impact on the average models online.
8. XLoveCam
XLoveCam has always been focused on the French market. They used to have a rule about models only being approved if they could speak some French. Not sure if this still exists. But that reduces the number of online models there, leaving it with an average of 485 models online—almost half of the site right above them.
9. Cams.com
I have some good nostalgic memories from Cams.com. This was the very first camsite I ever visited, the one that introduced me to the camming world. When I first used the site in 2007, it was one of the most popular alongside LiveJasmin and Streamate. It had about 600 girls online. Considering that in 2007 the landscape was different, 600 girls online was a very high number. Now they hold an average of 423 girls online.
I don't think this is a decline. Surely they have dropped a bit, and compare with other sites, they have a lot less. But they are still holding about the same number of models. Some of them are exclusive models.
10. Flirt 4 Free
Finally, the tenth busiest camsites, Flirt 4 Free. They also have been steady over the years. They seem to focus more on quality over quantity. That explains the average of merely 370 girls online.
They have strict rules that may not work with all girls. For example, they choose the girls' names or at least give a list where the model can choose from. If the girl has an established brand already, that may be a problem. Models can't show any brand name on camera, like drink Pepsi or wear Nike t-shirt. And, probably the "worst" of all, models can't play music on camera. The reason is to avoid any lawsuit.
Still, the site has exclusive models that have been working with them for a long time. And honestly, 370 girls is not a bad number.