Streamate GOLD Show VS. LiveJasmin VIP Show: Which One Gives You A Better Bang For Your Buck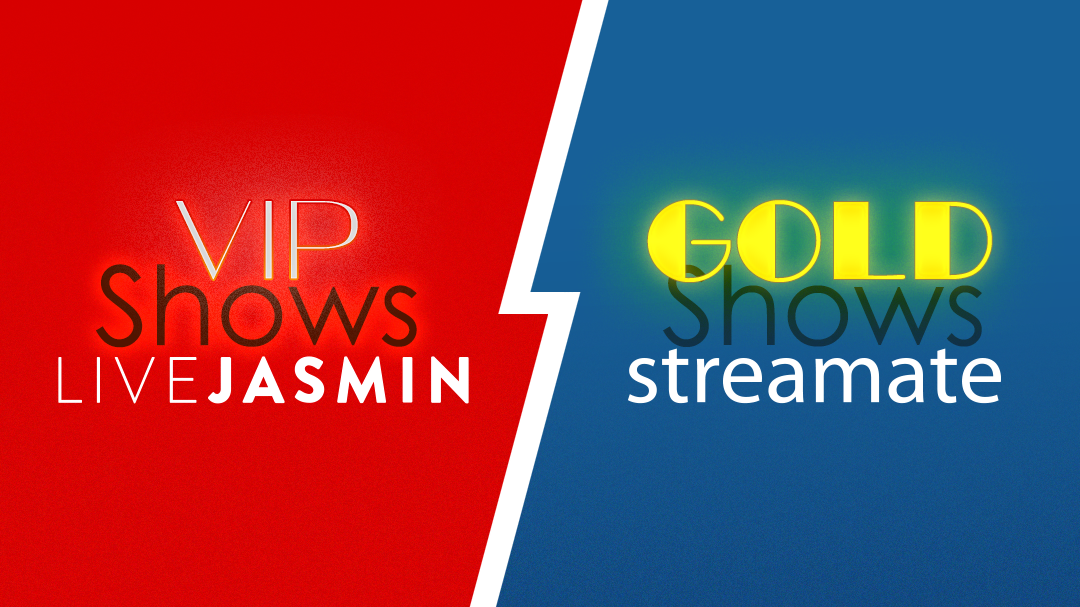 Streamate GOLD Show and LiveJasmin VIP Show; Essentially the same feature with different names on different camsites. Because of the difference of vision LiveJasmin and Streamate have for their services, the final result isn't quite the same. One of those gives you a better bang for your buck.
Which One Was Released First?
Which camsite came up with the idea of a goal show? LiveJasmin or Streamate? Well, none of them. I credit the invention of goal shows to camgirls on MyFreeCams. They (camgirls) started setting goals to perform shows in public chat. The idea was, and still is, the same.
Streamate was the first camsite to take this idea and develop an automated system to keep track of the action. And then they released their version of the goal show, which they call Gold Show. So, as an official show option, Streamate was the first to do it.
How These Countdown Shows Work?
It is straightforward. It does not matter if it is a GOLD or VIP Show. They both work the same at this level.
For example, you have a camgirl who wants to do a show. For simplicity's sake, for now, I will be calling it just "show."
She sets a topic/subject, that describes what she will do in the show, a minimum price per ticket, and the goal members need to reach.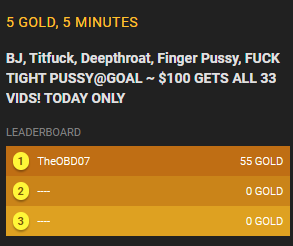 Let's say that DaianaEltons will be holding a show. So, Daiana sets the show's details as follows:
Topic: "masturbate until squirt in the changing room";
Show length: 7 minutes;
Ticket price: 5 credits;
Goal to reach: 50 credits;
Time limit: 10 minutes
Everything is clear.
One ticket costs 5 credits. The goal is 50 credits, so members must buy enough tickets to total 50 credits. Members have 10 minutes to reach the goal.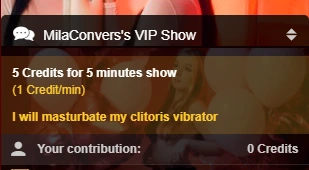 Regarding the show itself, in the example above, it will last 7 minutes. What will DaianaEltons do? She will masturbate until she squirts in a clothing store's changing room. By the way, this topic was taken from a real VIP Show. DaianaEltons really performed this show.
What Happened If The Goal Is Not Reached?
Fair question. You are simply refunded. There is no delay in the process. You get your money back in full when the time limit is over.
The same happens if the camgirl cancels the show before it starts.
What Happens If The Girl Logs Off During The Show?
LiveJasmin will issue a refund automatically. Their system detects that the girl didn't stay for the whole length of the show and returns the credits to the paying members.
Internally, they will contact the girl to know what happened. If it was a random technical problem, they don't do anything. If this occurs repeatedly, LiveJasmin assumes the camgirl is doing it on purpose. In this case, she may be fined and probably lose the ability to start VIP Shows.
On Streamate, it is not automatic, but still easy to get a refund. You just need to contact support to ask for a refund. It is simple, and they won't ask questions. Just inform the model's name and when this happened.
How Much Does It Cost?
There is no fixed price for a ticket or goal. Camgirls set prices and generally depend on what the girl will do in the show.
But I can say for sure that LiveJasmin is cheaper, both ticket and goal. You can easily find girls asking as low as 2 credits per ticket. The goal is also not that high, usually between 5 and 7 credits. Because of that, theoretically, it is easier to reach the goal on LiveJasmin.
On Streamate, you won't find girls asking for only 2 credits per ticket. The lowest is usually 5 credits. It still is a very fair price.
The main difference here is that girls on Streamate set higher goals. But you will see later that this usually doesn't affect members.
What GOLD And VIP Shows Have In Common?
I'd say that they have everything in common. GOLD or VIP, it does not matter; they work exactly the same way.
The prices are about the same for the girls' average goal on Streamate.
You buy a ticket, and you get a show. There is no show? Then you get your money back. It works just like this.
Just one crucial detail: If you buy a ticket and don't attend the show, you can't have your money back.
Where A GOLD Show Differ From A VIP Show?
Streamate GOLD Shows differ from LiveJasmin VIP Shows in one essential point: Quality of experience!
This is not written anywhere. You must try to find out. But I can tell you that the experience quality is significant and makes a huge difference.
Who is the best? Streamate! The quality of experience is far superior on Streamate.
Why do members have a better experience with GOLD Shows? Simply because the camgirls on Streamate are not goofing around.
Streamate GOLD Shows Have True Descriptions
Unlike on LiveJasmin, there is no ambiguous or tricky description. What you see in the show description is what you get.
On LiveJasmin, it is common to find girls using descriptions like:
I will show my body: What does she do? She will stand up, be fully dressed, and dance slowly.
Play with lush: How does that go? She will be fully dressed with a lush between her legs and ask for tips.
On Streamate, on the other hand, shows with these descriptions would mean a full show with 100% nudity and masturbation.
Actually, on Streamate, the description wouldn't be that short. The girl would explain better and often list every action she would perform in the show. Because of that, GOLD Shows have accurate descriptions.
LiveJasmin VIP Show Is Geared By Tips
Or at least that is what LiveJasmin and the models want.
One of LiveJasmin's selling points to girls is that they can make more money in a VIP Show. How? By using the lush as an excuse to ask for tips.
And believe me, camgirls on LiveJasmin really go for that. They have no problem asking for tips. I get the idea that they set a low goal, so they perform a VIP Show and get paid almost nothing. Because of that, they rely on tips to have a decent profit.
My problem is how they do. Often, girls are very persistent to get members to tip. Many of them don't know how to react to lush, so everything looks fake. You don't feel like tipping because you see the girl just asking for money.
The fundamental problem is that LiveJasmin has an audience that is not used to tip. It is hard to find a member dropping big tips, either for paying for a service or just tipping.
LiveJasmin tells girls to squeeze tips from members to make a buck with VIP Shows. But members don't tip easily. The girl gets frustrated with the whole situation. In the end, we get a disappointing performance or no show at all in some cases.
I was in a VIP Show with ReynaGomez, and after pushing members so hard to tip, she only got like 10 credits. She got angry and frustrated and decided to just sit in bed with a grumpy face until the time was up. I saw this happening twice with her. She tried a few more times without success, so she decided to never do VIP Shows again.
LiveJasmin VIP Show Is A Promo Tool
Not all girls do this, but many do. Emma is an example. She uses her LiveJasmin VIP Show to get members to join her in private chat.
Basically, she shows just enough to get the members excited. She does that by following a well-timed script, where she only goes topless in the last 30 seconds. When there are only 5 seconds left, she finally takes off her panties, goes full nude, and the time is over.
The description for her show sounds promising but a bit too poetic to describe an erotic striptease. In the end, it is 4:30 minutes of the same dance and 30 seconds of topless.
I have watched many GOLD Shows, and I have never seen any girl doing something like this on Streamate.
On LiveJasmin, this is not only common, but you also won't have much luck complaining about the girl. LiveJasmin will suggest you look for a girl who can perform a different show.
Which One Has The Best Action?
There is no question that GOLD Shows on Streamate has the best action.
While you can find girls on LiveJasmin performing fantastic and pure hardcore VIP Shows, like DaianaEltons, GabrielaParisi, or DrellaWolf. The vast majority won't even get close to the level of action Streamate girls offer.
On LiveJasmin, most girls will perform soft shows, constantly ask for tips to "help them cum," and/or give a half-show to force you to go in private chat.
On Streamate, it is pure harcore. The girls won't run around the bush. It is like a private chat, but without being one-on-one with the girl. This is common across all Streamate camgirls. It is almost impossible to find a softcore countdown show on Streamate.
I have watched GOLD Shows on Streamate that I would consider a full private show. Girls using dildos and doing anal in a 7-8 minute show.
I don't remember many girls doing anal sex in a VIP Show on LiveJasmin. A few use dildos. But most of them start the show already with the lush in place and ready to ask for tips. If you ask for a dildo, they usually say that they prefer lush, or they point out that dildos are not for VIPs. If they even reply to you.
Where Camgirls Reach Goals Faster?
This is a good question because the answer shows how much better one camsite converts over the other. In this case, Streamate converts a lot better than LiveJasmin.
I already explained that tickets cost about the same on both sites. But goals are often a lot higher on Streamate. You can easily find girls on Streamate with goals like $100 or $150. The highest I have seen on LiveJasmin was $50. If we use the logic, it should be harder to clear a goal on Streamate. But the reality is different.
The audience on Streamate is essentially different. Simply put, Streamate's members convert better. Therefore, camgirls reach goals faster on Streamate even though the goals are higher.
You can easily find girls on Streamate with goals like $100 or $150, and the goal is reached most of the time. The highest I have seen on LiveJasmin was $50, and it is rarely reached.
Although, the way models interact encourages members to chip in. It is not that members on Streamate just spend money left and right easily. You must give credit to the camgirls that play a big part in this.
Streamate Members Don't Just Watch In Silence
If a Streamate member has credits and he likes what the girl has to offer, he will most likely buy a ticket to GOLD Show. On LiveJasmin, on the other hand, members tend to sit in the chat room in silence. They don't buy tickets; they don't interact.
I simply can't understand why so many members on LiveJasmin stay in a chat room doing nothing. Not talking, not tipping. And then some come out of nowhere while the model is on the pre-VIP show and propose the model to cancel the VIP Show to have a private chat with them. The models usually suggest watching the VIP first and having a private chat afterward. Almost no member accepts the offer and leaves the room without a goodbye. It is like, WTF?
It is funny how many members won't buy tickets, but when the show starts, they all jump in purchasing tickets after the time is up. This happens on both LiveJasmin and Streamate. It is like they don't want to put their money on it unless the show is guaranteed. It makes no sense.
Streamate Has Heroes To Start GOLD Shows
On Streamate, if a member wants a show to start, it is not unusual for him to buy more than one ticket. These are heroes, and I have seen heroes buying half the tickets because they really want the show to happen. Many girls even have more than one hero.
On LiveJasmin, a hero is a very rare persona. It is a concept that LJ members don't understand.
I only saw once one guy on LiveJasmin knocking 95% of the goal. But he was in cahoots with the girl, and he knew she would cancel the show, so he was going to get his money back. The fun fact: This girl ended up quitting LiveJasmin and moving to Streamate a couple of weeks later.
Some guys sometimes buy one extra ticket to secure the VIP status, which does not give anything different other than an ego boost. But someone spending $50 on a VIP Show is extremely rare, to not say impossible. A member with $50 in their pocket would instead take the girl in private chat than buy tickets to a LiveJasmin VIP Show.
It is just a different audience, and both Jasmin and their models fail to see this. LiveJasmin introduced a very successful feature from the competition that does not fit well on their site because it is very focused on private chats.
Maybe if LiveJasmin allowed models to perform more actions in free chat in exchange for tips, members would start changing behavior.
Streamate Models Do More In Free Chat
This has to do a little bit with how Streamate manages its site. Not a long ago, showing a nipple in free chat on LiveJasmin was still strictly forbidden. Only until mid-2021, when LiveJasmin started allowing models to go topless if they are on pre-VIP Show to encourage members to buy tickets. But still, the LJ camgirls can't do much more to sell tickets.
Not to mention that many camgirls on LiveJasmin prefer not to make use of the topless freedom.
On Streamate, camgirls have more freedom to show and do more in public chat. Not only when they are on pre-GOLD Show. But yeah, generally, you find girls doing a semi-show in public chat when they are selling tickets.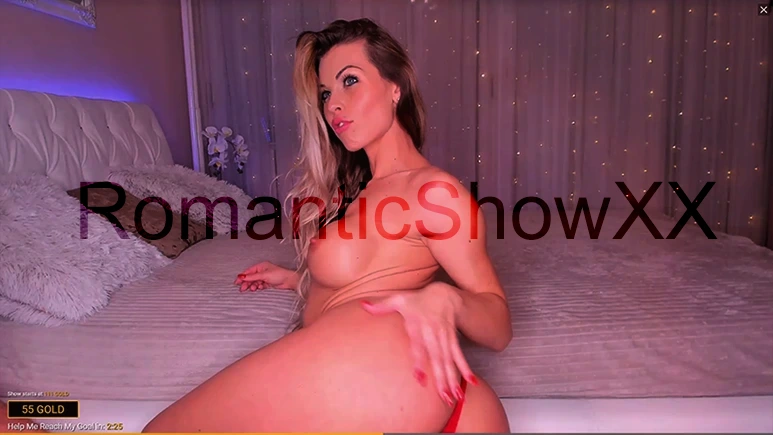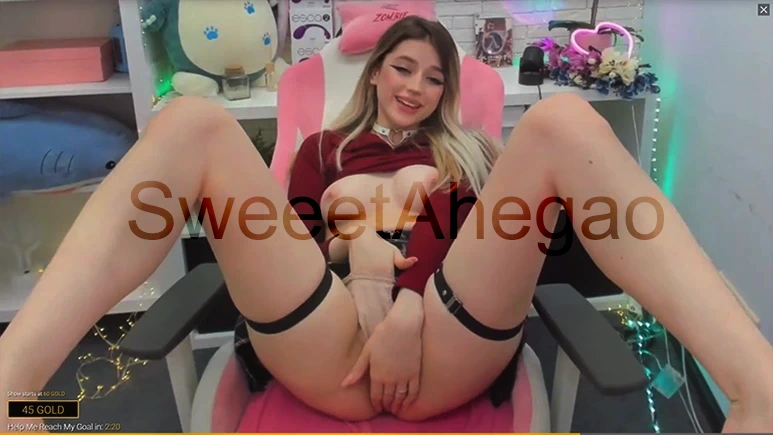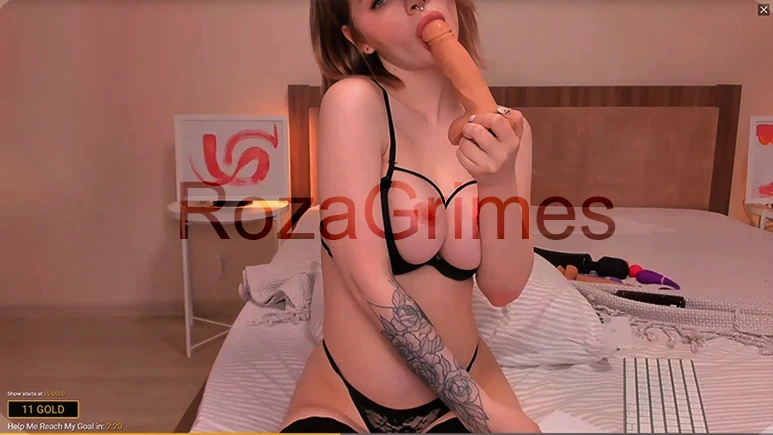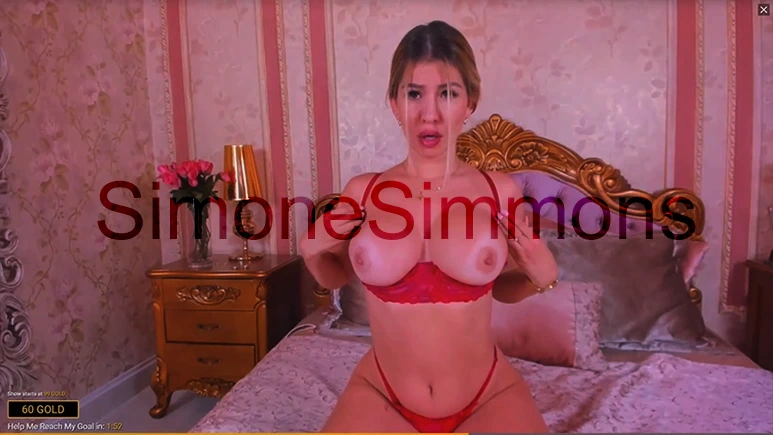 I have seen girls on Streamate getting fully naked, giving blowjobs, and rubbing their pussies in public chat. This is just a short preview of what will happen in the upcoming GOLD Show. Honestly, some of these Streamate GOLD Show previews are better than a full LiveJasmin VIP Show.

Martina_Mars During Pre Gold Show
It is not just that Streamate camgirls show a lot in free chat. The crucial difference is that they do something. One of the girls I saw with a $50 VIP goal on LiveJasmin was not doing anything at all in free chat. I checked on her a few times, and every time she is checking her phone or is reading something on her computer. She usually sells one or two tickets. I think saw her reaching the goal only once.
Which One Has The Best Girls?
Well, that is relative because the taste is subjective. On both sites, you can find a girl that suits your taste. Streamate may have more options because more models go for GOLD since it converts better. Unlike on LiveJasmin, where many models already gave up on VIP.
On both sites, I see camgirls that I would never take in private chat and camgirls that I would take in private chat every other day. But this is only my personal opinion.
But I can say that, on both sites, there are certain camgirls that you will never see doing a countdown show. I am talking about specific top models. Actually, top earners rarely go for countdown shows. The reason varies from girl to girl.
AnisyiaLove, for example. Because she is usually busy in private chat, she does not have time to do a VIP Show. Although she does it from time to time.
AlexandraClark only gets online for scheduled private chats with her regulars, so naturally, she does not even consider going for a VIP.
Evixa says she does not do VIP Shows because she prefers one-on-one private chats. She does not enjoy the idea of having 10 random guys she never talked to before watching her getting naked, let alone masturbating.
ReynaGomez stopped doing VIP Shows because members don't tip enough to justify performing one.
Why A VIP Show on LiveJasmin Fail?
A few points contributing to VIP Shows not being a successful option on LiveJasmin are what models want to give and what members expect to get. Mainly because of how LiveJasmin sells VIP Shows to models and how they sell it to members.
LiveJasmin Members Expect A Full And Explicit VIP Show
Yes, a VIP Show's price tag is a lot cheaper than a private chat. But LiveJasmin and models present VIP shows as hot as a private chat. Also, members tend to think they should get a decent performance since they are paying for something. For many of them, it does not matter if they paid only $2. They still expect a show as hardcore as possible.
I have seen members on VIP Shows asking girls to squirt and do anal sex in a seven-minute show that they paid $5. Some of them were the highest tipper. They didn't even bother to read the topic and figure out that what they wanted was not included in the show.
LiveJasmin Models Are Not Up For What Members Want In A VIP Show
While members expect all that, models are willing to do a lot less. As I said before, many models use it as a promo tool to get members to join a private chat afterward. Logically, these models don't want to perform an explicit VIP Show because they want to leave that for a private chat. I have a different opinion about this, but it is a conversation for a separate post.
LiveJasmin also sells to camgirls the idea of a potential increase in earnings with VIP Shows using lush. They emphasize the lush thing, telling camgirls that it is crucial to have a lush and members will tip. In reality, although in many shows members tip, it is not uncommon for members to not tip at all. Many camgirls turn pushy when members don't tip with "help me cum."
In many cases, VIP Shows on LiveJasmin is a big disappointment, to say the least. In some cases can be considered a ripoff. I blame LiveJasmin.
Bogus GOLD Shows on Streamate
Maybe "fake" would be a better word to describe this, but fake has a negative connotation.
Basically, models have the ability to start a GOLD Show no matter how many tickets they sell. Yes, they can begin a GOLD Show after selling no tickets.
Models can start a GOLD Show even if they haven't reached the goal. This allows shows to happen if the goal was closed to be cleared. It seems that there is no minimum, so models can go ahead with the show if they wish, regardless of how close to the goal they are.
It is unknown if this is a valid option on Streamate or if models figured out this loophole. But what happens is that some models will go to GOLD Shows without any paying member and effectively use it as away mode while performing a show on another site. Very much the definition of a cross-show.
In fact, I stumbled upon LizzieGreyX, who wasn't even performing any show. She changed her status to GOLD Show on Streamate while in public chat on LiveJasmin doing nothing.
Because of this, I will instead not join ongoing GOLD Shows. Buying my way to a GOLD Show while the girl is still in public chat is a much better option. Of course, unless I already know the girl.
Best Camgirls For A VIP Show On LiveJasmin
Best Camgirls For A GOLD Show on Streamate