Since its inception, LiveJasmin has always had a rigorous rule about nudity in free chat. It is a big no! Models can tease in lingerie but never show any private parts, not even be topless in free chat. But that has changed!
Table of Contents
VIP Shows is the game-changer
Everything changes recently with VIP Shows. I went to DaianaElton's room, and she was topless. Not even trying to hide her nipples or anything. In fact, since she had reached the goal already, she had no panties either. Though, not showing her pussy because that is still not allowed in free chat.
I thought she didn't know the rules for a second, or she mistakenly believed that the VIP Show had already started. But DaianaElton is not that newbie, and she knows the rules. It was me who didn't know the new rules.
I checked with LiveJasmin support, and they were very clear:
"In case the performer is in a Pre-Show, she is allowed to in topless to attract more members to her VIP Show"

LiveJasmin Support
How often do girls go topless in free chat?
Unfortunately, not that many girls do topless during their pre-show. It makes sense for a model to tease and dance in topless if she has many potential buyers and sells tickets quite well. But that doesn't happen often. This is probably due to the lack of members and tickets they sell because most girls don't fully understand how to use VIP Shows.
So far I only saw two models doing topless: DaianaElton and HaileyPalmer.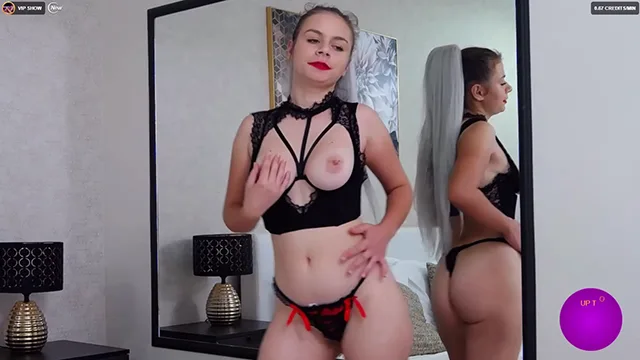 Almost all of them just start a pre-show with no members in their rooms. They assume that members will start coming because they enabled VIP Show. It's partly true because there is a slight increase in traffic; most are members curious to know what show the model will perform. But then, most of them just throw away this extra traffic by just sitting there doing nothing. They barely interact with members; they don't dance, tease or do topless. Their selling point is simply "this is a super cheap show," and they see no reason to do anything else to convince members to buy tickets.
Of course, there is also the situation where the model's VIP Show revolves around her dancing topless. In this case, it would make no sense to be topless in free chat because that is essentially what the model will do on her VIP Show.