Did you know that you can join beautiful online cam girls for a topless party in public chat? See sexy topless cams without the pricey cost of a private show, and you can find this on XLoveCam.
They host a special event that happens every Monday since 2017, and too many people are missing this hidden gem in the camsite sphere. I'm talking about XLoveCam's Monday Topless Party.
Topless models go live with public chat, with no special fees or stipulations. Watch your favorite model in this weekly event every Monday. Read the FAQs below for answers to your most pressing Monday Topless Party questions.
Table of Contents
What Is XLoveCam?
XLoveCam is a fun camsite that features cam sex online with recorded videos and live cam shows. This site is all about private shows, a large selection of beautiful models, and free sex cams.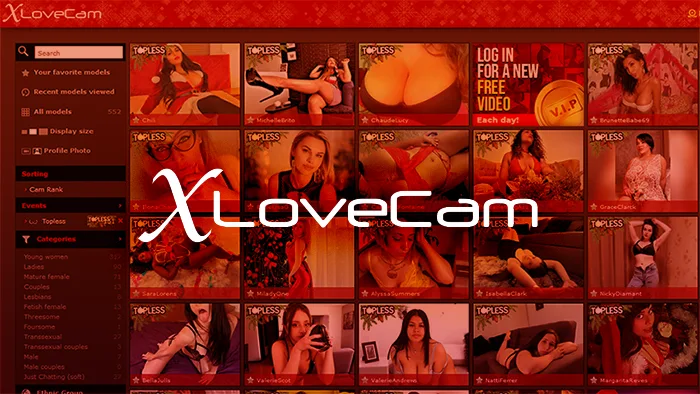 XLoveCam has a large demographic, so they have a huge variety of online cam content to choose from.
Here are some of XLoveCam's most popular categories:
Young women
Ladies
Mature females
Couples
Lesbians
While the top category list may seem vanilla, there is plenty of fun and unique filters for whatever you're looking for. The filters get so specific that you can search by eye color if that's your thing.
XLoveCam also has a special page that features the new content of the previous day. This page is pretty unique for a camsite.
The news page shows their newest models, videos, and pictures. It also has an overview of the numbers for the week. If you like to mix things up, or you're just a data nerd, it can be a fun area of the site to explore.
Of course, not all of their content is free.
XLoveCam's Shows
There are private shows and a tip system if you want models to do something special for you. While there are free shows for everyone on the site, XLoveCam definitely encourages you to spend money.
If you're in a live show, you can tip to request the model to do something specific like take her shoes off or go topless. Not every model will offer the same things for the same price, so make sure you know what you're paying for and don't unfairly demand anything from the models.
XLoveCam's VIP Access
A lot of the models on XLoveCam offer private shows, which is the highlight of XLoveCam for many regulars. This is the most expensive feature on this camsite, but it's also the biggest bang for your buck.
Lastly, some models have VIP exclusive content. If a model is listed as a VIP, you will have to subscribe to become a member of their channel. You'll have full access to their videos, photos, news, and any other exclusive content that the model shares.
It's pretty easy to make an account with XLoveCam. Just type a nickname, a password, and your email.
Bonus tip! You'll actually get a free VIP video sent to your registered email as an incentive to sign up.
What Is Monday Topless Party?
Monday Topless Party is precisely what the name suggests. Every Monday, a topless fest happens on XLoveCam that allows models to be topless in public chat. It feels like a private event; but, believe it or not, everyone is invited to the party.
Initially, it was an 8-hour event, still set on Mondays. XLoveCam realized how much everyone loves the Monday Topless Party, so they extended it to be a 24-hour event. Now everyone has the opportunity to enjoy the party in any time zone with any kind of schedule.
You don't need to be a member to watch the models. There are no hidden fees or special requirements to join the fun. This is a free-for-all event for anyone who pops into a participating public chat.
Here's a quick overview of the Monday Topless Party facts:
Wide selection of topless models
Free shows for everyone in public chat
24-hour event for anyone on any schedule
Weekly event every Monday
Reliable and safe website
Honestly, considering that XLoveCam is very exclusive, this event is a surprising opportunity for the casual viewer.
XLoveCam and Exclusivity
It's a shame that they don't publicize it better since so many people would jump to participate in a special event like this. The most exclusive part of this event is the lack of coverage and information.
For some reason, XLoveCam doesn't have any blog or informative articles that talk about the event. They don't send emails or any reminders. You can even search for it online, and almost no site talks about this event; XLoveCam doesn't even mention the Monday Topless Party on any social media account.
Don't worry about it; now you're in the know!
Join their Monday Topless Party knowing that you have some pretty exclusive intel. Take advantage of this free event and have a good time every Monday.
Why Should I Go to the Monday Topless Party?
We have a better question: do you enjoy beautiful, topless women performing for your pleasure? We're going to assume the answer is a resounding "yes."
If you're not sure you want to see bare tits on beautiful women for free, let's go over the benefits of joining the Monday Topless Party.
Topless content
Limited time access
Free of charge
Did we mention beautiful women?
Are All Models Doing This Topless?
Here's our short answer: no. Don't let this scare you off though because XLoveCam has a lot of models who love to go topless for the event.
The Monday Topless Party allows models to be topless, but XLoveCam does not force anyone to take their top off and you should not try to convince a model to be topless in public chat. The event is voluntary for every model. Models register for the event ahead of time, and they have the power to pick when they perform.
There are enough incentives for models to participate so that you won't have a problem finding topless models for the event. You can find around 30-40 girls going topless during the event at any time.
Based on their current upcoming event, they have over 1,000 models registered to attend. The numbers fluctuate depending on the season, but there's definitely not a shortage of models for this site.
Of course, they don't all get online simultaneously.
Who Models for the Monday Topless Party?
You can find the complete list of models on XLoveCam's event page. They feature the pictures and usernames of each model, and you can click on a registered model's image for more information about them.
By the way, 40 girls, which is more or less how many girls are topless simultaneously, represent about 10% of the online models XLoveCam usually has.
Even though the number is a minority of XLoveCam models, it's still a relatively large number to choose from. I know this isn't an insane amount of models when you compare to hundreds of models fully naked on Chaturbate or MyFreeCams, but keep in mind that XLoveCam is very private orientated.
This means that on a regular day, you can't see any nipples at all. Because of that, the Monday Topless party is a big deal. This is a special opportunity considering XLoveCam's usual exclusivity, especially if you already have a favorite model on XLoveCam and want to see more.
Also, XLoveCam has a fair amount of exclusive models that you can't find on any other camsite.
XLoveCam screens potential cam girls for identity verification and other strict qualifications. This procedure ensures quality for the models and for fans who love a quality show.
So, no matter how many girls the other camsites have, there are some tits that you will only be able to see for free on XLoveCam.
Do I Need to Tip For Topless?
You're not required to tip at all.
The point of the Monday Topless Party is the unique opportunity to see tits for free, so mandatory tips would defeat the purpose. The models that are going topless have chosen to participate in the event, understanding the premise.
This means they are topless because they want to be a part of the event, not because someone should tip her. Therefore, you don't need to tip if you're tight on cash.
So, should you tip?
Though you don't have to tip, it's a nice thing to do for the beautiful women who are giving you a show. Sure, they volunteered for the event, but everyone loves extra money! If you do tip, it would be a nice bonus to show your appreciation.
If you find a model you like in the event, you can also visit her profile to see her normal rates and special prices. Just because you don't pay during the event doesn't mean you can't support her in the future, so don't feel guilty for indulging in this free party.
What Happens if a Model Asks for Tips?
Well, models aren't supposed to ask for any tips. According to XLoveCam, general rules state that models are not allowed to ask for tips in exchange for going topless during a Monday Topless Party.
The model is giving false information if she argues that she can't show tits without getting a tip. Models are free to go topless with no strings attached during the event. There are no bars or stipulations before a participating model can take her top off.
The prerogative of getting a bonus to show tits does not apply on Mondays because it is a special day for the free topless fest. This is about fun for everyone in public chat, so don't tip unless you're feeling generous and want to show some extra love.
Can I Watch A Full Show In Free Chat?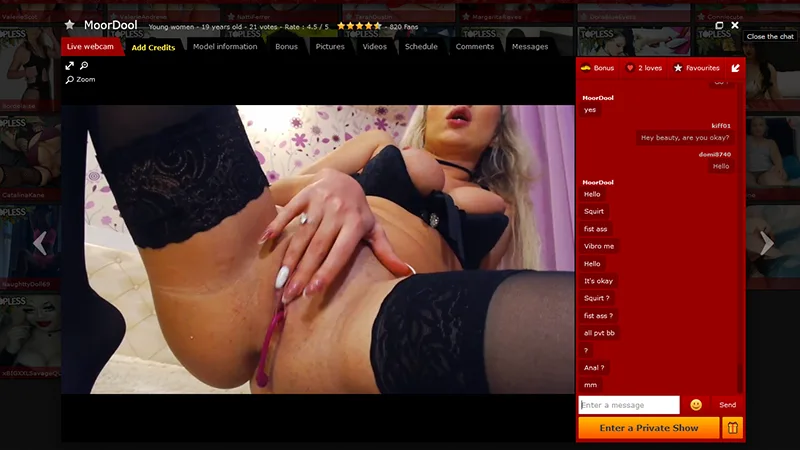 Yes, you can. But it does not happen often on XLoveCam and the Monday Topless Party was not created for this. It happens sometimes, but usually, those are models performing a show on another camsite.
While browsing XLoveCam during the Monday event I caught a couple of models performing explicit shows in free chat. But don't count on that happening too often like on Chaturbate or MyFreeCams. Many models were laying down in a very inviting position. But the vast majority were "just" in topless.
Can I See Girls in Topless on Other Days?
Yes, you can see topless girls anytime you want on XLoveCam, as long as you find a willing model. Unfortunately, on other days, you will have to pay an extra fee for your favorite model to take off her top. If it's not time for the Monday Topless Party, you will have to tip to see something extra.
Heck, you can even tip to see more than tits. Every model has her own price points and services, so look at profiles or ask in chat for the specifics.
Despite the public and free Monday Topless Party, a whole public show is not typical at all on XLoveCam. They are an exclusive camsite, known for private shows. They usually focus on quality and privacy over low cost and public access.
As you can see, the Monday Topless Party is a rare event for a camsite like XLoveCam. If you are looking for tits without tips, explore other camsites that are more flexible about free services. Otherwise, you'll need to plan for a Monday show.
Everyone Is Invited to XLoveCam's Monday Topless Party
Congratulations! You've got valuable information on one of the most exclusive non-exclusive events. Head over to XLoveCam if you want to be a part of their Monday Topless Party.
You don't need to RSVP or pay for registration. Just find your favorite model and get ready for a hot online cam with quality service – no shirt, no shoes, no problem.
Need the lowdown on other titillating camsite news? There are plenty of camsite news, opinion pieces, and more on the blog, and if you want more about a specific camgirl, then try the reviews.