If you are an active LiveJasmin member you probably already have noticed that some models, well, many models have new names. This is LiveJasmin glamourification, it is how they call it, and the goal is to give the model a new name that, first of all, must resemble an actual name, and it must look more clean and appealing, and it sounds more glamour-ish. Like the model is now a brand.
This is new on LiveJasmin, but not new in the cam business. Flirt 4 Free (F4F) has the same thing. The difference is that since day 1 F4F has been doing this, and every new model gets a name that F4F's team chooses for them. However, in F4F case, it is also to avoid legal issues by not allowing models to choose a trademark as a nickname.
Table of Contents
Some examples of the LiveJasmin glamourification
Some changes make sense, like 1StripperGirl, which was a very generic model name, and now she is NatalyMayer. Or, in another example, to fix what seems to be a typo PauulaNoah dropped a "U" and is now PaulaNoah.
Even well-established models got new names, like LittleRedBunny, which is not glamour, but, in my opinion, given her status on LiveJasmin and being a nice name, could remain unchanged. But they decided to rename her to just Ophelia.
Another example is SandraDream. That was already a good name and they changed it to SandraDeem, which, honestly, sounds like a knockoff. No idea why they changed this one.
JessyBrown on the other hand remains unchanged and will remain like that since her name already follows the new rules.
And Evixa, which is a name invented by the model herself, got to stay the same because it looks like an actual woman's name. Had that name been Evixo, implying it is a man name or EvixaSweetTits and then LiveJasmin would rename her.
Are all models going to get a new name?
I am under the impression that will happen to all models. But if the model already has a good model name she will not get a new one. This has been confirmed by someone from LiveJasmin's team and some models.
However, I have seen NatalyeRose changing her name to just Natalie. It is indeed better since it is shorter and easier to remember. Natalye with Y is not really correct anyway.
Also, they will skip old accounts that don't get online anymore. No reason to use imagination to find a good name for a model who does not come online anymore.
Can a model keep her old name?
If her old name meets the new naming rules, then yes. Otherwise, they are forced to choose a new name.
In this post on ACF, veteran model LittleRedBunny mentions that her account was closed/suspended for not complying with the new rules. Her account was only reinstated when she chose a new name, Ophelia.
This creates a big problem for well-established models that have built a brand name that now does not fit this new rule.
Can a model change her name again?
I was told by someone from LiveJasmin's team that this process will only happen once. However, AnnaMorales, who was originally known as SexyVanessa01, had already gone through the glamourification process and then changed her name again. Now she is known as simply Vanessa.
How can I find a model's new name?
Pretty easy. On LiveJasmin search for the model using her old nickname. The results will show her new nickname.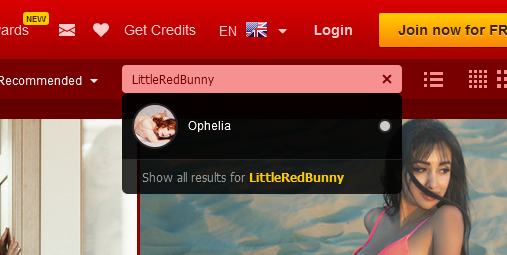 If you already had the model on your favorite list, she will be there with the new name.
How will LiveJasmin glamourification affect the Stats on MyCamgirl?
It won't affect the Stats. The bots got an update to deal with this. If you try to access a Stats page using the model's old name, it will redirect to the model's new name. If you use the search box, it will show her new name.