After many years, LiveJasmin is bringing back the interactive toy feature. Well, it is the old VibraToy feature with a new outfit. They now use Lush from Lovense with tips. But is it really a sensational interactive toy? Does it work well?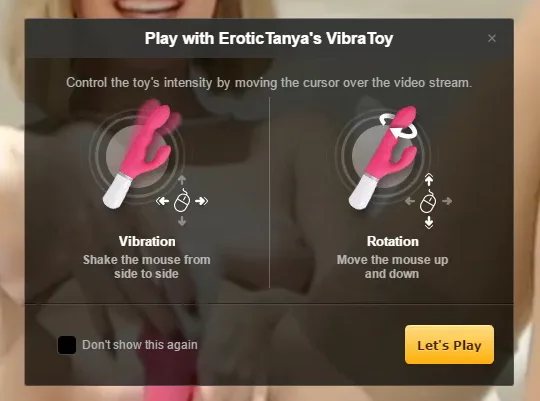 Yes, you read right. They are bringing it back. The interactive toy is nothing new to LiveJasmin. They already had this in the past, between 2016 and 2017-18. They named that "VibraToy" and it would work only with one toy called Nora also from Lovense.
However, it was operating quite differently from what they have now. Starting with the price, a lot cheaper. Before, for merely one credit per minute, you could have full control.
But honestly, it was not convenient at all. The toy would respond to your mouse movements. Up, down, left, right, fast and slow. You could control more than just vibration. But… Jesus, it was tiring. You would have to keep moving the mouse frantically the whole time. If you would stop, the toy would completely stop too.
It was ok for a half-minute. But longer than that would become tiring and boring. I suppose that was one of the reasons they removed this feature.
An option called "hands-free" would put the toy to vibrate without your assistance. However, it was kinda buggy, and often it would stop vibrating for no reason, and you would have to click on "hands-free" again.
But LiveJasmin girls already had Lush
Well, yeah. They had Lush already, but it was not officially supported by the platform.
I asked LiveJasmin and they were clear and honest: There is no support at this moment. The toy may or may not react to your surprises. Use the surprise function if you appreciate the service provided by the performer.
Girls were asking members to tip because they couldn't miss this opportunity to make an extra while models from almost all other sites were getting tips left and right.
How the new interactive toy works
It is entirely different from the previous version. If you have seen a Lush in action on other sites, well, it works the same way. It reacts to tips—nothing new here.
You won't need to do much to control it. Just one click, and you can make it vibrate.
But you will substantially pay a lot more if you try to reproduce the same type of vibration. Before, you would have to pay one credit per minute to interact with the toy any way you like and make it vibrate and spin as much as you want. Now one credit gives you 1 second of vibration. So it is effectively 60 times more expensive.
What interactive toy models can use?
Only Lush. LiveJasmin support was very clear that at this point, they only have support for Lush from Lovense. I believe it works with any of the three versions.
Honestly, I don't think they will support other toys. It is just too much trouble to support different devices manufactured by different brands. Also, every time a brand updates its toy, LiveJasmin will have to review everything. Having support only to Lush (which is by far the most popular in the market) makes things easier for LiveJasmin to maintain support.
Do all models have an interactive toy?
Of course not. The model needs to buy a Lush. As far as I know, this time, LiveJasmin is not giving away free toys. But Lush is also not as expensive as that monster dildo compatible with the old version.
Also, only models in Girls category can have Lush. Hot Flirt could have since they may perform explicit shows, but I guess LiveJasmin decided they can't use Lush. Soul Mate girls, naturally, don't have Lush.
Can the toy be used in public chat?
Of course not. LiveJasmin does not allow nudity or explicit sexual acts in public chat. However, the interactive option is available in private sessions and VIP Shows.
The vibration tag means interactive toy
There is this tag called Vibration. It may sound like that the model has a regular vibration toy, but that is actually referring specifically to the interactive toy, and therefore you will need to pay extra.
If you want a model that uses a traditional sex toy, then you need to look for the Dildo tag.
Some models have Vibration but not a Dildo. This means that they only masturbate with an interactive toy. In fact, some models will only penetrate with an interactive toy, refusing to use fingers other than for simply rubbing.
If a girl has no Dildo tag, I normally ask first what she can do in private. That is if I really want that girl. Otherwise, I just move to another girl. I suggest dropping a message to the girl first to understand how she performs her shows.
Do models like the interactive toy?
You would have to ask that to the model. But financially speaking, I would say yes. Also, compared to the old version, I believe they prefer the new version too.
I talked to many models when the old version was available, and many were honest with me. The toy was a dildo (a big and thick one), nothing like Lush, that was just too uncomfortable for them to have any pleasure. Some models would prefer to use it to stimulate the clitoris rather than using for penetration. Some models would have the toy only because the studio got it for them, but the models would never ask members if they want the VibraToy.
Does it work?
Technically, it does work. You tip, and the toy vibrates. No tricks here.

Lush in action
But does it give any pleasure to the girl? That is relative and depends on the girl.
What I heard from girls who have pleasure with toys (camgirls or not) is that if Lush is used properly, it can be a dream sex toy.
Properly here is the key. The pattern of the vibration changes the results. Lush offers many wave patterns, but there is no "perfect for all."
The girl needs to find the pattern that works better with her. Another point is that the vibration needs to be continuous. It can have a one-second pause every 30 seconds, but stopping everything for 10 seconds can destroy the moment for the girl. The same goes for how long it vibrates. Vibrating for 5 seconds will not bring the girl to orgasm.
Considering this, I would say that it is hard to make a girl cum only by tipping her.
Not impossible, though. You can tip enough for the Lush to vibrate for five minutes (expect to spend $300 for that). But then it may vibrate in a pattern that does not work well with the girl.
Is it worth it?
I wouldn't say I love it. Lush looks weird to me when it is in place for the action. But two things bother me, and it has nothing to do with the toy itself.
First, how pushy many models are. They ask for tips in a way that sounds like begging, and they make me feel uncomfortable. It is like they are performing a show for free (though they are in private), and they rely only on tips to make any money.
Second, some models overreact in a way that kills the mood. If I make the toy pulse for one second, and they shake like they got a 220v shock. They make it transparent that they are faking.
That being said, every girl is different. If you like the idea of making a sex toy vibrate on your command inside a girl, then yes, it's worth it. A few pulses are somewhat fun and not that expensive. If you are in a VIP Show, it can be even cheaper if members gang up to tip the model.