Freshening up the camsite list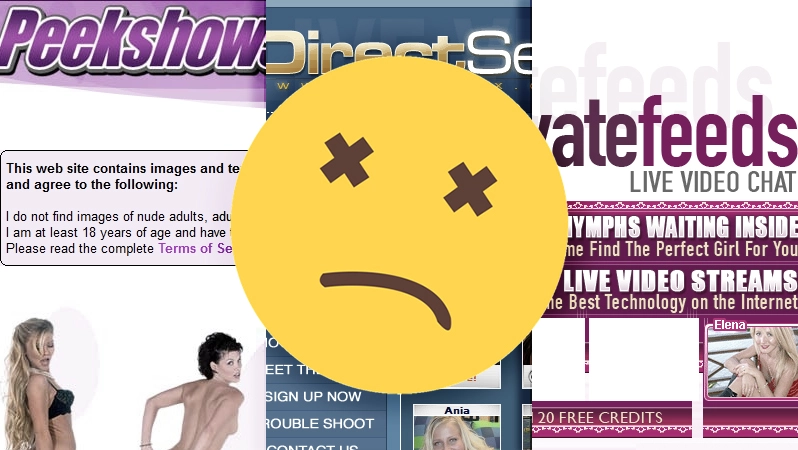 For a very long time, people have been asking to add new camsites to the list so they can add more nicknames on CWSW. Better than that. I think that better than that is to actually clean the list. Remove irrelevant, and dead camsites.
Well, I finally did it. Some sites have been added, some sites have been removed. Some sites will remain on the list for now, but they could be deleted too.
Here is the list of sites I have removed. The nicknames connected to these sites have been removed as well.
Table of Contents
CamSpot
(194 nicknames removed)
It was a mid-size camsite that surfaced around 2006 and got a new face in 2011, which was its highest moment when two top MyFreeCams models joined the site. And that was all. Those two models got online there once or twice, most likely because their studios asked them to. Many other studio models joined the site, but they were rarely online. It had merely 662 registered models. Most of the time, there were 1-2 models online.
In 2014 the site was shut down and started redirecting traffic to MyFreeCams. In 2015 they changed to redirect to a Streamate White Label, and finally, in 2017, they got their own Chaturbate White Label, which is what the site is now.
CamWorld
(98 nicknames removed)
It started as a camsite in 2010. Before that, the domain name was hosting a personal blog completely unrelated to camming. It had many known faces, but not that many models online. Just 3 years later, they shut it down. The domain started redirecting to CamWorldVip, which was just a WebCamClub White Label, then in 2016, it was redirecting to a Streamate White Label. It has been a Chaturbate White Label since 2017.
DirectSex
(98 nicknames removed)
This was perhaps one of the biggest camsites between 2004-2007. They only worked with studios, with a vast majority being from Europe.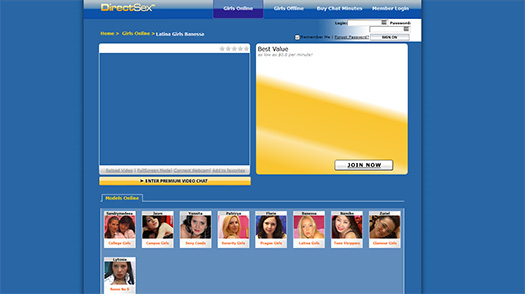 The main, and maybe the only reason for the big success that DirectSex had can be credited to its models. Most of its members wanted a virtual girlfriend, and those models knew how to play that role very well. Despite the site's name, in many private sessions, there were no sex acts at all.
I don't know what happened exactly, but at some point, their top models started moving to other sites, and their lovers followed them. Until one day in 2016, the site just closed its doors.
For years the site was just a blank page. It seems that recently they set up a Streamate White Label there. Some of their top models are still around. Off the top of my head, I think of Dayana, who is still active and successful on LiveJasmin, and selling hardcore videos on Chaturbate, and Daenneris, who is also active and very busy on LiveJasmin.
Naked
(856 nicknames removed)
This seems to be a good example of bad management. Naked had exclusive models. Most importantly, they had exactly the exclusive models that the market was demanding. They had porn stars before Streamate took the leadership on that, and they had plenty of American entertainers when MyFreeCams was just a baby. But somehow, they managed to fall apart.
Actually, they never really took off. The site was constantly changing its chat room's system, and it was always buggy. They decided to change their image and name, which was very confusing since users were opening Naked, but the logo was saying something else (Camster).
Now they are just a Flirt 4 Free White Label.
NeedLive
(521 nicknames removed)
NeedLive was originally a LiveJasmin White Label; then they decided to be a camsite of their own. They got a decent system. Contests, fan clubs, some exclusive models, and a comfortable chat system.
Then the site was bought by Duodecad's group (LiveJasmin owner). They introduced new features and pushed traffic. But after a year, the site went back to be a LiveJasmin White Label. Then, they put NeedLive's first version back online, which was confusing. It was like that for a year or two. They are again a LiveJasmin White Label, if I am not wrong, fully owned by Duodecad.
NeonCams
(73 nicknames removed)
They got what every camsite wants… a lot of models online. They were also strong in Germany with many exclusive models speaking German fluently, which was an unexplored market that has demand but not too many offers. But they had zero traffic.
In terms of usability, they were horrible. The site was ugly with a dark purple/brownish color. It was buggy, and the chat rooms were empty. And they were not fixing anything—no wonder why they fell apart.
OnHerCam
(52 nicknames removed)
I think we can call OnHerCam a cheap (and unauthorized) knock-off of CamWithHer. In 2009, two admins from CamWithHer decided to create their own camsite: OnHerCam, which was nothing more than a perfect copy of CamWithHer. Just different name (very similar to the original) and colors (also a bit like the original). One of these admins, a woman well known for her sweet talk, used her good relationship with the models to convince many of them to join her new project.
Everything was fine for a year or so, even though the site had only 1-2 models online, sometimes even no models. But then a debate on Twitter brought to light some issues. Models have been waiting for months to be paid. Some models were waiting to be paid for privates they had 2-3 months ago. The ones that had paid sites, which were being managed by this same woman, were also not paid for the memberships. That was the end of a big failure.
It should be noted that CamWithHer never had any connection with OnHerCam. Two former admins started this failed project that acted behind CamWithHer's back and stole their system and data. After this episode, many models spoke publicly, saying they have been warned by CamWithHer, who advised them not to join this project. CamWithHer never held any anger towards those models, and when everything fell apart, they accepted these models back.
PeekShows
(531 nicknames removed)
One of the oldest sites. They lasted for a long time. It had a nice community vibe. Most of its members were there because they truly enjoyed talking to the models and other members. But PeekShows couldn't keep up with the competition. They never really upgraded anything. No improvements, no new features. They even refused to implement a tipping option. PeekShows closed down in 2016. They turned the domain into a Flirt 4 Free White Label.
Private Feeds
(358 nicknames removed)
Busy site with a nice design. They had many models and good features, and unlike NeonCams, they had traffic. I think they just succumbed to the competition. Their models were all from studios. Studios tend to send models to new camsites so the studios can make quick cash before the site becomes saturated. When MyFreeCams was starting walking, many models from Private Feeds started splitting cam with MyFreeCams. Slowly these models started moving definitively to MyFreeCams, and Private Feeds just watched it without giving any good reason for models/studios to stay with them.
Funny enough, when Private Feeds shut down in 2016, they started redirecting traffic to MyFreeCams. Later they switched to Streamate White Label.
Rude
(263 nicknames removed)
I never really understood Rude. The name doesn't even sound nice. It seems that they had two systems, one with their own models and one with Cams.com's models. And then they would list all models together.
It was like that for years, until they decided to disable all Cams' profiles. Then they changed the whole site. Now they are not a camsite anymore. They are a NewbieNudes White Label, which is like an adult portal for amateurs.
SkinVideo
(139 nicknames removed)
SkinVideo was in the porn VOD business, and they were quite popular. I don't think they ever planned to be a camsite. But someone over there decided to create a small area for chat rooms. This was in 2011. It was fundamental. It looked like it was for testing. Suddenly, a big buzz was created, and many MyFreeCams models started joining the site. Most of them were using SkinVideo to sell videos. This was the best and safest way to sell videos in 2011 because MyFreeCams had no option for that, and ManyVids had not been created yet.
I never saw more than 3 models online. In 2015, after 16 years online, SkinVideo closed down, both VOD and cams. The domain name is now for sale.
Spread4U
(120 nicknames removed)
I heard about Spread4U on their last days of life, around 2008-09. They seemed to be a customized version of Cams.com, not exactly a White Label. They had the same models but different pictures and bios. That is why I put them on the list. I thought they were a different site. Then they turned into an official Cams' White Label, which is what they are for about 8 years already.
WebCamClub
(269 nicknames removed)
The company behind WebCamClub (DatingGold) was on two different businesses, dating and camming. They were putting effort into both businesses, but at some point, the dating side of the business was making a lot more money. So, they naturally started focusing on that. Camming got a bit neglected until they decided to become a Streamate White Label. Too bad because WebCamClub had some neat features.
Sites that almost got removed
The main reason is that there may still be people looking for models who used to work on these sites. And that is exactly why CWSW exists.
AdultWork
The ancient site has never been updated. I keep them on the list for, let's say, legacy reasons. Many relevant models have accounts there, although they don't use the site that much.

CamContacts
One of the oldest camsites still on the list. This is the dinosaur of camsites, in a bad way. It never got updated since I first visited it in 2008. It still got the same design from that time and the same functions. On top of that, they don't even have a free chat. But somehow, they still got a lot of models working there. I think the site is kind of on autopilot, living off of old members who still spend money there.

ExtasyCams (Chat 49)
This site… well, legacy also. I used to use this site 10 years ago. Until the site got hacked, it took almost a month to restore their site. When they were back online, most of their models had already moved to other sites.

iFriends
The closed doors in 2019, but I decided not to delete them. They were one of the oldest camsites, and many models had accounts there. Now is probably the time when its members will start looking for their favorites.

The Daily Peep (LivePimpin)
Recently turned into XLoveCam White Label. I used to have long, friendly conversations with some nice Polish models. They had a secret forum where members and models could have conversations about anything, but then they shut it down. I am going to keep it for now because people may be looking where their models moved to.
New sites added
And of course, the new sites added.
Looking good so far, a lot of action there

Let's see where this one goes, many models, but the design is… I don't know

I was reluctant about this one, mainly because of its marketing approach when it was launched in 2012. But ok, let's give it a chance
That is it.