What Is A LiveJasmin VIP Show? Is That Really Good?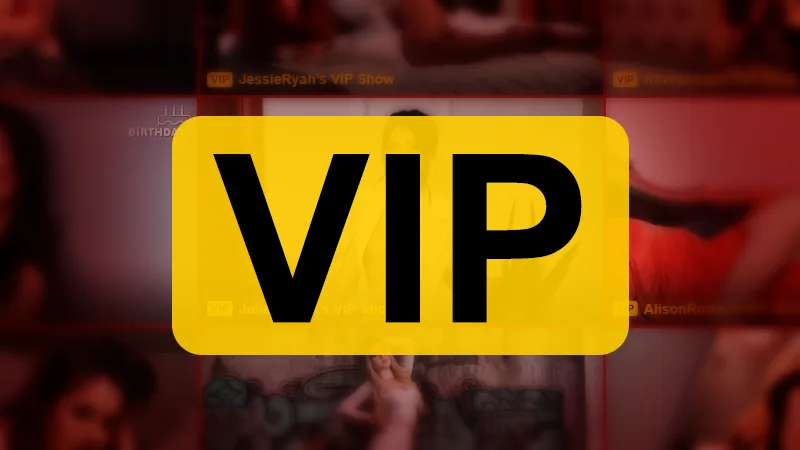 LiveJasmin VIP Shows has been around since 2017, following Streamate, which had already its own VIP Show system, called Gold Show, many years ago. But is it worth it?
Table of Contents
What are VIP Shows?
First, a quick explanation to those who don't know what VIP Shows are. This type of show is a mix of Countdown Shows and Group Shows, but taking the best of both worlds.
A model holding a VIP show will set a topic/subject, which describes what she will do in the show, a minimum price per ticket, and the goal that members need to reach.
Let's say, MariaRya is holding a VIP Show with the following options:
Topic: "get naked and play with Hitachi";
Show length: 10 minutes;
Ticket price: 5 credits;
Goal to reach: 50 credits;
Time limit: 20 minutes
This means that, if the show starts, she will "get naked and play with Hitachi" for 10 minutes (Show length). Members have 20 minutes (Time limit) to reach the goal (50 credits). One ticket costs 5 credits.
You can pay more for a ticket if you want, or buy multiple tickets, which will help reach the goal faster. Tickets are just tips (surprises) anyway. But use the "Book your place" button. Otherwise, it will be a regular tip and won't get you any tickets.
If members reach the goal, and you are the member who contributed the most, you get to be the VIP of the VIP Show. That's how LiveJasmin calls, kinda redundant.
What happens if the goal is not reached?
The default behavior is to cancel the show and refund all credits to members. However, models can choose to start the VIP Show anyway if they wish. Of course, they only do that if they got close to reaching the goal, which makes sense. Don't expect a girl to start a VIP Show only with you and your $3 ticket.
This is the main change compared to Countdown Shows that you find MyFreeCams and Chaturbate. Both, Countdown Shows and VIP Shows work the same way. But with Countdown Shows, you don't get refunded if the goal is not reached.
I have the feeling of more fairness on the VIP Show approach. But I can't ignore the fact that the way girls work during the pre-VIP Show is not the same way girls on countdown shows work.
Countdown performers do a lot more while trying to achieve the goal and you get to see a lot more too. On LiveJasmin, on the other hand, almost every girl just sits and hopes people will buy tickets. It's true that they can't show much there. But topless is allowed in public chat during pre-VIP. Yet, 80% of the girls still just don't do anything to encourage members to buy tickets.
What VIP of VIP Show status gives to you?
Well, officially, nothing much. Your name appears first on the contributors' list, and you get a small badge next to your name during the show. If you ask LiveJasmin's support, they will say that you get more attention from the model, which often is true.
Unofficially, you may have some kind of control over the show. This really depends on the girl. I have seen some girls:
Screaming the VIP's name while they masturbate;
Let the VIP choose the positions and when to change position;
Let the VIP choose the sex toy;
Give a discount if the VIP goes to a private chat after the VIP Show;
Send some free pictures/videos later;
But don't assume all girls will do this. Many of them don't give any special treatment to VIPs. It is not that they don't want to do so. It is just that they never thought about this kind of engagement with members and how this can be beneficial to everybody.
Also, don't count on choosing the sex toy nowadays with every single model choosing the infamous interactive toy as their favorite tool for extra tips.
What can you see in a VIP Show?
That will depend on the topic set by the model. However, more than often, the topic is very vague or ambiguous. That is my biggest problem with VIP Shows on LiveJasmin.
You can get a very detailed topic, like the topic AnaFiorenti set once:
"Hi guys! Im going to spit my hand and pass it through my ass and fuck my tight ass with a plug!pink toy on."
But you can also see girls with topics that leave room for questions, like the topics CassieMaven typically set:
"welcome to may [sic] vip show ….you know it will be fun." Come on, are you serious? Fun is very subjective. And she does not even give an idea of what she will do in the VIP Show."
Or you can also find a girl like Emma, with a decent and promising topic, but then you get a very scripted, boring, and softcore VIP Show.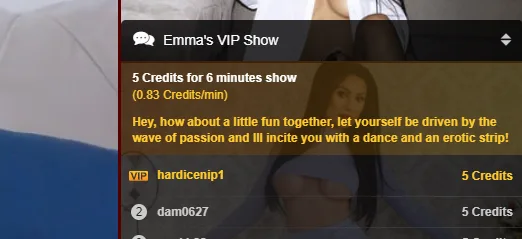 What can you ask in a VIP Show?
Theoretically, nothing. You are not supposed to make requests. The ticket to a VIP Show does not give you this right, even if you are the VIP in the room.
Some girls may follow your requests, mainly if you are a well-ranked member (Romeo and up) hoping that you may take them in private chat after the VIP Show. But that is not guaranteed.
What I see normally see is that if many members ask for the same thing, and it is something easy to do, like show tits, or do it in the doggy style, most girls will do it. But again, don't think this is guaranteed. Also, don't be that guy shouting "anal bb" every 20 seconds.
Average ticket price for a LiveJasmin VIP Show
There is no doubt that a LiveJasmin VIP Show is a great option, financially speaking.
I can say for sure that the vast majority of the models ask for 2 credits per ticket, which is the minimum they are allowed to set.
By far, the most popular option is 2 credits for a 5-minute show, which gives you a rate of 0.4 credits per minute.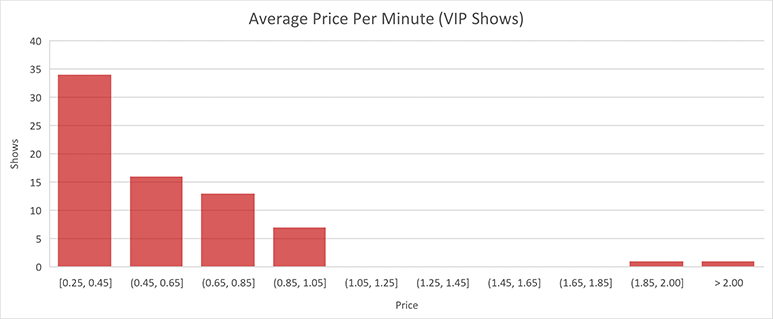 Since private chats have a minimum rate of $2.49, you won't find any girl on LiveJasmin offering 0.4 for a private chat.
Is LiveJasmin VIP Show worth it?
Do you want to save money? Then VIP Shows are worth it. They are very cheap. Do you want to just see the girl a little bit naked? Then VIP Shows are worth it since most girls will show at least tits.
Do you want a full intimate show that you can have total control over it, talk about whatever for how long as you want (and can afford) and ask the model anything? Then VIP Shows are not what you want. You are looking for private chats.
Yes, VIP Shows are cheaper, but not everything boils down to numbers. I have had far better experiences in private chats because it is my private chat, my show.
Pros & Cons